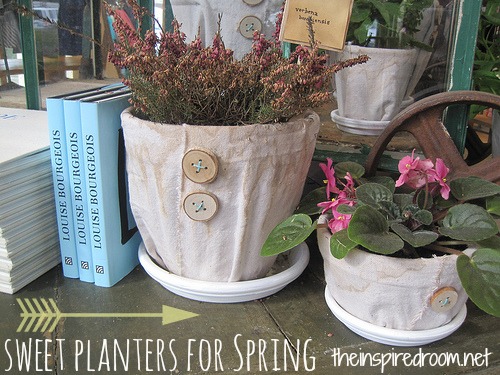 I went to Anthropologie over the weekend and loved this sweet little idea for a spring plant. I gathered up a bunch of other Anthropologie decorating ideas to share with you later, but I thought this crafty one was worthy of its own post.
I can think of so many ways to use this project. A DIY housewarming gift, a casual party, wedding or shower decoration, a teacher's gift, a hostess gift or a little something just for me?
So simple and yet it has that handmade touch that makes it unique and special. And those buttons, SWOON!
I have a bunch of little pots that could use a quick makeover with a scrap of fabric and a cool button.
How about you?
So many of you are asking about those wood buttons. Here are some options for you to try (from our friends on twitter!)
One great idea from @cupcakes5 (Cupcakes and Crinoline) was to make your own buttons! Find a tree trimming service that would give you small branches, slice and drill holes! Fairly easy and free! Yay.
Or maybe check these Etsy Shops!
Have fun! Come back and show me what you make with them, will ya?