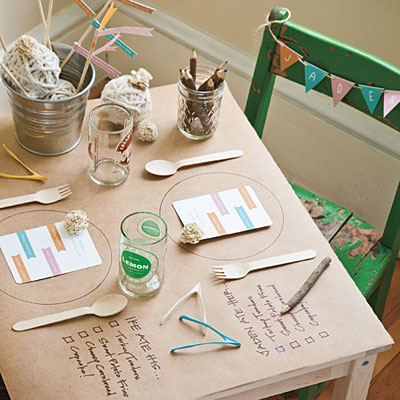 Southern Living
Do you all put your kids at "the kids' table" for holiday meals? I remember always being at the kids table during our family holiday meals! I actually thought it was fun, gathering together all the cousins we only got to see twice a year around the table! I have fond memories of the conversation and laughs!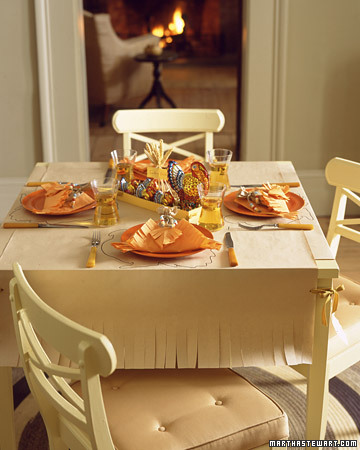 My son doesn't have as many cousins as I do so the kids table isn't quite as populated these days.  But I still love the idea of making the table memorable for the kids, even if they are mixed in to the adult table!
I looked around the internet and found a few fun ideas I want to use.
Tablecloths and Placemats
1) Use paper on the table or for place mats so kids can draw during dinner or make lists of things they are thankful for.
Centerpieces
2) Centerpieces don't have to be stuffy or formal, why not make them humorous? Veggies with faces or candy turkeys keep things fun!
Placecards
3) Let kids be involved in making place cards.  A little project like this can keep kids busy while the real turkey is still in the oven!
Party Favors
4. A few fun party favors like these adorable finger puppets (stuck on candy sticks!) will keep kids entertained while the adults are still talking.
Do you have "kids' tables" for holiday meals?
All images: Martha Stewart, except first photo Southern Living.