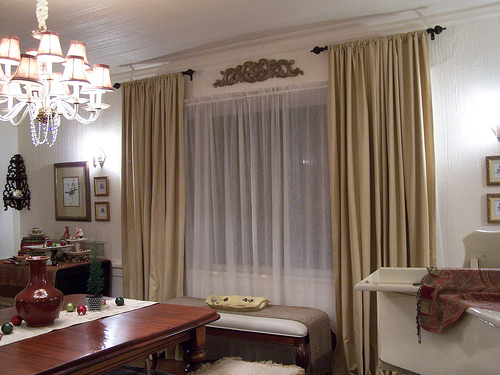 I was looking through my photo files this weekend and came across my Christmas dining room from 2007 (in my English Tudor in Portland, Oregon). It is always fun to reminisce about Christmases gone by and see how our holiday style and decor evolves over time!
This dining room in this house was really large, it was great to have room for a baby grand piano (we actually had TWO in the house!) and enough space for all that furniture! I am lucky to be able to fit four people in my dining room now! I don't think any of my rooms now are as big as this dining room.
We had lots of holiday parties and family gatherings in this house. It really was fabulous for entertaining. We hosted over 100 people at our last holiday party. It was so fun to have friends and neighbors over!
The baby grand piano was a player piano, so it could play music all on its own. We'd turn it on to play Christmas songs and it felt SO festive in the house!
I miss all the gorgeous wood and painted wainscoting, the leaded glass doors, and combed plaster walls. So much real, authentic architecture!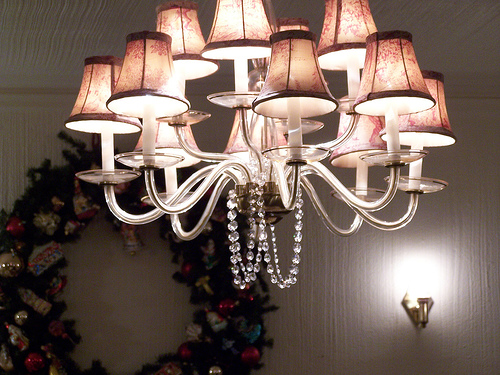 I also really miss my glass chandelier. I still have the toile shades though! I hoping to use them somewhere soon!
But even though there are things I miss about my old houses, there are things I love about my new home. Over time, it will become "home" too!
TIP: This wreath is full of broken ornaments, all glued and wired on a wreath. It is a fun way to use less than perfect or spare ornaments.
Thanks for going down memory lane with me back to 2007!
I hope you are enjoying your Thanksgiving holiday weekend as much as I am. We've enjoyed hanging out with family and just relaxing for a change, but I'm excited to resume my holiday decorating and start the Christmas season!