Creative Christmas tree theme!
We decided not to have a main tree this year. Call me crazy, but rather than the usual gorgeous but frivolous great smelling fresh cut enormous tree, or any other fancy variation, we decided to simply use what we already had. Somehow, simple felt right for us this year.
We have several smaller trees instead, one for each main room of the house.
I had plans to have them all decorated by now (since they take so little to decorate!) but it just didn't happen.
I'm kind of glad I'm not all done already though, I'd love for my girls to be here so we can decorate it as a family. Christmas isn't about me doing everything myself, it is about our family enjoying traditions together. I don't want to give up all of our traditions in my effort to keep things simple.  So, I have only done one tree so far. The rest will happen in the coming week or two.
For a bit of quirky fun, I decided to use my mom's old silver on our dining room tree.
The silver is all so beautiful, why not?
This is just a random little spoon she collected along the way, but I thought it was cute.
I thought about adding more things to the tree to fancy it up even more,  but decided to go with just the spoons and forks. Sometimes it is OK to say "enough."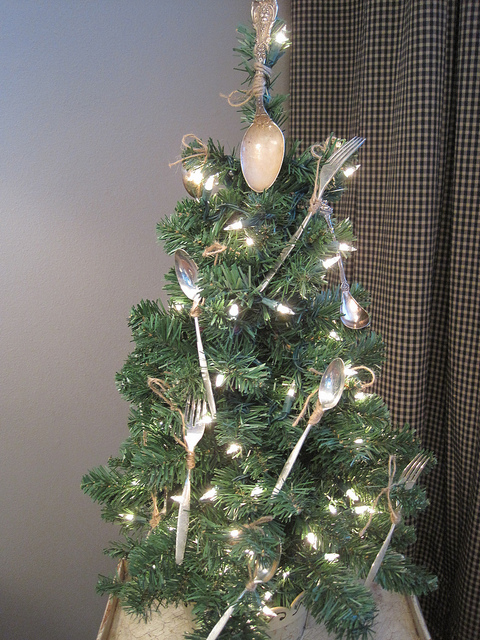 It might be adorned with sterling silver, but it is just a simple little tree.
Silver tied with jute. Nothing more.
Humble. Not proud or fancy or trying to call too much attention to itself.
I like it that way.