Homes & Gardens via House to Home
I love contrasts and touches of deep paint colors in decorating! I know many people are into monochromatic paint schemes, and using all light tones for a softer airier look. But I really love the dramatic effect of pairing whites and light colors with touches of dark tones! For me, mixing things up with deeper shades of painted walls or accessories can bring a lot of personality to a space!
Are you wondering how to add your own personal stamp of style to your home? Paint color is a great place to start! Today I've assembled some fabulous inspiration photos and we are going to talk about ways to add a bit of chic flair to your house simply with darker paint! It is easy to do, no matter what your style of house or budget!
This post is brought to you by Lowe's. Find inspiration and encouragement as you plan, begin and complete do-it-yourself projects at Lowe's Home  101. The views and insights shared in this post are my own. The content for this post was produced strictly by The Inspired Room.
Now let's dispel this decorating myth right away. Dark paint in a room doesn't have to mean dreary or depressing! No way!
You can still have that essentially all white room and then shock your eyes with red chairs and accessories. Oh my, how I love the pop of deep rich red in this all white room!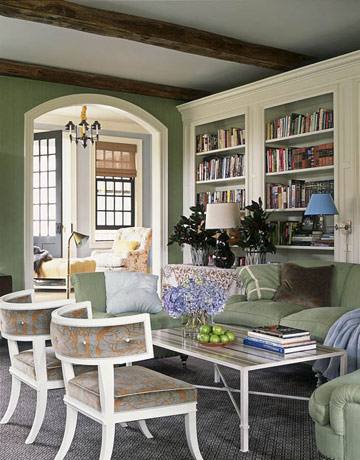 House Beautiful
If you are fortunate enough to have beautiful white trim, using a gorgeous deep shade of green paired with the white makes the walls recede and the white POP! POP! POP! Such a fresh and pretty color scheme!
Also, look at the above photo to the adjoining room. See the painted black door and windows? That is another fabulous way to bring a super chic look to your space! You can use black paint to add more architectural personality to even boring white builders doors! You aren't stuck with what you have, a little bit of paint can completely change the vibe of your room!
Or if you don't like black, how about painting your doors dark red like at Sarah's House? (HGTV)! You know I love that!  Even if you prefer lighter neutral walls, a pop of color on the doors can really make an amazing style statement for very little money.
So do you have crazy angles in your space? No worries! Enveloping your room with a dark solid color on both the walls and the ceiling will give it warmth and make the most of its unique personality!
Want to mix in more light with your dark paint? One word: stripes. Oh my heavens. I do love a striped room. Stripes bring amazing depth to a space. Have I told you my husband painted stripes in my girls' rooms when they were little? Yeah, we were WAY ahead of the stripe trend. Stripes made those tiny bedrooms feel twice as big! Yes, they do take some time to do right, but the results can't be beat!
House to Home
You don't have to stick with dark solids or stripes to liven up your space, you can pair a nice deep gold wall paint with glorious little stenciled flowers to give it the look of wallpaper.  This room is both light, cozy AND lively! Love that combination created with contrast!
House to Home
If you have all neutral walls but just feel like your room needs a little something more, use a darker paint to stencil a charming design here and there. It doesn't take much dark paint against the light to make a fun and unique statement! Isn't that leaf motif fun? I really like that!
Living Etc. via House to Home
Or if you are a real rebel, you can go all crazy with black and paint your whole room, or at least one wall. This bedroom is amazing, and that tub is pretty cool in black as well. The architecture helps, of course, but black and white always create drama when you use them together.
If you prefer to put your dark colors on an accent piece rather than on the walls, a simple painted black table or black accessories are ALWAYS a chic statement.
Two houses ago, I had a powder room with walls that were exactly the orange color of the room above. I adored the combination of the white with the dark orange wall. Swoon, I love orange almost as much as I love yellow these days! I guess I just love color, period.
So, do you follow the old decorating advice "Every room needs a touch of black?" (or red….or yellow…)?

I looked around my house and I sure follow that principle!