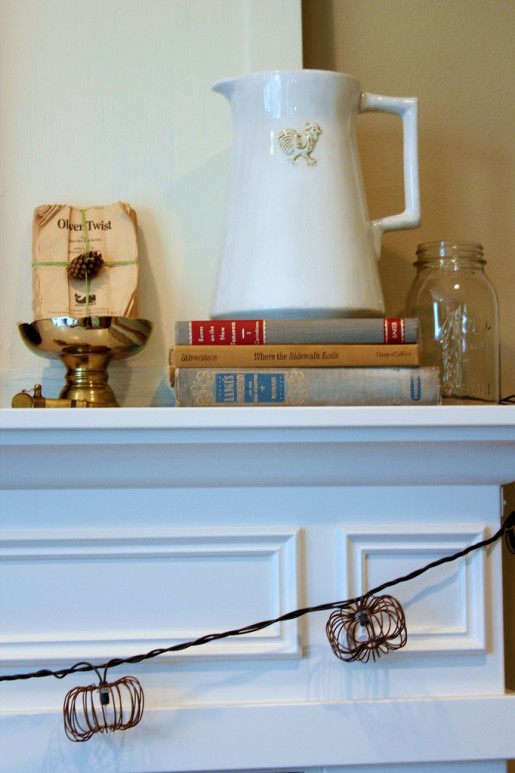 It is Time For Fall Decorating!
My quick and easy fall mantel
Girls, it is TIME! Time for letting go of summer and saying HELLO to fall.
Yes, I know some of you are still in parts of the country where the sun is still hot and you can't imagine a cool breeze blowing through your window. And I know that some of you don't even have the change of leaves where you live.
But around here, at The Inspired Room, Fall is a state of mind. It doesn't depend on the climate or where you live. It is the time of year when we slowly evolve our homes and minds towards comfort. Nesting. Making our homes a cozy welcoming place.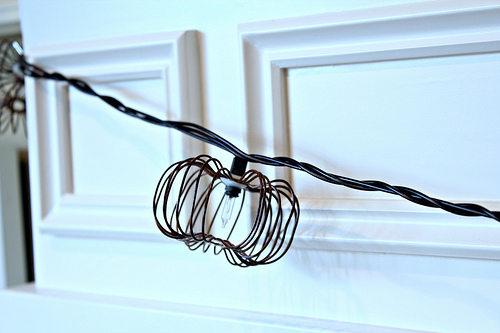 You don't have to do this all at once. Seasons evolve slowly.
Today I realized I needed to take my own small step towards fall. I hadn't done any fall nesting yet.
And honestly, my house was in a bit of disarray because we have had to barracade half our house to successfully potty train Jack (the puppy, and it was worth it, he is pretty much POTTY TRAINED NOW!).
I didn't feel like nesting when it meant hurling myself over a baby gate or wall of chairs.
But, in spite of what felt chaotic around me, I knew I needed to get back to what I love, puttering around my house getting ready for Fall.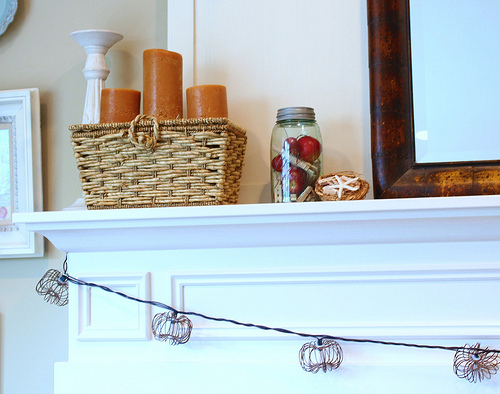 So, this afternoon, I took down my summer mantel, dusted everything off, and brought out a few things from around my house that felt fallish. My dark framed mirror, the pumpkin lights bought from Target many years ago, a masor jar filled with tiny red apples and clothes pins, pretty books, candles, basket and other assorted bits of fall.
You know how I roll. I'm not fancy or a genius crafter like so many of you are. In this season of my life, I don't always have time to do something spectacular. So, no surprise, I didn't take out a glue gun. I just puttered around with this and that I found in my own stash of goodies until I felt I had enough to add a small dose of Fall on my mantel.
I didn't feel I had to do the whole room today. I just zeroed in on one area I could work on.The mantel decor is simple and it got done lickity split. I can add and rearrange it as I please.
Just seeing a little bit of fall reminded me that soon I'll be sipping hot cider and reading a book by the fire. Ah. Happy sigh.
I'm ready to see YOUR Fall Nesting! Did you put away summer accessories? Did you make a new wreath for your front door? Did you bring out your fall curtains? Did you bake some pumpkin bread? Whatever you did, I'd like to see it. Inspire us.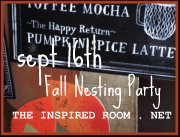 Ready. Set. Go! Let the Fall inspiration begin.
Please link to a specific post on Fall Nesting on your blog or public facebook page (not a link to your main blog or no one will be able to find your post later on). And, do not link to shops. Next, please go back to your post and put a link to this Fall Nesting post on The Inspired Room in your post so your readers can find the party!