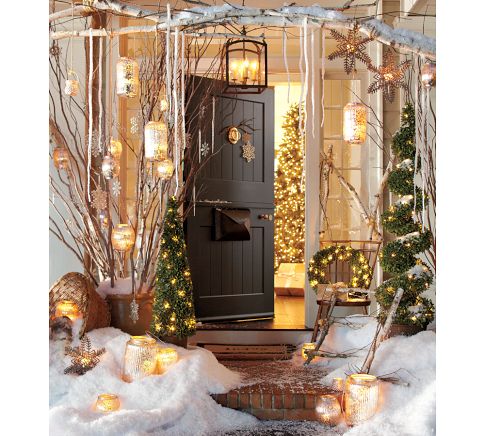 Pottery Barn
I really do love the outside of my house to look all festive during the holidays. I'm not saying I want reindeer on the roof and excessive Clark Griswold-inspired holiday decorations, but there is something magical about arriving home on a cold winter night to twinkling lights and decorative reminders of the season. But don't wait too long to get started, now is the perfect time to give your home some festive curb appeal with a pre-holiday makeover!
Better Homes & Gardens
One of the many things I've learned over the years is I need to start preparing early to give my home holiday curb appeal. If I wait until it is dark and cold outside and the holidays are already here, it is often easier to just forget it. And then of course, I miss out on something I love about the Christmas season.
Better Homes & Gardens
So how can we get started now with holiday curb appeal?
1. First and foremost, do a little pre-holiday clean up.
Rake out those dead leaves and winterize your plants so you have a clean foundation for holiday decor.
2. Secondly, finish up any outdoor maintenance and last minute paint touch ups so you'll be ready to decorate!
3. Gather natural materials and plants for holiday curb appeal.
I really like the idea of holiday decorating with branches. Put them in pots and add festive lights, hanging lanterns and holiday decorations from the branches! Or, hang chunky branches from rope and add ornaments and lights! LOVELY!
4. Get creative with existing yard & garden features and decor.
Ordinary yard and garden accessories are the perfect foundation for holiday decor. Combining holiday decorations with what you already have in your yard is a great way to gain more curb appeal for your holiday buck. Before you put your summer or fall garden accessories away, look at them with fresh eyes.
Better Homes & Gardens
I love how the photo of the ordinary potting bench is evolving towards the Christmas holidays with the simple addition of red ball ornaments under glass. The combination of the potting accessories and the red balls gives a lot of visual interest and holiday appeal to a front porch.
Window boxes can be the perfect focal point for winter holiday decorations. Try using faux greenery that will last all season long!
Metal garden hooks for plants can be put to good use for holiday curb appeal. Replace your summer flowers with over-sized outdoor ornaments or wreaths.
Hanging pots and baskets can be strung with twinkling lights and filled with ornaments!
Existing all-weather planters and bird baths can hold holiday spheres or lights.
Mailboxes can be decorated with greenery.
Outdoor benches and patio tables can be used for greenery or holiday lanterns.
Better Homes & Gardens
If you start now with a little pre-holiday makeover, your home will be bursting with curb appeal before you know it! Then you can go back inside and enjoy the season from inside where it is warm and toasty!
What are your outdoor holiday decorating plans this year?
More posts in the 31 Days series:
Day 6: Your Style: Get in the Holiday Groove
Day 7: Creative Memorable Holidays
Day 8: What Dessert to Make for Fall Parties!
Day 9: Things to Treasure List
Day 10: Tips for Mantels and Shelves
The rest of the 31 Day Participants!