Thanksgiving, Party & Holiday Table Idea!
So, in between feeling awkward, sobbing and laughing at Relevant, I was taking note of all the fun decor on the tables. Forgive me if I have this wrong but I believe the table decorations there were done (or at least in part) by this sweet girl at Events by Design, whom I met for the first time. SO much talent at Relevant, I'm telling ya.
Just found out that this clever idea I'm sharing today was the creative idea of Melissa Reagan, a Blessings Unlimited product designer! I LOVE it.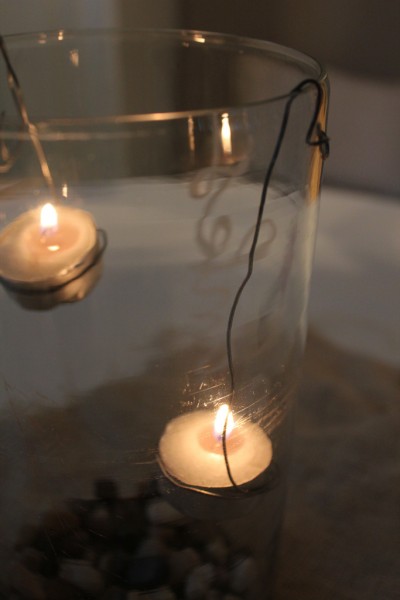 I was particularly taken by this little idea of hanging votive candles from the edges of glass hurricanes. I should have taken a photo of the tables because they were very cute, but of course, I didn't follow through. Sorry.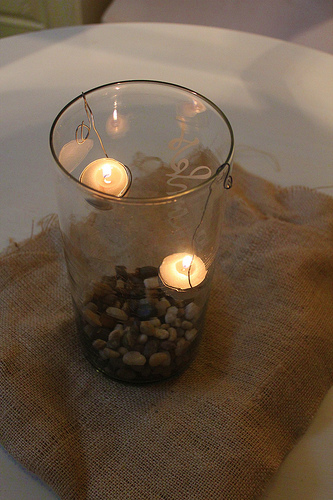 I've always set candles inside the hurricanes, but it just never occurred to me to hang them from wire! DOH! So, I couldn't wait to get home and try this little trick.  Unfortunately I only had some super stiff wire and it was a little challenging to work with, but still, you get the idea.  You just twist the wire around to make a little hanger for the votive and hook it over the edge of the glass.
This little project took me about five minutes. You know me, if it takes longer than 30 minutes to do something I have a breakdown and my head explodes.
I love that the hanging votives is such a fun little twist! Seeing those votive candles suspended in the hurricanes made the Relevant Conference dinner tables so festive, sparkly and pretty!
I could see using these on a buffet table, dinner table or sofa tables at a party. Fill the bottoms with whatever you want, I just used pebbles because I happened to have them handy.
Prettiness! You can find these Thanks & Giving hurricanes (a set of two) at DaySpring! DaySpring and (in)courage were sponsors at Relevant again this year and they throw the best parties! They set up a lovely room for everyone to hang out it, complete with chocolates, candles, coffee and sofas to sink into!
Easy peasy idea, huh?
linking this idea up to I'm Lovin' It @ TidyMom