Today I thought I'd round up some of my favorite spring mantles. My own mantle is finally complete but you'll have to wait until next week to see it because I need to take pictures for you first! I've been trying to catch up on some projects this week so I'll be able to show you what is going on!
Meanwhile, since we have been talking about spring decorating, here are some mantles from around blog land that I like and why  I like 'em.
I can be a bit persnickety so sometimes it helps me to analyze why I like something and how it can be duplicated! PS. If you are on Pinterest, I'd love it if you would pin this post by its banner (5 spring mantles) to remind yourself of the round up, but it would be great if you would pin your favorite individual mantles to the original source so they can get the full credit. Thanks!
Be Bold.
The first one (above) by Nibs struck me as unique with the dramatic wallpaper backdrop and accessorized with simple watering cans and a bunny print. Sometimes, simple paired with bold is just better. Bigger pattern on the wallpaper, bigger watering cans times two, one simple themed print. Bolder is almost always more visually appealing on a mantle so generally it is best to err on the side of boldness..
Use Contrasts.
This mantel from Perfectly Imperfect is lovely. It has a great mix of dark and light, rough and smooth textures mixed with soft beachy colors, symmetrical and not symmetrical all in one. Just the way I like it.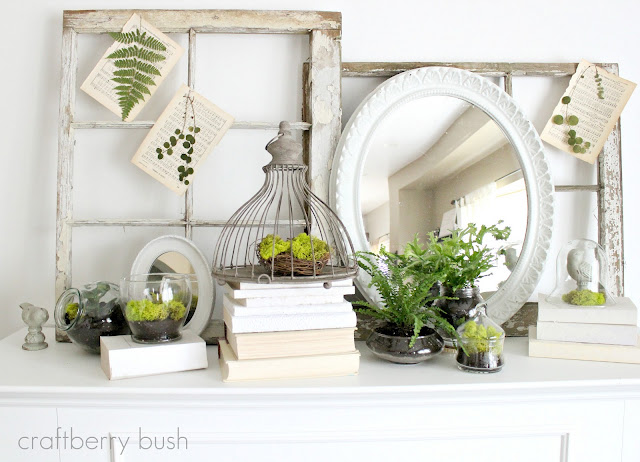 Try Layering.
This is an interesting one. While it does have quite a few smaller items which ordinarily might get lost on a mantle, this one is filled in nicely by layering the window frames and a mix of plants and white accessories. The unique layout with the caged plant on the books takes center stage, making the center of the mantel more of a focal point.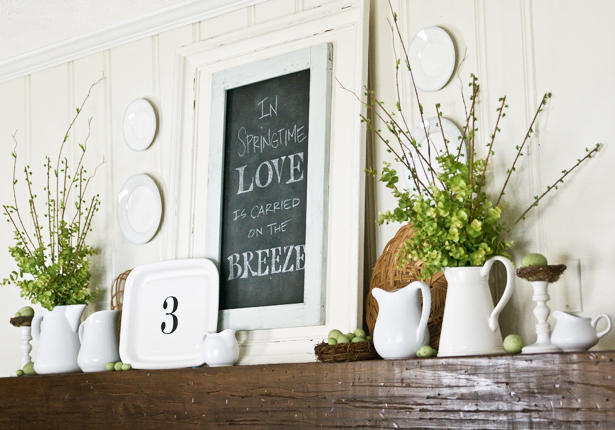 White dishes and greenery always work.
This mantle from Lettered Cottage has been around awhile, but it is still one of my favorites.  As a collector of white pitchers myself I find them to be among the most versatile accessories I own.  Pair them with some spring green accessories and you can go from winter to spring with minimal fuss.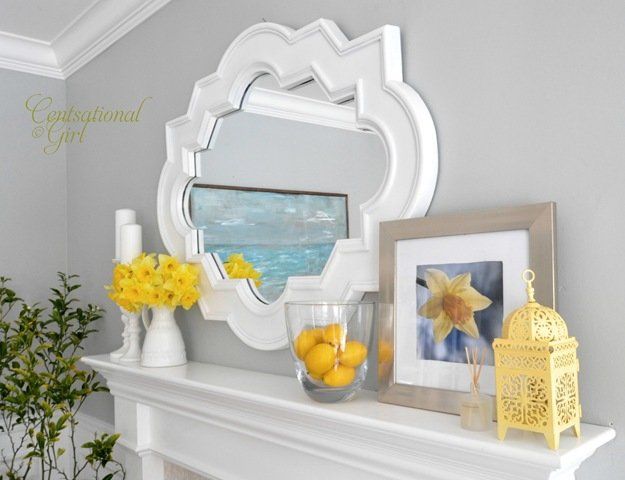 Centsational Girl
Make a color statement with pops of color.
And last but not least, a mantle from my buddy Kate proves that white with a pop of repeated color is a great formula for any mantel display.
Oh, and UPDATE! here is my own spring mantel, finally complete!
The Inspired Room Spring Mantel
Do you have any almost spring weekend plans? In the northwest we set our clocks ahead this weekend. Do you "spring forward" where you are?