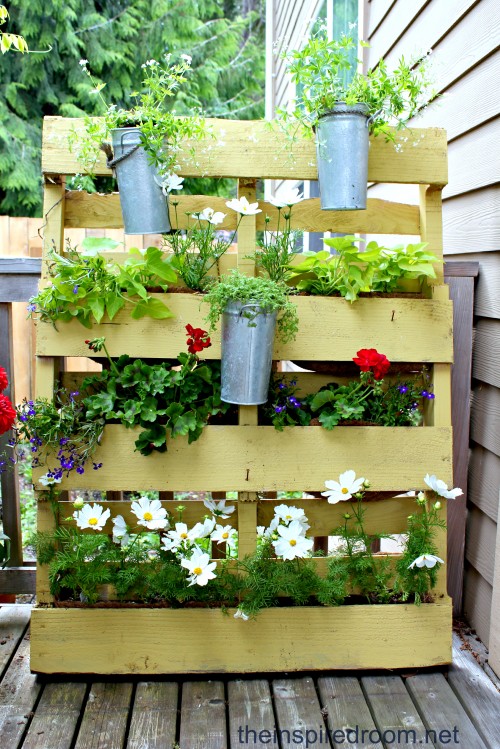 pallet garden
Last summer I painted a pallet as a privacy screen for my not-so-private deck. I filled some French garden buckets with some end-of-the-season annuals and hung the buckets on the pallet to create a small-space hanging garden. It was nice enough as a first attempt, but I had visions of adding MORE plants this year!
This weekend was a perfect time to get started, so I unplugged from the computer and freshened up my pallet garden!
I thought it would be cute to actually plant plants IN the pallet, but I wasn't patient enough to line the whole pallet with landscape fabric and dirt and pack it all in and wait a couple weeks until the dirt settled in before I could put it upright. I kind of like instant gratification and easy peasy steps cause I'm a very lazy DIY'er.
So I tried to figure out a quick shortcut to get this done. I was originally thinking about using burlap to create little planting bags in the pallet, but I ended up using those coco liners like you would use for a hanging basket. I got mine at Lowe's.
All I did was staple gun the little coco baskets to the inside and back of my pallet, and then filled them with dirt and plants. Done! They were easy to mold and squish into the pallet and they held the dirt in so I wasn't losing dirt all over the place.
Remember, I do not have a green thumb. This is NOT a tried and true method that I'm aware of, as I am just making this up and experimenting myself! I have no idea if this will prove to be a great idea or a dumb idea, but it worked so far. We'll see if my plants survive the summer.
While I was enjoying the long holiday weekend, I did a little more updating to my back porch, too! I had so much fun freshening things up. I'll fill you in this week on the latest!
Have you started gardening yet?
Hope you all had a great holiday weekend remembering those who serve and have sacrificed for our country.