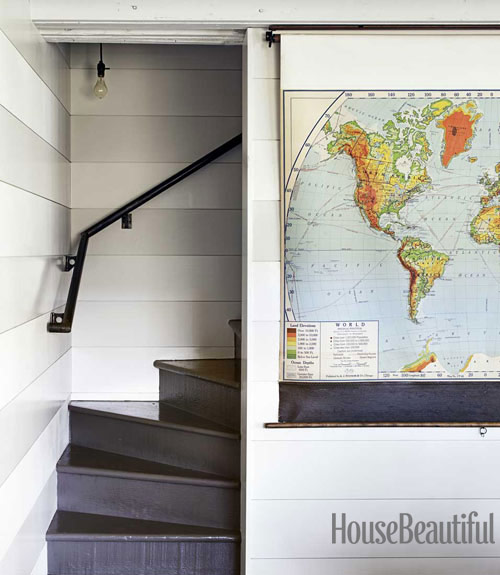 Hide TV with Vintage Map via House Beautiful
So yesterday we talked about open storage, but today I thought I'd share a few great ideas for hiding a TV. I think there are two kinds of people out there: those that aren't bothered at all by the sight of a TV in a room or bedroom and those that want to hide it behind doors when it is not in use.
Which do you prefer? A TV out in the open or one kept behind closed doors?
While we all know we can put a TV in an armoire, there are other clever ideas for how to hide the TV, whether you have a TV in a niche, hang it on the wall or set it on a bookcase!
I think a TV behind a pull down map is pretty genius, don't you? Art and function! You could even use a pull down bamboo or roman shade to cover a TV niche or bookshelf, if you wanted to have a "window" like appearance.
Hide TV behind barn doors via Crisp Architects 
Or how about barn doors? I love this because you won't have to knock everything off your mantel when you slide them open!
Disguise TV by Brooklyn Limestone
If you have a wall hung TV, how about disguising it with an old frame?
A hinged frame over a bookshelf is another clever way to keep a TV (or anything else!) out of sight!
House to Home
How about a folding screen or hinged shutters on the floor?
Kim of Today's Creative Blog made her own sliding track from a closet door system. Now she can hide her TV in style!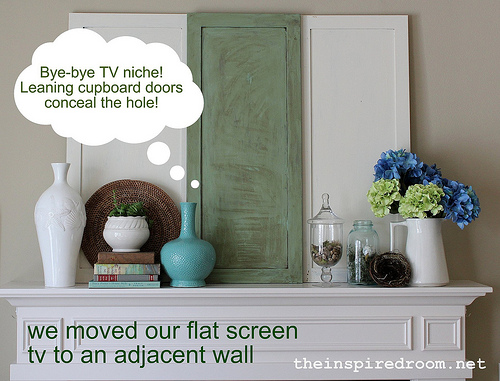 I have one of those huge new house holes for a TV over a fireplace. Since we don't actually put our TV there, we've been layering old cupboard doors and mirrors to camouflage the giant hole.
White our easy solution has worked out great for the past few years, lately I've been thinking I'm ready for something other than cupboard doors. I especially love the sliding barn door idea since if we decide to put a TV there it keeps the mantel free for decorating, but I might have a few other clever fixes up my sleeve! I'll be working on it!
**Update: We have since updated our fireplace and filled in the TV hole! Come see what we did here!
Do you like your TV out in the open, or do you prefer it remain behind closed doors? Feel free to link a post showing your TV storage solution in the comments!