When I think about Fall Nesting, I think about creating a comfortable place for my family and guests we invite into our home. It is a labor of love to create a space where people want to gather. Fall is the season when we'll spend more time indoors and I want to be ready for guests, holidays and spending time together as a family.
I've always been more intrigued by how my home FEELS than how it looks. I don't get too caught up in getting all the most current styles or department store holiday decor to fill up my house each season, but I do really enjoy the process of creating the ambience I want for my home.
Fortunately, when you pay attention to how a home feels, the end result is that it looks good too in more ways than one.
It may not be Pinterest-ready but family and friends will sense that warm and welcoming ambience when they enter your home. You'll be at ease and more comfortable when you know you've poured a little heart and soul into your home. Your home will be a peaceful place. And that is what really matters!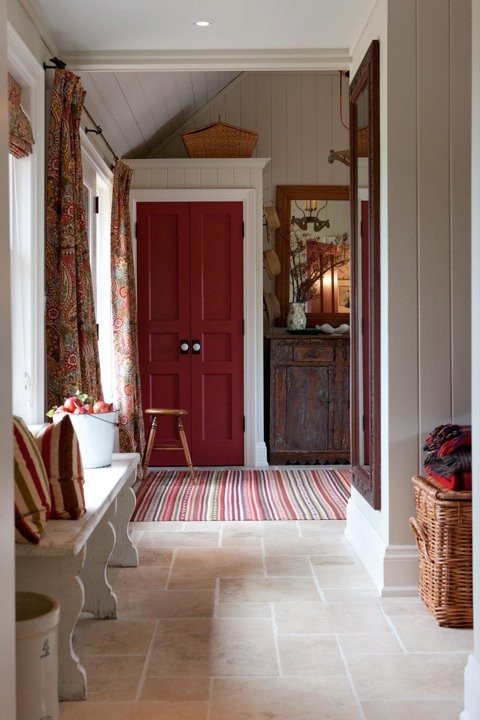 Ambience is what makes a home come alive and feel welcoming. Paying attention to those small details of how your home feels shows you care about the people in the home and the guests you invite inside.
No matter what your style is, your entry is an important part of the character of your home. You may not have a separate formal entry, in fact, your entry might be straight into a living room. But size or formality is not important.
What matters is the care and attention you give to the important first impression of your home.
Keeping your entry clean, tidy, cared for, well-lit, uncluttered but filled with small personal details and mementos that tell the story of your family are all important aspects to setting the stage for a comfortable, welcoming home.
Have fun expressing yourself with color and accessories and make a daily ritual of keeping your entry free of clutter (maybe by finding cute ways to contain it!), so you are always ready and comfortable to open your door to guests. Who among us hasn't considering pulling the blinds and hiding in the closet when the doorbell rings and our homes aren't as we want them to be?
The goal isn't a perfect home (does that exist for normal people?), but to embrace real-life imperfection while creating a welcoming, peaceful space for family and friends! Let your entry be a happy first peek into the life you live or aspire to have!
If your entry looks tired, worn, cluttered or doesn't set the right tone for your home, you might want to give your entryway a little extra love this Fall!  I'll talk about mine soon, it's getting some love too!

Have you walked in your front door lately and looked at it with fresh eyes?
What does your front entry say to your family and guests when you enter in?
Does it set the tone and atmosphere you intend for your home?
Happy Fall Nesting! Check back for more posts in this month-long series!
You might want to check out my ebook for more ideas and inspiration for creating an authentic home.