Hello! You made it just in time! I knew you'd visit me today if you saw we were talking about Anthro again. You are my people. Anthro is our home away from home. Our gathering place — even if it is only via pictures in a blog post.
Every now and then we just have to spend a little time in Anthropologie. It's been far too long! Never mind that I have to hop on a ferry, cross the raging sea and risk life and limb driving through Seattle to get to Anthro. It's worth it. For our sanity and mental health. We need an Anthro vacation day.
I was talking to someone the other day about my love of Anthro and she said she knew exactly what I was talking about. She loves it too. In fact, when her husband offers to go with her (since it is a long drive for her too), she quietly says no thank you. HAHA. I get that. Anthro isn't an experience you want to rush. You need time there. Let's face it. Husbands might be in too big of a hurry to get out. To move on to the Mac Store.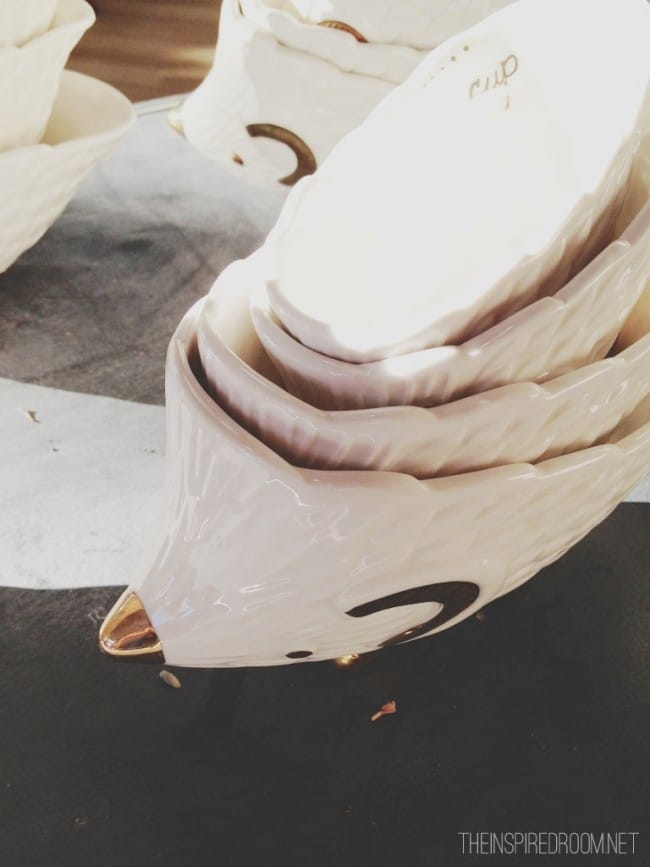 Husbands might not want to linger over the stacks of dishes or the hedgehog measuring cups. Definitely not the hedgehog measuring cups.
I spent at least 15 minutes pondering the fact that these were hedgehogs. With gold noses. That is remarkable. And worth savoring.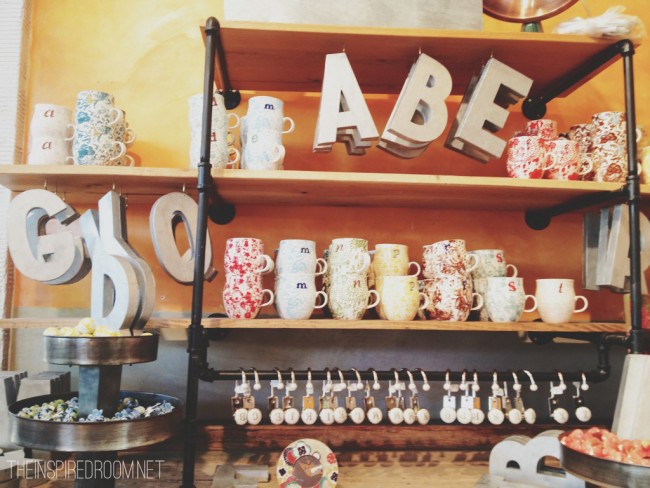 I always obsess over all the little trinkets and accessories. The hooks. The letters. The mugs.
Like a kid in the candy shop. I touch, pick up, and lick a few things before I put them back. Just kidding. THAT IS A JOKE!
But I do touch everything. I feel compelled to take that hook off of that black pipe, look at it, and put it back. It doesn't even matter that we have one of those hooks at home. I will still pick it up there, because it is on a pipe. It's fun to pick it up and put it back again.
I stare at aprons.
I look at dishes and books.
Not sure which make me happier, dishes or books?
Round and round I go. Dishes and books. Books and dishes.
And those BINS! I feel like I'm on a treasure hunt, discovering something new in this bin or that.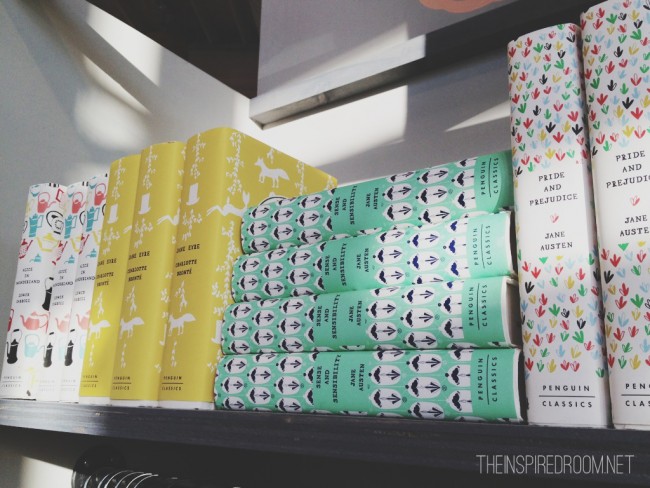 Then I spy THESE books.
My heart does a flip flop..
STOP IT.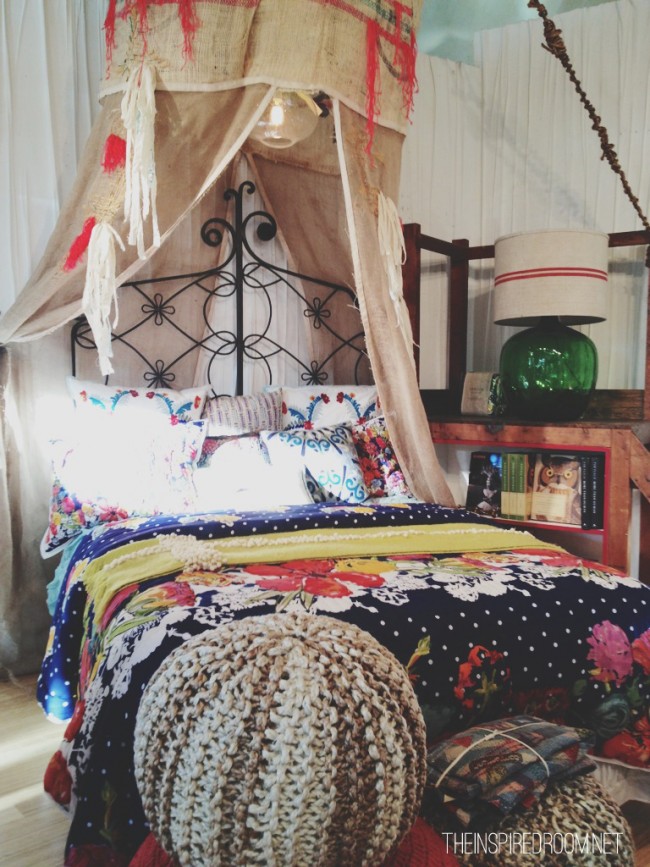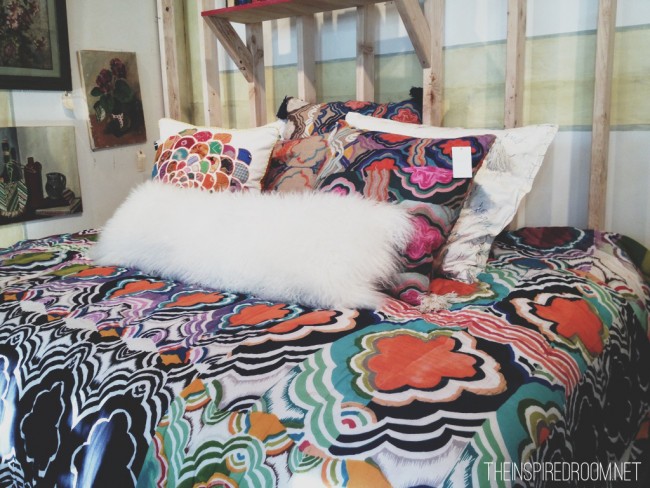 At first go round I wasn't sure how I felt about these beds. But no worries, second time around that giant green glass lamp with the grain sack shade caught my eye.
And on the next bed, the white pillow with the colored flower petal design.
There is always a new little discovery, the next time around.
And then THIS happened.
I saw this little fox across the from the hardware bins.
I should have never run over to him.
Certainly should never have picked him up and squished his fluffy bottom or looked at his herringbone suit. I learned my lesson at World Market when I picked up the owl.
You cannot leave a squishy owl or a fox behind. Not if you have a heart.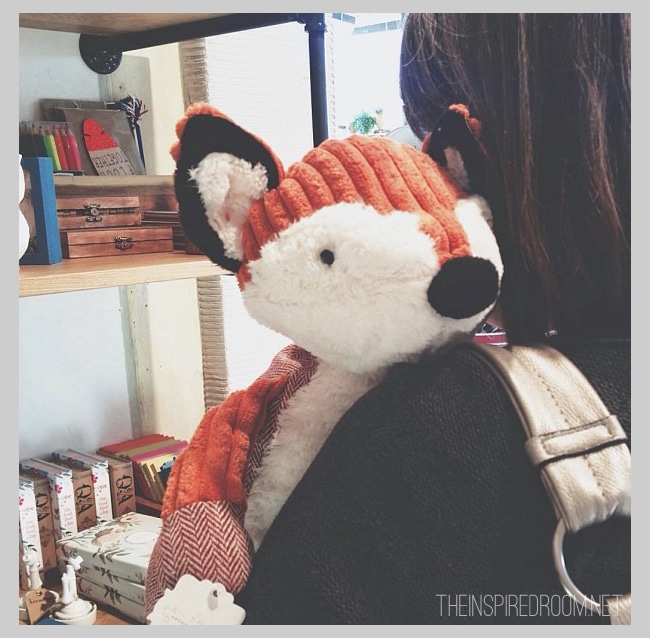 Honestly. That FACE! Could he be any cuter?
So, I carried him around the store like a baby. Patting his rump and stroking his head.
Who does that?
I do.
I knew he loved me. And I loved him.
But I finally convinced myself he must be quite happy living at Anthro.
I mean, what is not to love about LIVING at Anthro?
Right. NOTHING.
I rest my case. And let him stay.
And look at that! I can visit him anytime I want, as I now have my own room.
I think I could live happily ever after here, too.
Thanks for letting me spend the day lingering in your store, Anthro. It was wonderful.
Until we meet again…Anthro lovers…
Related Post: