Wayfair Coastal Living via House of Turquoise
Spring and summer style
Are you influenced by the climate OUTSIDE when you decorate your home INSIDE? I don't mean do you put out seasonal decor like flowers in the spring and fall branches in October, but more along the lines of actually basing your furniture and color preferences on the season you see outside most of the time, the season you happen to love or feel most comfortable in.
I actually think I am swayed to have a slightly different style and color preferences in spring than I do in the fall. But then again, I think it is fun to embrace every season, so if I can make choices that flow easily from one season to the next, I'm most happy all year round.
But sometimes there is an obvious "base seasonal style" that makes the most sense in your particular home or part of the country.
What is your home's seasonal style? Does your house most look like summer? Or spring? Or winter? Or fall? No season is off limits when it comes to decorating style in your home, of course they are all beautiful style in their own way.
Fall and winter can be oh-so-cozy and comforting and just the right mood for a cozy or natural style. Spring and summer colors might lift our mood because it feels fresh and alive when the sun comes out and the garden is calling our name.
Spring Colors Dining Space via BHG
I think we might gravitate toward one or the other season in our style at home for a variety of reasons. Sometimes it is just because we like certain colors that feel more like the season. But sometimes we are influenced by the climate or part of the country we live in, the style of our home, the furnishings we have, or how the seasons affect our moods.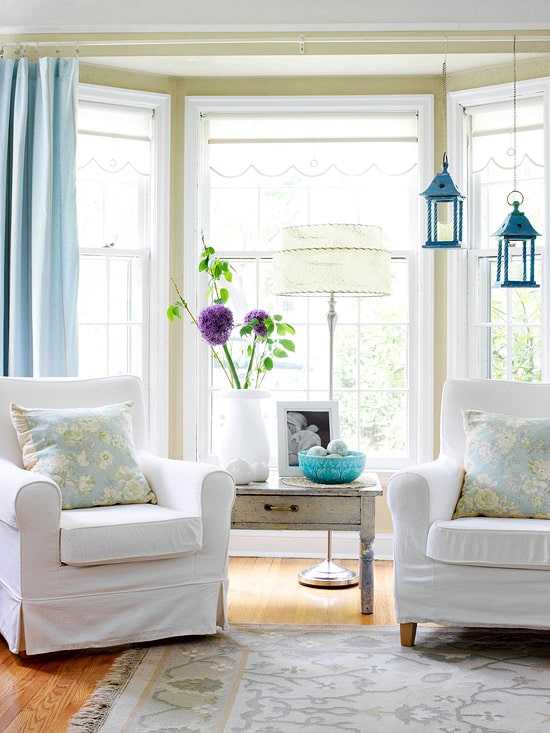 Spring colors sitting area via BHG
Perhaps we are more "indoor people" or "outdoor people," or winter sports lovers or beach bums! Or if you are like me, maybe you tend to feel comfortable in more than one season (thanks to our own fairly mild climate here in the NW!) so you try to have a home that can be comfortable and flow from one season to the next.
Pretty spring colors in a home office
Martha O'Hara Interiors via House of Turquoise
There is no right or wrong or more beautiful seasonal style for a home, as long as you LOVE it and feel comfortable in it in all seasons!
So, what season is most reflected in your home decor? Do you tend to alter your preferences with the season?

Every time spring rolls around, these spring and summery spaces are the rooms and colors I tend to ooh and ahh over!
PS. If you subscribe via email, you may have missed the two posts that went out yesterday (due to some technical difficulties.) So if you missed them, you can find Inspired Style here and the fabulous too-amazing-to-miss ebook bundle sale here!
Also, I'm guest posting over at An Extraordinary Day in honor of Diane's first blogging anniversary!