hello, friends! 
I'm glad to be back blogging, missed a couple days there while my son and I recovered from the flu. Who gets the flu in the summertime? Apparently we do.
But while I was laying around feeling like all the energy was drained from body, I did spend some time online just browsing the internets for ideas. I ran across these awesome rooms from none other than two of my favorite TV designers, Sarah Richardson and Tommy Smythe. So I thought I'd share today and we can chat about 'em and be inspired!
The children's bunk room, above, caught my attention for a few reasons.
One was the big green striped run. So fun! There is something about a boldly striped rug that makes a statement like no other rug can. Then I started noticing some other things I loved. It is such a small room, but the built in bunk beds (at least they look like they are built in) are fantastic use of the small space with their nice clean design.
Bunk beds can be so hard to make (I mean make in the sense of the bedding, not construction of the beds), so these would be much easier to work with because of the simple design (and assuming the kids aren't prone to falling out of bed or are old enough to sleep up there without all the protective railings. Ha!)
Also I love the built in reading lights, the cute hanging bucket, and of course, I love the maps on the walls!
Then there was this entryway. I of course love the bench and the light but I also love that the ceiling is a natural wood color, it adds a touch of warmth to balance a room with tile floors.
Then I spotted this lovely dining room. I remember when I was a kid my mom had a dining room and a couple of powder rooms that were wallpapered. I still remember how different those rooms felt from the rooms that simply had painted walls. The wallpapered rooms were so pretty and much quieter and cozier due to the added texture of the paper.
I am happy to see people wallpapering again. I know some of you still bristle at the thought, but today's wallpaper is much easier to strip than that stuff from 30 years ago. Gotta embrace what you love now so don't let the fear of removal someday stop you! This room is what it is because of the striking wallpaper! Sometimes we need to be a bit more daring to make a real impact on a room.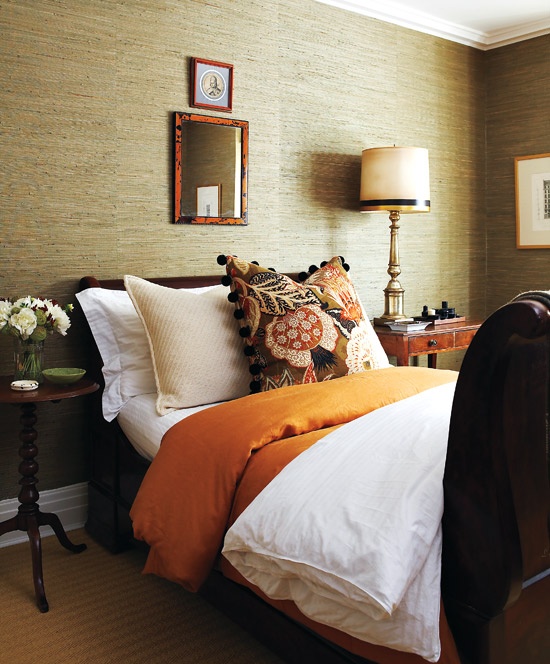 Speaking of great wallpaper, I have loved grasscloth for years — one of these days I will have it again in my home! I just love the texture. My last house had it in a bedroom but it was so old and yucky it had to go. This warm and cozy bedroom room and the fantastic kitchen, below, were designed by Sarah's fun sidekick, Tommy Smythe.
I found a quote by Tommy that I wholeheartedly agree with:
He really hit the nail on the head there on what makes a room come alive for me too!
In fact, reading his words got me inspired to keep on adding layers to bring that balance to my home. I'm pretty excited to dive more deeply into decorating other rooms of my house now that my kitchen is complete!