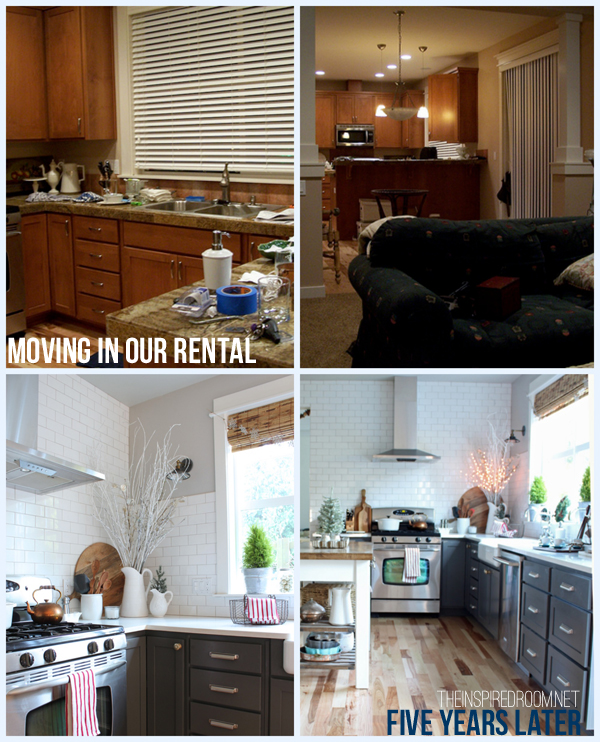 Today I took some time to reflect back and count my blessings. Sometimes we need to look back at our story in order to see how far we've come! And I think it helps to hear other people's stories of patience in the journey of creating a home. Especially this time of year when all the homes seem to look so put together, festive and even perfect! Sometimes it takes years and many challenges to get it that way.
I thought perhaps today I'd share my "waiting for my dream house" story with you. This story may be new to you so pull up a chair, grab your hot chocolate and I'll share my tales of the last six years with you, in a very abbreviated form. Of course, the tale of our journey really began much longer than six years ago, but we don't have that long to tell stories today, heheh, so we'll start our story in the year 2008.
If you've been following along with me at The Inspired Room for awhile, I bet you'll be as surprised as I am how many years have gone by and probably have forgotten the details anyway, so I'll tell the story again :-).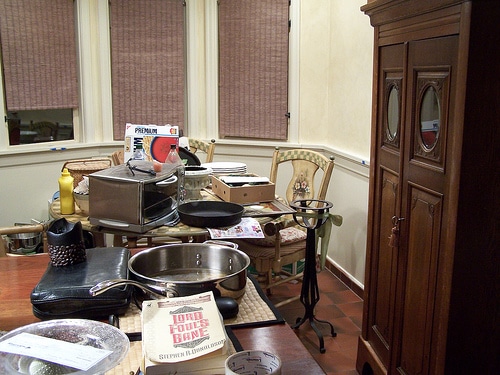 My, so much can happen in six years. At the end of 2008, after a long stressful FULL YEAR of unemployment and uncertainty of what would happen next, my husband and I packed up and left our old house in Portland right after Christmas and drove off into a blizzard (literally) towards our new rental home in a city where we knew no one.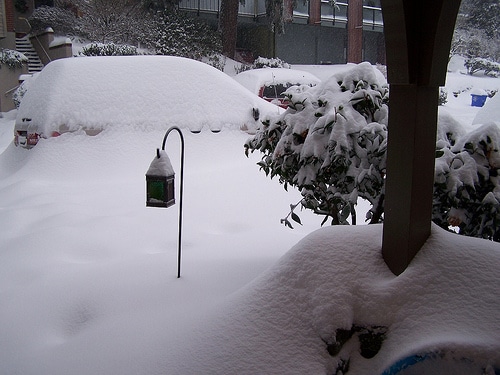 My eight year old son cried all the way to our new house because cars were spinning out of control all around us in the blinding snowstorm on the highway. He wanted to turn back, but by then we were already half way there. It was a stressful three hour drive, but it was symbolic, I think. Moving toward the unknown when you can't see what is in front of you is risky and scary, but turning back isn't always an option.
It's an adventure, heading off toward the unknown.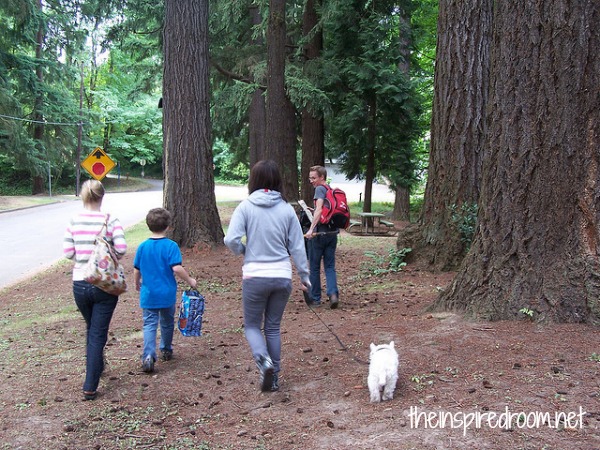 Our house in Portland would go up for sale at the beginning of January 2009. We were basically broke and had left everything we knew to start a new church three hours away from friends and family. We were so grateful (scared and excited!) that my husband had this opportunity and knew it was the right thing to do (and I was excited for the adventure!), but still the move didn't come easily.
Not only did we leave a place we loved, the only city our family had ever called home, but we left our teenaged middle daughter with grandparents and friends to finish out her last year of high school — without us. It was a hard season.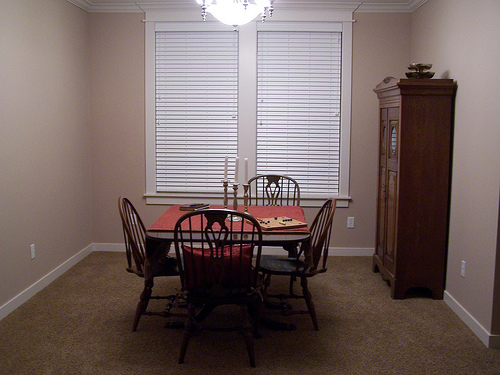 And that hard season was followed by a pretty challenging year in our new house. Our Portland house took over nine months to sell. We had only some random furniture here  (we left the rest for staging purposes) and since we were renting, we pretty much had to leave the new house as it was (swine pink walls and all), since we had no guarantees that we would ever be able to buy it and our lease agreement was a short term deal. Had this house been a long term rental arrangement, we probably would've gone ahead and made at least some changes!
It isn't easy being a home blogger and not be able to do much to your house because you are in limbo! It's a wonder my blog continued to grow, but perhaps there are many of you out there who can relate because you have waited in limbo, too. Working on our house was not really a priority right then, so we had to wait.
We paid the mortgage on that house back home AND lived in the rental house (now our home) here and tried to keep up with both lives. That was soooo stressful! To top things off, I had emergency surgery about four weeks before our church opened its doors and more bills piled up. We basically worked our tails off to keep our heads (barely) above water and everything else afloat!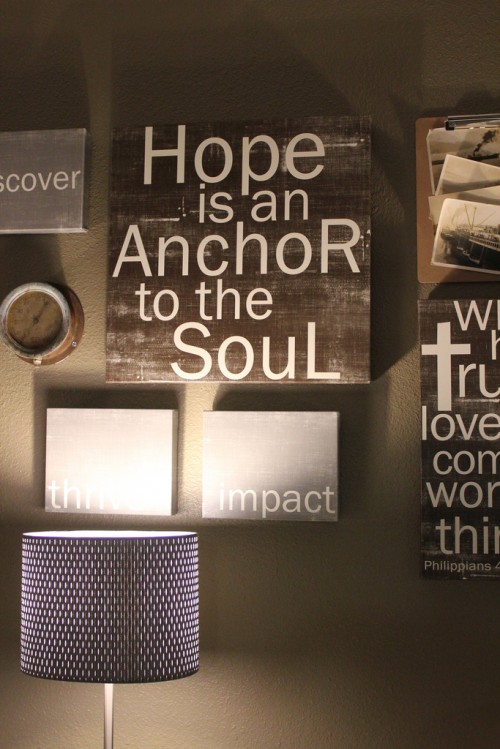 Meanwhile, we were not only working hard to start up the church (another long story of patience in the journey) but I was still working hard as a blogger all that time! Several years ago you didn't get paid much if anything to be a blogger (I've been blogging for over seven years now, so I certainly paid my dues without earning enough for a cup of coffee!), and it seemed like everything we did was all a labor of love (which is nice, but doesn't always pay the bills, haha).
Of course, there were many other setbacks, challenges and stressful events along the way. Mine have been minor compared to many things people face, but we all have our own set of issues.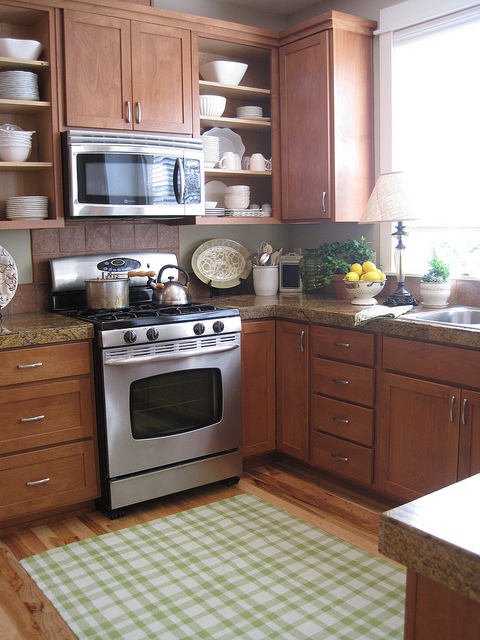 Our house finally sold in October of 2009 (that was a long exhausting story in itself!) and we were able to finally buy the home we had rented. We almost walked away from this house because it really wasn't our favorite. We were very close to buying something else and moving once again, but it was easier to buy this house and stay than to start over with another move. And while we prefer older houses, we definitely wanted to stick with a newer house this time.
It wasn't what we would consider our dream house or our favorite style or setting or location, but for many practical and financial reasons, this would be our home and we would find contentment in that.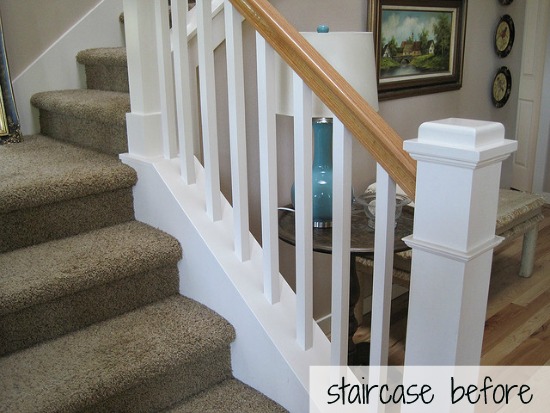 We didn't have much money or time to improve or change much for the first few years of owning our home since we were busy with the church and just trying to pay the bills, but we worked with what we had until we had the opportunity to make more updates.
Fast forward to today, many long years later, we've been here in this house for five years, the longest we've ever lived in any of our six houses during our many years of married life and raising kids. That seems so strange to us, how we ended up choosing a home for practical reasons and ended up staying here the longest!
While this might not have been our chosen dream house, one of my dreams has always been to find one house we could live in for years and keep improving until we loved every inch of it.
So, in a long round about kind of way, I guess this house has turned into kind of a dream come true for me. It didn't start out as a "dream house," but it is an opportunity to create a home I love.
The grass is always greener where you water it, right?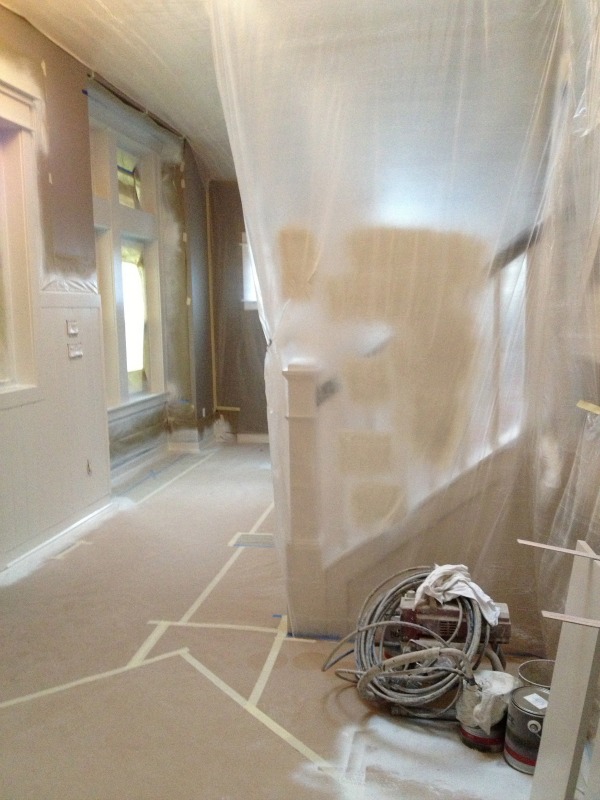 Bit by bit over the five years we've been here, that is what we've been doing!
One project at a time, learning to love our house more.
We've completed a few bigger projects in the past year, but mostly smaller ones over the years. Whatever we could do with the time and money we had! It was slow going, but worth taking our time to end up with a house we would really love.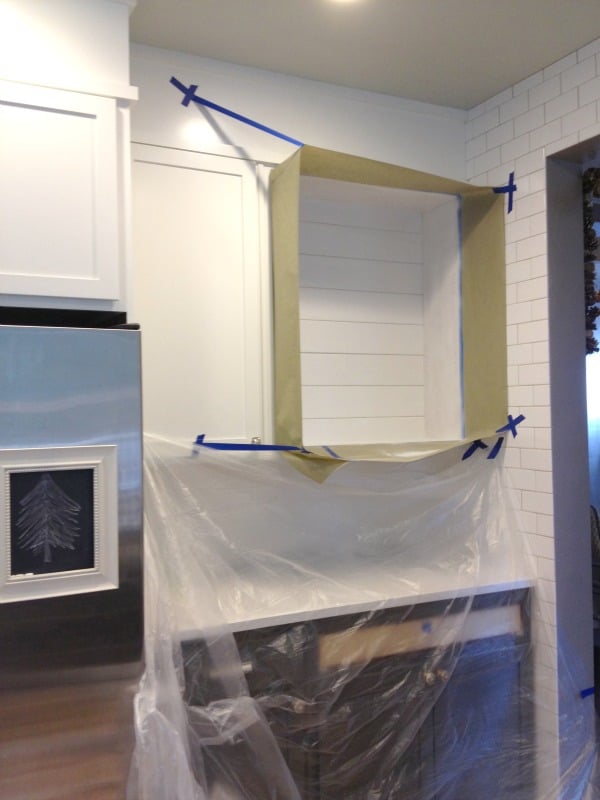 Exactly one year ago this week, almost exactly four years after we moved in, we were finally completing a long-awaited kitchen remodel – what a blessing that kitchen has been to me this past year! I know it is just an updated kitchen and might not be that big of a deal in the grand scheme of life or on the scale of some people's remodels or homes, but it really means a lot to me since it took so many years of waiting and working hard to get here. I'm sure many people have waited longer, but this is just my story.
While the past years have been challenging (physically, emotionally and financially stressful at times!) in both the journey to starting a church from scratch and at the same time slowly creating our home, I think we are so much more grateful for our life and home today, not because it is perfect, but because the journey wasn't perfect. But here we are!
So, embrace your house journey! It takes time to get to where you are going!
I've learned about finding contentment along the way to a "dream house," in all the twists and turns of every season.
I'm excited to start a brand new year in this house, the one we have.
Our house still not perfect in every way, we have much more to do, but it is our home. How long we will stay, I don't know. There are many places I'd rather live or other houses I would love more, I am sure, but I know we are enjoying our home more and more the longer we stay. We are content in this house, and that is such a great feeling! I have so many more projects in my mind for this house, I'm pretty excited to see how our home and life will evolve in the upcoming year.
Right after Christmas I will round up the projects we completed in this house over the past year (sheesh, and maybe even one giant before and after post of all the projects in the whole house, that would be fun!) and then I'll start dreaming of next year.
Of course, I am well aware that life has its twists and turns so the journey will continue perhaps in other directions, in spite of my dreams! You don't really "arrive" you just keep going on in the journey. But for now, I'm just enjoying every moment of this season right now, in this house, sitting by the fire and taking some time to breathe! It was a long six years to get here, ha ha, and I'm ready to put my feet up and sip some egg nog for a bit!
Thanks for coming along with me in this long journey of creating a home!
I hope you are finding contentment in the season you are in.
PS. My friend Jen has her own story of waiting 17 years for her dream porch! Go see her gorgeous porch! When you get there be sure you click back and read the backstory on it, I think if you are in limbo or on a budget you'll be encouraged by her story!