Christiane Lemieux's SoHo Loft
Hey everyone! I've been on the go traveling for the past couple of weeks both for work and Spring Break with my family, but I am SO excited to finally be back this week. I love to travel but I'm such a homebody. There is SO MUCH going on with The Inspired Room and my family and it is just good to be home! I'm SUPER EXCITED about finally sharing a few bits of awesome news very soon! Don't you hate when people have surprises they can't tell but they tell you they have a secret? Eeek, I know! Me too. I hate keeping secrets, but these are worth the wait and the suspense and I think you'll have fun with all the surprises, too. :-D Soon. I promise. Good things are ahead.
Anyhoo, I'm just about to kick into high decorating gear around my house with some much needed items for a few rooms! It was timely to have been invited to NYC to be a part of the launch of a new furniture line! I've been dreaming about a few new furniture pieces for awhile, but after thinking about it FOREVER! I just need to break open the piggy bank and make it happen. That's the hardest part for me, I am always scared to buy bigger things for myself. But I was inspired by my trip to NY!
I'll tell you more about what I'm thinking for my house in a separate post, but this trip to NYC was pretty surreal. Earlier this year I received an invite to fly to NYC for the launch of a new furniture line by Wayfair. From time to time as a decor blogger I am invited to an event for one reason or another. This time I really had no idea what I was going to experience, but I like Wayfair and Joss & Main so I accepted!
Well, I'm SO glad I said yes! Y'all, it was crazy, and since you know me you would have laughed at (with) me (inside your head) if you had been a fly on the wall watching me attend this event. Let me explain.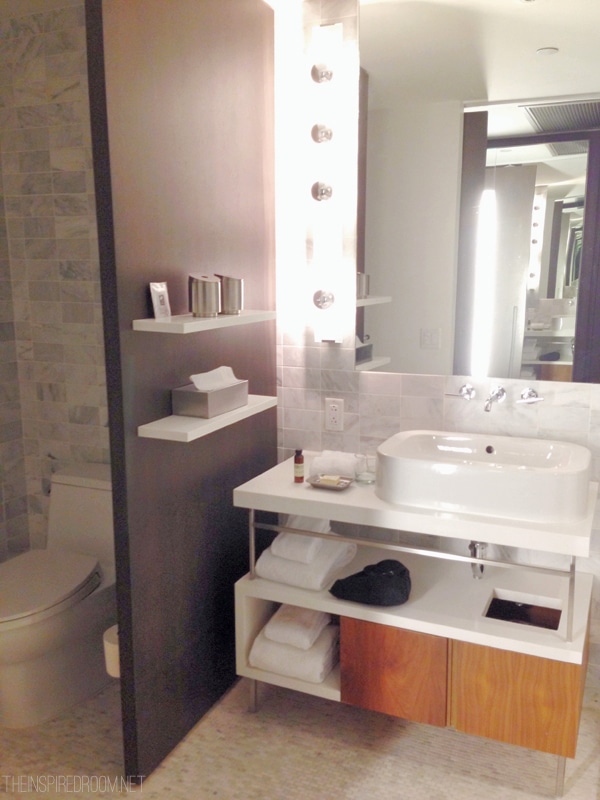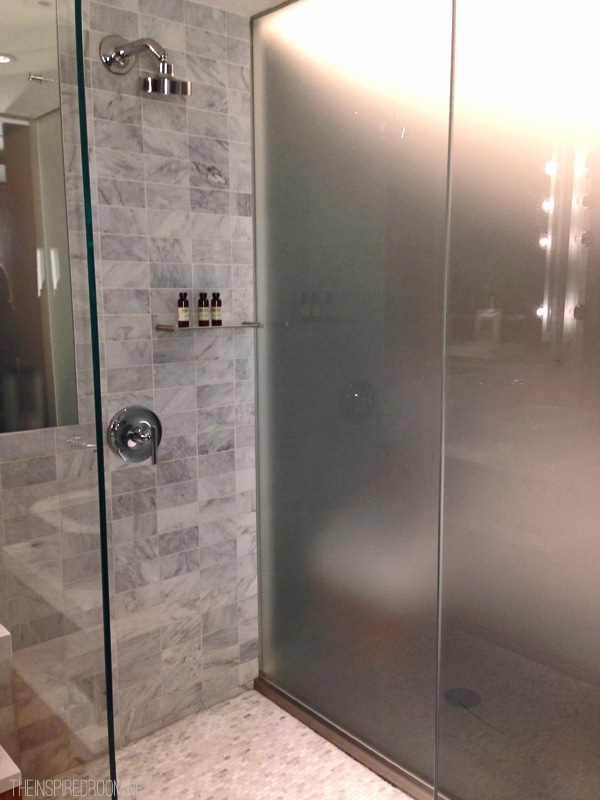 I came in a day early since I was flying from Seattle to NYC and didn't want to have to get up at 2AM to go to the airport. I need my sleep :-). As soon as I arrived, I headed to the Smyth Tribeca Hotel. It was so nice! The bathroom was especially lovely, that marble subway tile was gorgeous in the shower and on the floors too! I got in late evening so it was nice to just have a peaceful night to rest. The next day my friend Rhoda from Southern Hospitality blog flew in and we were able to have lunch and catch up! If you followed us on Instagram (do you use Instagram? I love it — you can follow me here!) you may have seen a photo or two of our adventures. It was FREEZING there, but we still had a good time.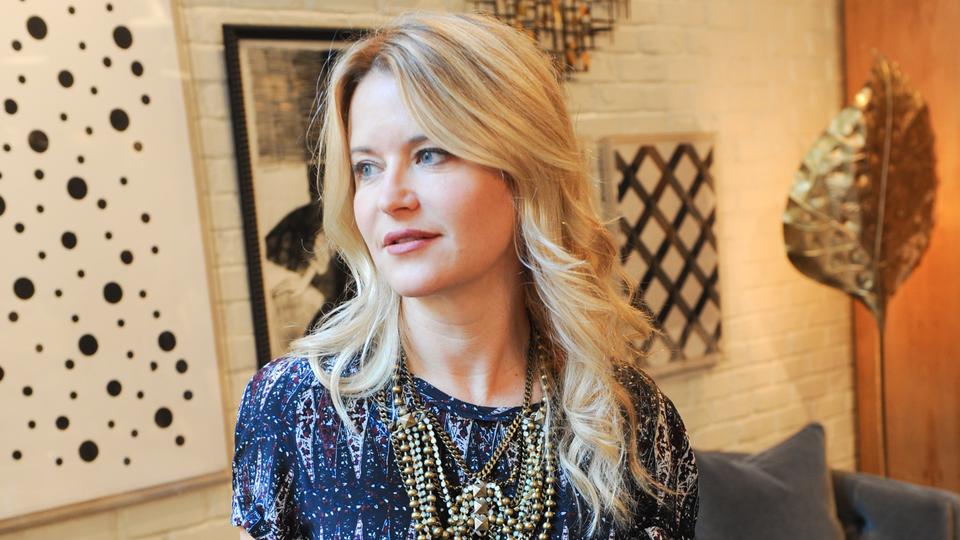 We were both invited to a private dinner at the SoHo loft of designer and business woman extraordinaire Christiane Lemieux (!) (pictured above). You might be familiar with her as the founder of the very successful DwellStudio. She was recently appointed the Creative Director for Wayfair. If you want to read more about her, check out this article and this inspiring video interview. I loved reading more about her in preparation for the trip.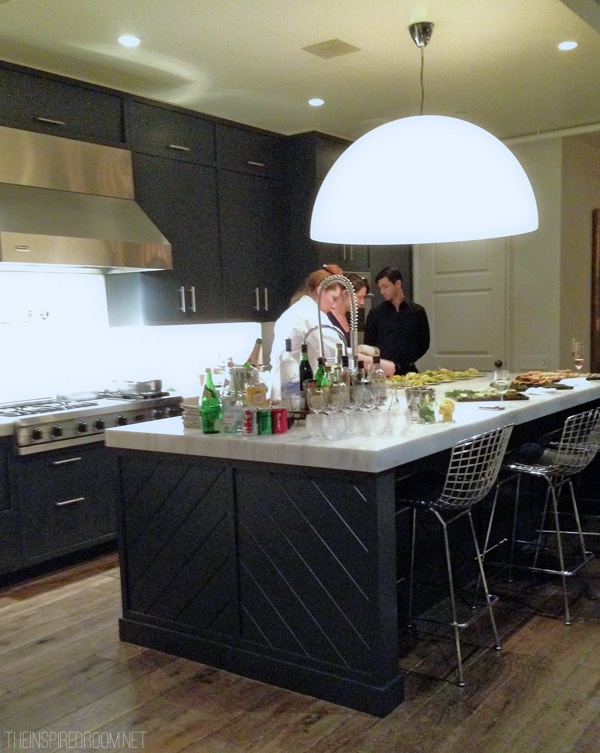 Rhoda and I still had very little idea of what to expect or why we were invited, but that evening we headed off just the two of us in our cab over to Christiane's apartment. We awkwardly got LOST as soon as we entered the apartment building and she actually had to come out to find us wandering around in a dark stairwell. Ha! But the minute we were invited into her home, we were at ease and knew this would be a memorable once in a lifetime experience. It was a PINCH ME kind of moment. Christiane greeted us at the door, took our coats and there we were, at her home for a private dinner party!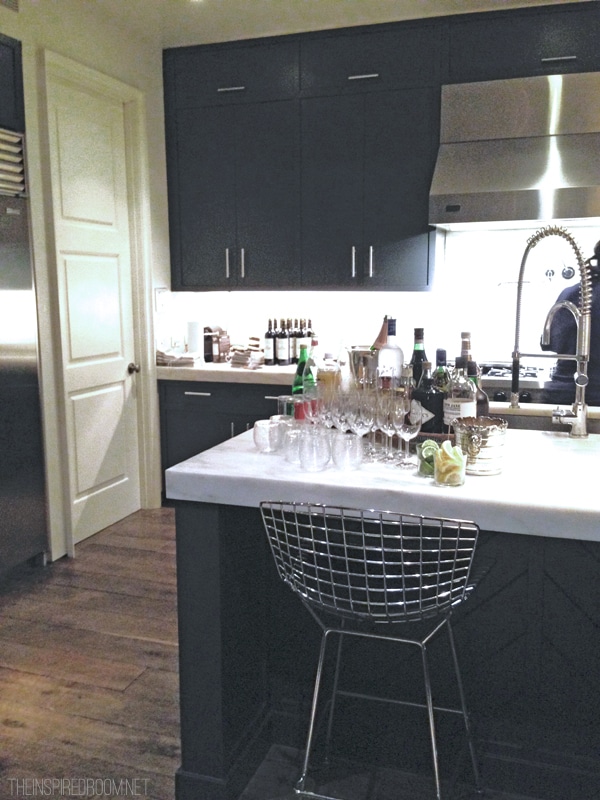 You know I was drooling over the kitchen and the entire apartment. My eyes went straight to that giant slab of marble! SO GORGEOUS. The beautiful zig zag planking on the island? I LOVE IT. And of course I love the kitchen color scheme and felt right at home with the dark cabinets and white counters. I loved all of the contrasts between modern and antique and the texture everywhere! The floors were amazing too, beautiful old hardwood brought in from Europe.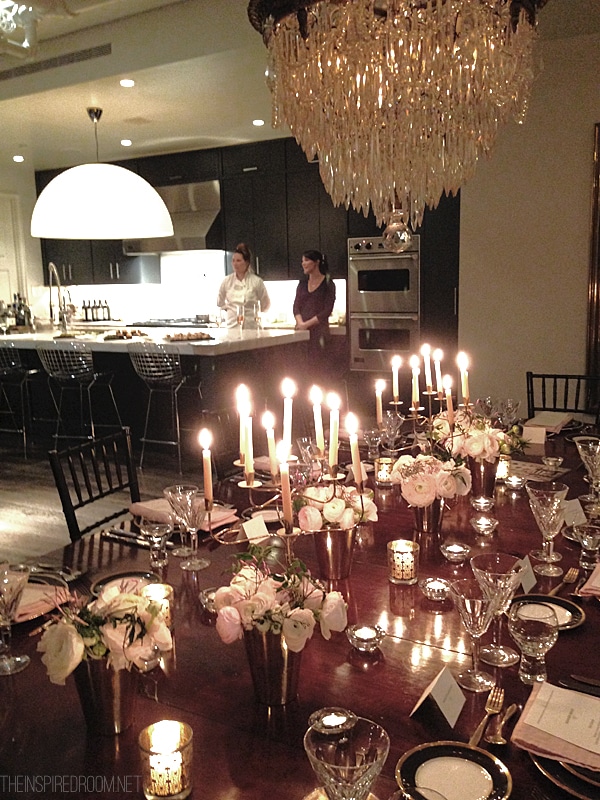 Christiane's attention to detail made the evening an experience, from the bouquets to the candelabras to the menus and beautiful table settings and table itself — it was all lovely.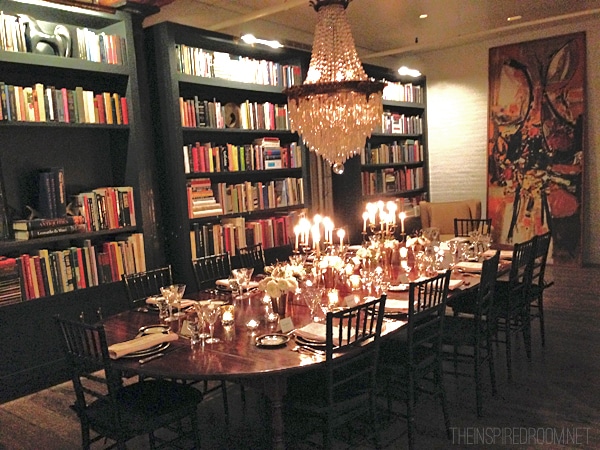 I've always loved bookcases in a dining room. They give such a warm functional feeling to the space. The bookcases used to be painted white (I had seen a photo of them online) but I think the black gives them a more classy look!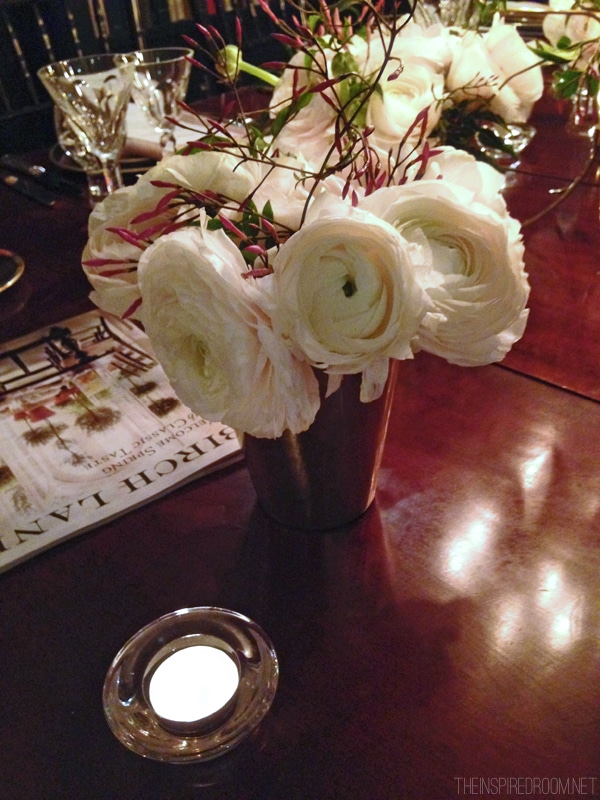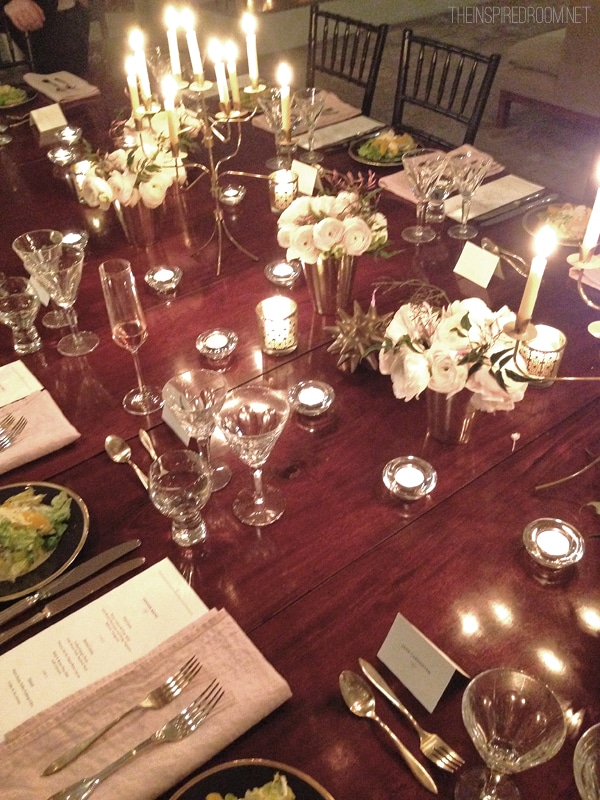 I'm kicking myself for not having my big camera because my iPhone could not do it justice in the lovely evening light. Her space was stunning. I wasn't sure what was more jaw-dropping — that I was standing in Christiane Lemieux's gorgeous famous loft apartment, that we were there chatting about kids and designing homes, or maybe that there were only 1o of us there for a beautiful sit down dinner celebrating pre-launch of her new furniture line! We were also joined by fellow blogger Gabrielle from Design Mom.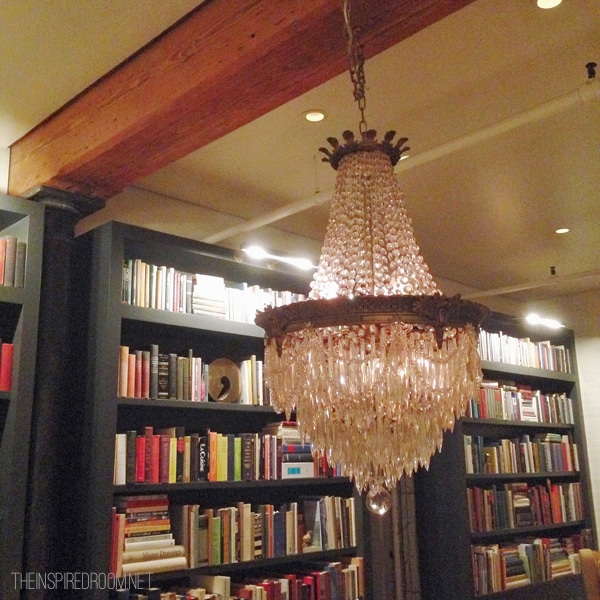 Christiane's chandelier was incredible, it had come from a movie theatre and weighed about 400 pounds! She had it cleaned and restored before it was hung above her table on a solid wood beam. She told me right after she hung it her son shot a nerf gun into it and broke a few crystals … but she was OK with the imperfection and left it that way. I knew I liked her! Boy moms unite!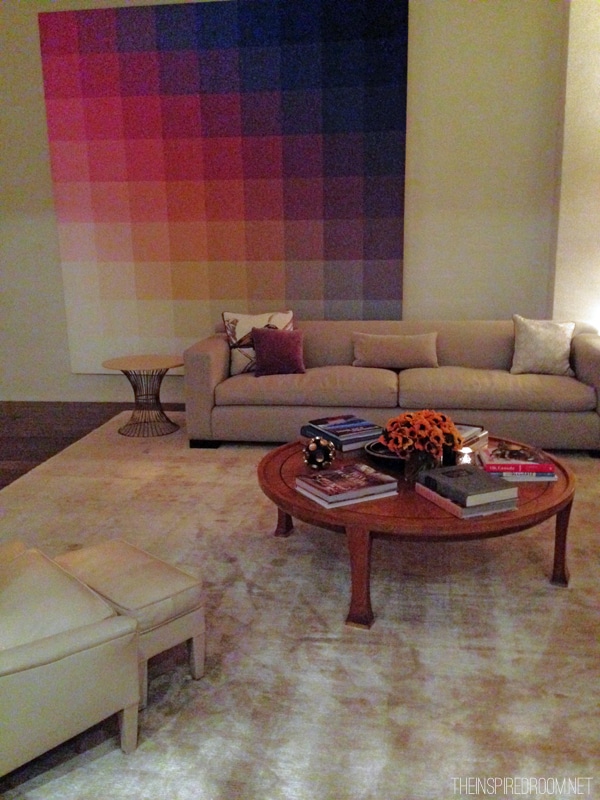 The art piece on her wall has been featured many times in catalogs and magazines. Before dinner we all stood around and made small talk. Everyone was really warm and personable and we felt like old friends!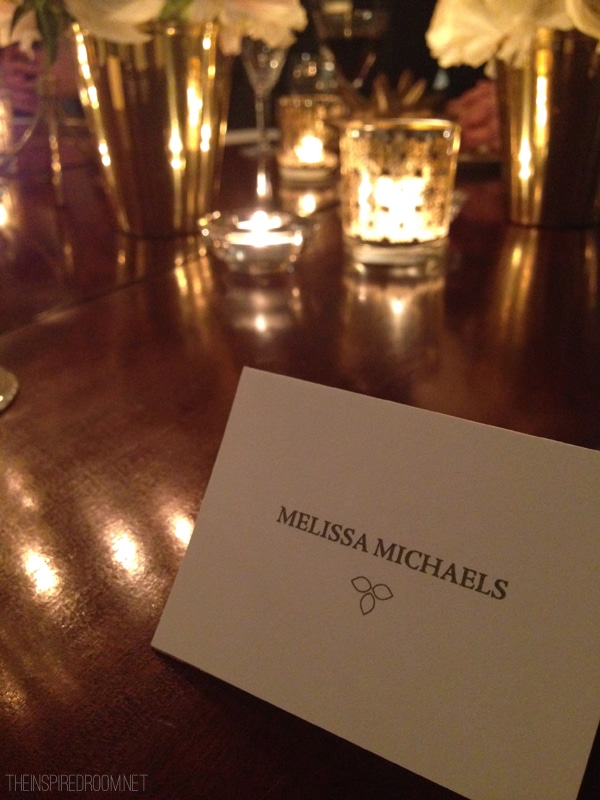 For dinner I was seated to Christiane's immediate left (I would insert a few OMGOSH statements about how crazy it was to be sitting there right next to her at the dinner table, but I'll try to act a little more cool and collected for the record. Eh hem. But you know I basically tried to keep spinach out of my teeth and not say anything awkward).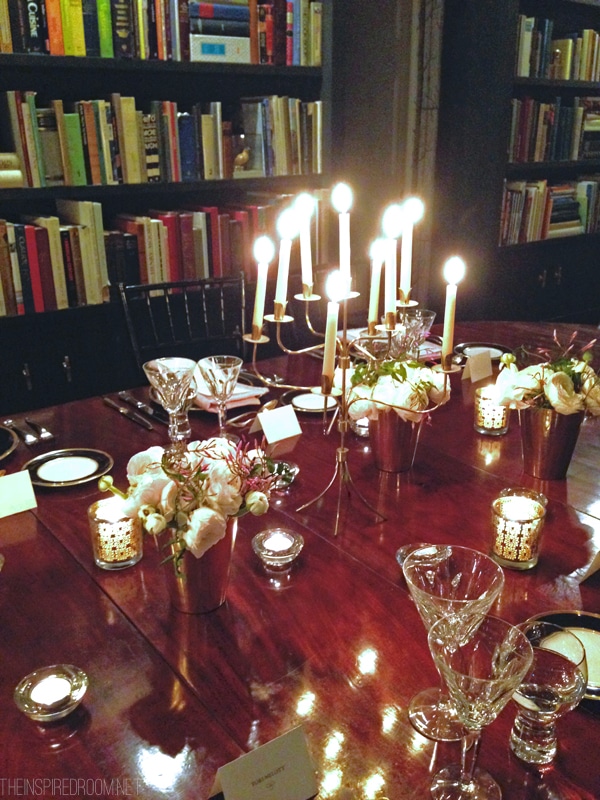 Seriously though, Christiane was so sweet and easy to talk to. Her enthusiasm for design was contagious! We talked about kids, travel and home design. I learned so much about her success and passion for her businesses as well as the story behind the new furniture line, Birch Lane (which she described to me as being "twisted traditional" style.) It was so inspiring to talk to her and her team. They were warm and welcoming and even encouraging us about our own blogs and our place in the industry. It was really a fun evening and an absolutely delicious dinner! I was honored to be there.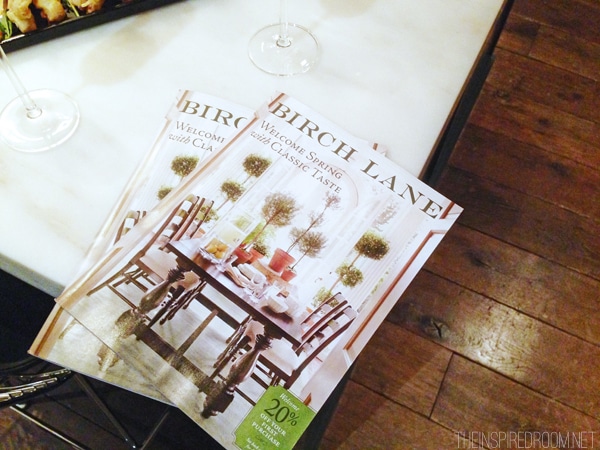 The next night we went to the actual launch party of the furniture line, so I can't wait to share about the furniture and my own furniture plans in an upcoming post.
Meanwhile feel free to check out Birch Lane's website! I really love many of their pieces and I think you will too!
Thanks to Christiane, Wayfair and Birch Lane for the hospitality!