Meet Bella, the newest pup in our family.
I can't even. HER FACE LOOKING UP AT ME? WHY SO CUTE?
She is an eight week old Australian Labradoodle. She is going to live with our daughter Kylee soon. Bella is kind of like our grand-pup :-) but we don't like to use that word to describe us heheh. Three of us in our house are really allergic to pet hair so we are happy we've found a few breeds we can have in our home! Bella is the same breed as Lily. Jack is a Goldendoodle, you can find his blog here, his Facebook here, and naturally, his Instagram here.  I know.
We introduced her to Jack and Lily as their new cousin over the weekend :-). They love her already.
My girls and I were working the other day in our family room and we brought Bella in to hang out with us.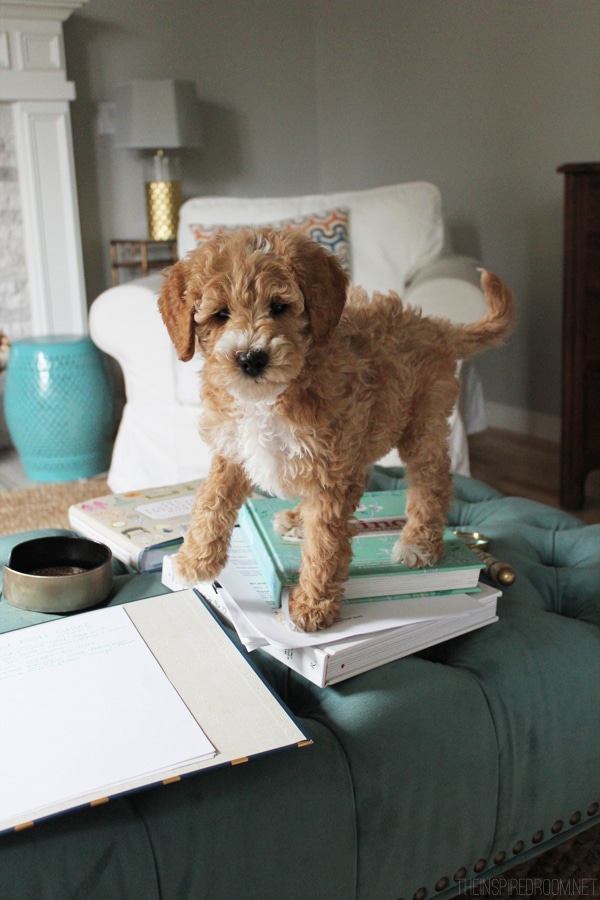 We really didn't get much done after she came in. She was busy being cute and we were busy trying to keep her away from our papers.
This is how real life is around here. It's crazy. It's lively. It's fun. It's loud. It's almost like having many toddlers in the house. Except they have fur.
Our home is full of everything that is meaningful to us. Nothing is ever perfect or left in place or perfectly kept, but at least we can laugh about it. We surround ourselves with what we love. While many people have come to think living with what you love must mean accumulating lots of meaningful accessories, we happen to find a lot of joy being surrounded by these pups. People and pets make our home come alive.
I promise our house is not a smelly place filled with dog hair, we aren't crazy dog people. Well maybe we are but we do keep our house clean enough and the pups get their haircut and baths regularly. I do have my limitations. And smelly dogs or lots of dog hair would tip me over the edge. Fortunately these dogs don't smell or shed or drool.
We normally block off the big opening to our family room with a bunch of chairs and garbage cans (you know, so it looks photo ready at all times) so the puppy is confined to a smaller area in the kitchen.
Can you see Jack trying to make a break for it over the barricade behind my son's head? Nobody puts Jack in the corner. Except when he puts himself in the powder room to calm himself down. He has anxiety issues about people or dogs walking down the street. Pups make you laugh and sometimes annoy you but you still love them. And they always love you back.
Her face.
Do you live with pets? Tell me about your sweet furry animals!
Bella came from Mt. Park Labradoodles. If you are able to get a rescued pet and can provide the right home for them, of course go that route! There are many pups out there who need homes and are just as lovable and precious as ours.