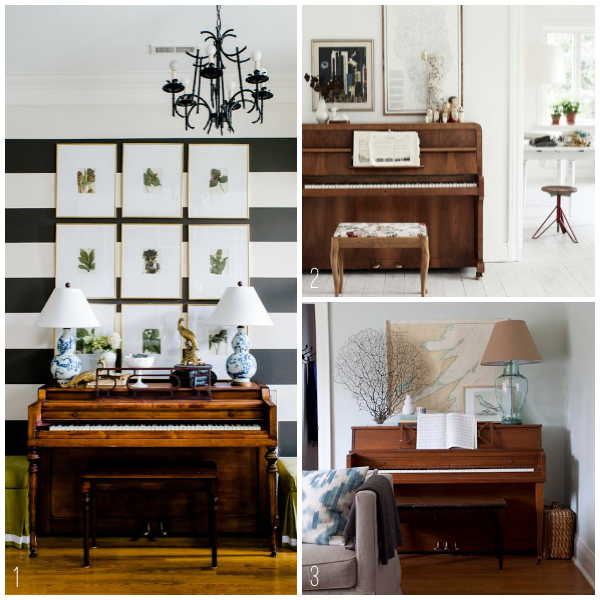 In our old house we had two baby grand pianos, one in our living room and one in our dining room. One was a player piano, so even if someone wasn't around to play it for real, we could turn the button on and it would fill the house with live music. While we no longer have a piano, our home is still often filled with either live music (usually from guitars) or songs blasting on our favorite Pandora station.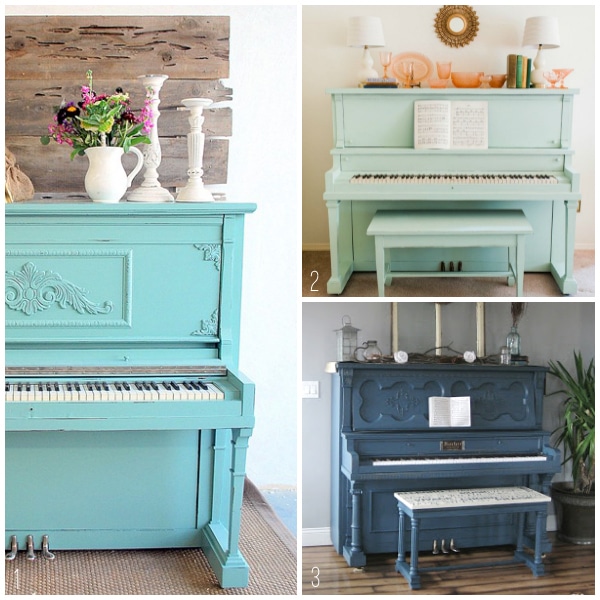 My husband is a musician, my daughter is a singer, and we all love hearing music in the home. Although I'll admit we don't always agree on what kind of music we play. For example, right now as I'm writing my post my husband is playing some ear piercing screaming music downstairs and I would rather be hearing Mumford and Sons. But that's a discussion for another post.
We do really miss having a piano though! I think pianos can definitely make a house look and feel like home. Don't you?
Do you have a piano in your home?
Sources
Wood Pianos:
1. Style Me Pretty by Emily A. Clark – Photography by Caroline Lima // 2. Mokkasin via Decor8 // 3.Michael Penney Style, Photography by Donna Griffith; House & Home Magazine, June 2011
Blue Painted Pianos:
1. Sweet Pickins // 2. Your Home Based Mom // 3. Kammy's Korner
White Pianos:
1. White Life // 2. Scandinavian Chic – Photography by Sara Svenningsrud // 3. Centsational Girl
Black Pianos:
1. Lonny // 2. Anna Truelsen for Bo & Leva. Photographed by Carina Olander via Daily Arch Design