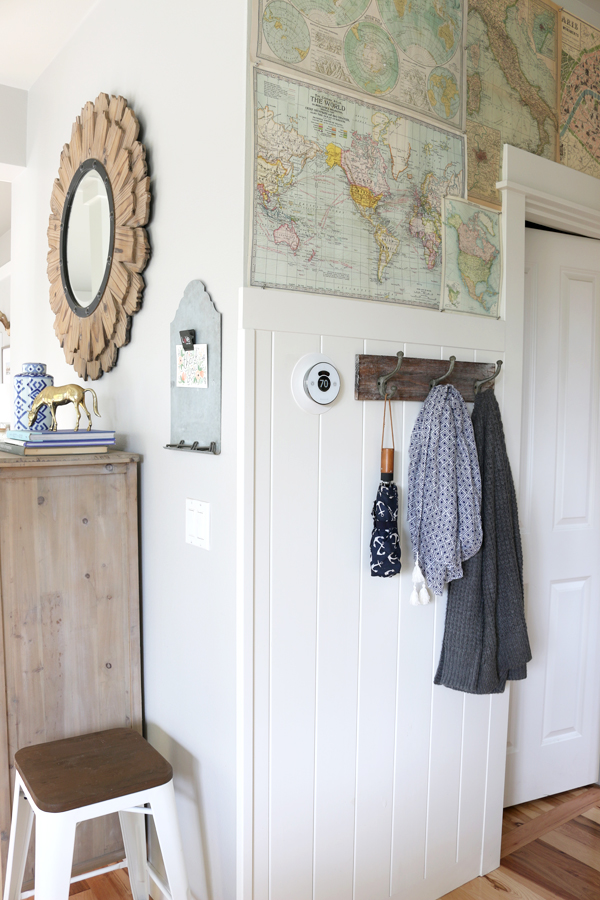 This post is sponsored by Honeywell. I received a Lyric thermostat and compensation in exchange for coverage. All opinions and thoughts about this product are my own.

We have now lived in our house for close to six years, can you believe it? It seems like just a few months ago that we were moving up here to this brand new house! Time flies! But I've been having such a great time working on this house, fine tuning it to make it our home.
I'm all about working on the comfort in everything now around the house, from getting our home better organized for our needs to decorating in a way that inspires us, to sitting all cozy by the fire because IT'S FALL.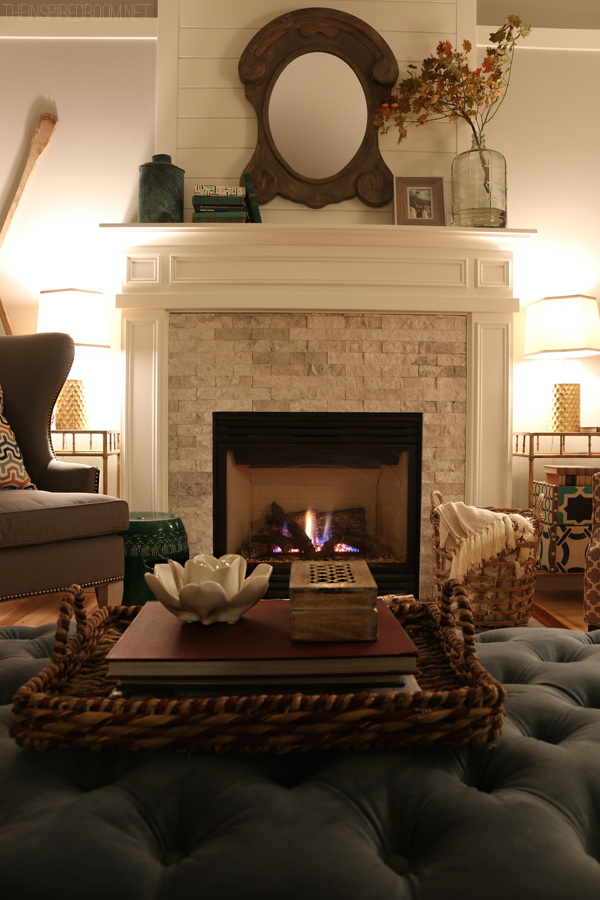 One thing I noticed about turning on my fireplace all the time in the fall is the temperature in the rest of my house didn't feel quite as comfortable. It would either get too warm upstairs or feel too cold in other rooms, once I walked away from the fire. Don't get me wrong, sitting by the fire every day is super cozy and I'm SO HAPPY to have that fireplace, but I don't like to feel like I'm having hot flashes or freezing as I move about the house.
Our old thermostat could be programmed to go on or off at regular times of the day, but it wasn't very easy to adjust for fluctuations in temperature or different schedules on different days. Not to mention that our schedule isn't always predictable enough to follow a set schedule. There were many times that we would leave the house for an entire day or even a trip and forget to turn the heat down. Oops! I love heating our house when we aren't home, or coming home early to a freezing house. Not.
I really loved the idea of a smarter thermostat that fit better with our lifestyle and could save on energy costs, but I just hadn't gotten around to checking into the options. Recently I was offered the opportunity to try a Honeywell Lyric thermostat that works easily with my iPhone/iPad to fine tune our comfort level, so I was pretty excited to give it a try! I'll be honest, I was also excited that it looked cool since it is in such a highly visible area of our home.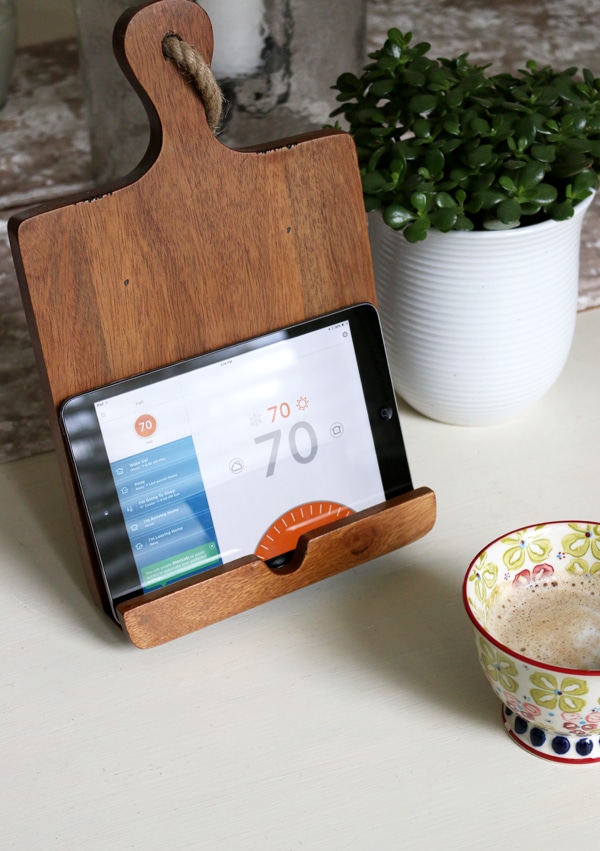 I'm not really very techy so I was relieved to see how easy it is to set up and super intuitive to use, even for me (the one who can't figure out how to watch TV by myself without assistance from my son!). I don't like adding any complication to my life with gadgets I have to remember how to use, so I really appreciate the simplicity of the Lyric!
The Lyric uses geofencing with your smartphone's location tracker to automatically adjust thermostat settings to save money while you're away and keep your home comfortable while you are there. With its custom Fine Tune technology, it even considers outdoor humidity to adjust your indoor temperature (so that 70 actually feels like 70).
I love that I can easily adjust the temperature from my phone or iPad, or tell the Lyric that I'm heading out for awhile and it knows what to do. And when I'm within a few miles from returning home, Lyric will get the house warmed up again to my preset temperatures so we arrive to warmth. Now if I could only tap my iPhone and come home to a hot and delicious healthy meal ready in the oven (and the kitchen all clean), then I'd be super pumped. Baby steps.
I've already found so many reasons to love the convenience of the technology, not the least of which is times when I'm upstairs all tucked in my bed or up late watching a movie and the temperature is too cold, or I'm wanting to get up earlier one morning and it's too cold to get out of bed! Now I don't have to traipse downstairs to the thermostat or wait until the designated time for the heat to come on, all I have to do is grab my phone and change the temp! AHHH! I love that.
The app offers the opportunity to program shortcuts to settings for specific activities or times of the day when you might want the house warmer or cooler, or even settings you can preselect for certain routines like exercising or select settings for entertaining. With the touch of a button, the Lyric will know what temperature you'll be comfortable with no matter what your plans are for the day. And, for extra convenience and to prolong the life of your furnace, the Lyric sends out alert messages/reminders when it's time to change your furnace filter!
I'm loving this use of technology and how it is making our home feel so much more comfortable!
Do you use any new technology to simplify or efficiently manage everyday tasks at home?