Scroll to the end of the post for a 50% off deal on Love The Home You Have! 
***Giveaway is now closed!!!***
Do you see it? That little book on my shelf with my name on it? Y'all. I WROTE A BOOK AND IT IS HERE IN MY OFFICE! It's not released yet so don't worry, you haven't missed it. But soon! March 31! I held it in my hands for the first time yesterday. Honestly, it feels like I just had a baby that I've been waiting for so long to see!
Eight years ago, in January of 2007, I started The Inspired Room as a decorating business to help other women create a home they loved, right where they were with what they already had. I had been passionate about creating a beautiful home, one that wasn't for show, but rather for beautiful living. You see, while I enjoyed decorating my home and making things around me more lovely, I was really more into how it felt to live there. I wanted my home to feel beautiful to me. I didn't care about trends or shopping or decorating for show. I saw my home as my sanctuary and I wanted others to feel that same sense of peace with their home.
It brought me joy to improve my home and take care of it, but I didn't have a big budget to buy new things nor did I have the patience or skill to DIY or craft them. I loved to surround myself with things that were meaningful. That was my thing, embracing authenticity and simple beauty in my home. In July, I started the blog on a whim. The Inspired Room blog was a unique mix of all the topics I felt were important to finding contentment at home. I've stayed true to that mission.
Never in a million years did I imagine that more than a few of you would ever be out there reading or sharing this journey with me all these years later! AHHH!!! I just can't even believe it! Much to my surprise, my rambling stories, thoughts, ideas, and imperfections resonated with fellow house-lovers!
At first there were just a few readers out there, somewhere, in the big black universe.
I shared more of my heart and what embracing authenticity and finding contentment with my home meant to me.
Many of you returned, saying you feel the same way or that you were encouraged to try new things or to see your home in a new way.
You became my friends. Blogging wasn't about posting pretty pictures or projects, it was simply about sharing the experience of creating a home and going through life one blog post at a time (with nearly eight years of updates, that's a lot of posts!)
Many of you have been here through the ups and downs, the move to the house I have now, and the very slow process of creating this place I now call home.
Two years ago, you all gave me the courage to put those years of home stories, experiences, those simple but meaningful ideas, and those bits of encouragement into a book. A real life, hold it in your hand BOOK. This first book (which is the first of eight!), Love The Home You Have, was born after years of forming of a philosophy that was shaped through six different houses, nearly twenty years of homemaking and so many years of blogging.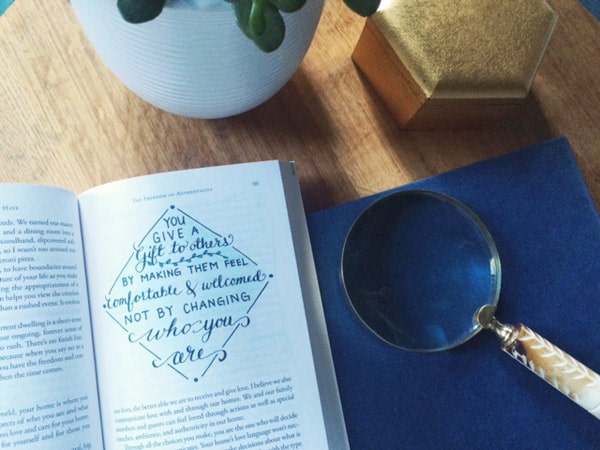 This is the message I am passionate about.
This is the encouragement I need to remind myself of along the journey of creating a home, because I know how freeing, empowering and inspiring it is to love the home you have even when it isn't always in its most lovable state. The foundational things I share in this book are what inspire ME to remember to show love to my home whenever I lose my way.
After this book, this fall, my second book (The Inspired Room) will be released. That book is going to be special in its own way too (a full color coffee table book!) and will expand upon the foundation of this first book. I can't wait to share more about it soon.
Below you can see our happy faces posing with the book right after we opened it and held it for the first time! My daughter Courtney has been such a huge help to me through this process of book writing, I don't know how I would have gotten through all this hard work without her! Her input was invaluable. I wanted this message to encourage her as she starts her home journey as much as it inspires me to keep on keeping on! We both put our hearts into this to make sure it was the gift we wanted to offer others, too.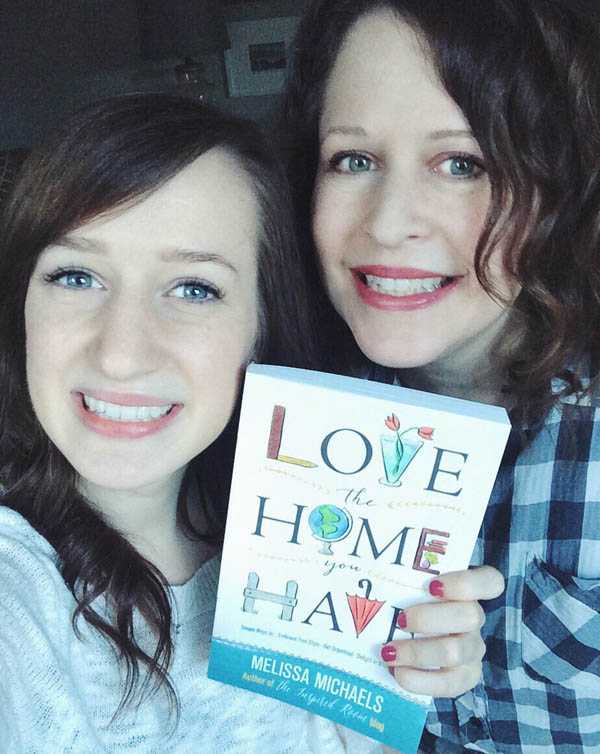 Until yesterday, it was still a book I could only read online, in an electronic PDF. I still couldn't actually believe it was real, until I opened that package Monday and held it in my own hands. Friends, IT IS BEAUTIFUL! My publisher and the artist did an amazing job at creating a book that is SO special!
It's a paperback book of encouraging words, but it's also an extraordinarily fun and happy two-color book filled with meaningful and pretty hand-drawn quotes and sweet little illustrations. The cover is so soft and smooth, the letters and art are embossed and it feels like a dream! It isn't just beautiful though, it's TOUCHABLE. While you can preorder this book in electronic form, it's really the kind of book you want to have in real life, to put on your shelf, to set on your nightstand, to curl up with by the fire. I can't stop hugging it, stroking it, and taking photos of it from every angle! It's just cute.
Okay, that almost sounded like the crazy cat lady. But it's true, I love it so much I want to put little bows on it. And set it in a basket. And put it on a rainbow. And put it in my bed. :)
I can't wait until you all can hold it in your own hands, too. The photos cannot do it justice.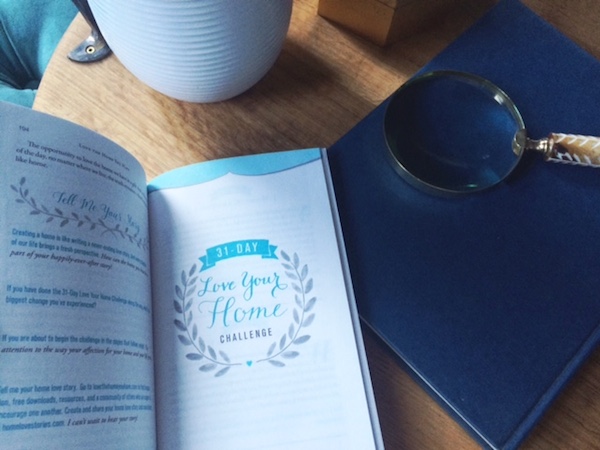 I just wanted to thank you all again for your support on this wild journey. I have several more quite exciting things I created especially for you that I can reveal in the coming weeks (eek!). This whole experience really would not be the same without you to share it with.
One thing I'm really excited to share is that Barnes & Noble is offering you guys an AMAZING deal on the preorder of Love the Home You Have on March 9 and 10th! How does 50% off the print version sound?!!!!! SERIOUSLY, that is amazing and a rare opportunity. I know they don't offer that kind of deal often. In fact, it's a one time deal on this book. It's a two day only sale so I will remind you as it gets closer so you won't miss it. It would be a wonderful time to buy yourself and a friend a book, or stock up for gifts for a new bride or homeowner! :)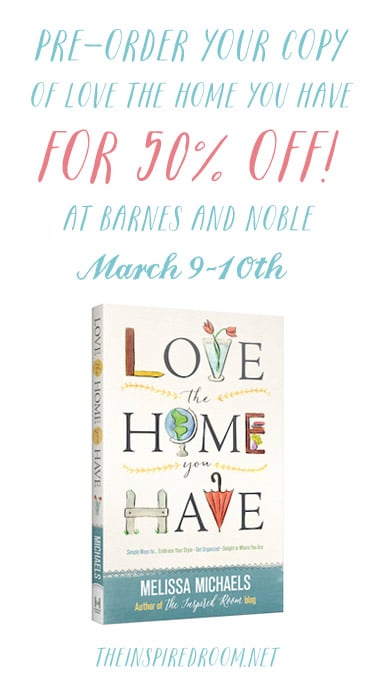 ***Giveaway is now closed!!!***
I'm SO grateful to everyone who has offered their help to make sure this book gets out into the world. If you are able to share on your own social media, emails, or with friends and family about the book or the 50% off sale, that would be SO AMAZING!!! Soon I'll be sharing a link to fun artwork and downloadable quotes from the book that you can use for yourself and to help me to spread the word about the book. Thank you!
***Giveaway is now closed!!!***