One of the things I miss about my old house was how "put together" and finished it felt to us when we lived here. Not in a perfect way at all, just a homey way. We could relax because the house had just the right stuff to make us feel comfortable. We created an ambience we loved to come home to. We felt peaceful when we were there because the elements worked together to make us feel like we really belonged there!
I love creating a home, but I'm not a design snob. My goal is to create a home that reflects and inspires our family, so we always start with what we have and build from there.


You know how you feel when you are playing those board games where you get pounced on by your opponent and they send you packing back to the starting line? Now that we are here moved into this house, we could kind of feel like we are back at the start again. Square One. And we are back at the start in a way, but yet, not really.
The greatest thing about putting our last house together making it feel like home is we aren't starting from scratch here. No, I don't know everything this house needs yet. I don't have the budget to do everything I want. I'll have to get creative. It will take time to get things rolling in the right direction. The process of creating this home will involve trial and error just like every house does, but there is also a process that is familiar each time. I've lived in so many houses and made each one a home, but it wasn't until my last house that I finally figured some things out.
I'm very excited about how this house will come together, following that same process (I pulled together exactly what the process looks like and what steps to take in my new decorating book! See a one day only 50% off deal, below!).
I know it isn't always easy to pull together a house. Yes, if you are able to spend the big bucks you can toss everything you have out, furnish it all in one day and even hire a designer to style it all if you wanted to! But where's the fun in that? Don't answer that :). But seriously, most of us have to deal with limitations and some challenges because we are starting from what we have.
Mirror: Lulu & Georgia
There are so many elements to weave together and we have to figure out what will make the most impact. We might have too much or too little to work with, and we have to figure out how to work with it. We have to figure out what stays and what goes, and then decide what we should bring in to transform the whole room on our budget.
So what is the first thing I'm working on in this house? Among other things, I will be figuring out what I want it to feel like. I'm fleshing that out so I can not only see it in my head, but I can describe what it feels like so I'll know what elements I will need to make it happen. I'll have a post on what I'm picturing, soon.
To me, being able to capture a feeling is the most important step of all! If you don't have a vision for how it will feel, you'll focus too much on how it looks and that can get you into all sorts of troubles :).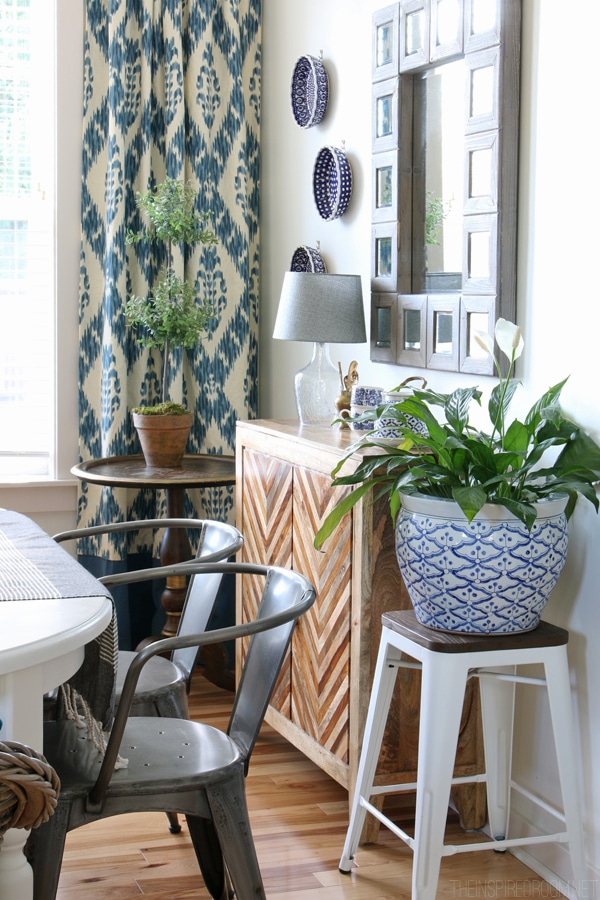 I also have a wonderful project you'll all love that involves a sewer, wouldn't you know it? Me and old houses have a love affair but they always seem to have chapters that involve rats and sewers that I just can't escape. So, that part of getting settled … well, it is not so fun. But if I can make anything about that unfortunate situation turn into a prettier project, I will. I'm trying. We are gathering details on what will be involved in taking care of that issue so I can share it shortly. The project list is growing, as all good house makeover stories tend to do. You can't ever just do one thing, right? One thing always threatens to lead to another…
More details and visions of loveliness for this new house coming right up :).
What house projects are you working on or planning right now? Let's discuss!
If you want a house that is comfortable but not cluttered, one that is authentic but affordable, pretty but practical, streamlined and yet stylish, I put together the details and tips you can use immediately right where you are, with what you have! No waiting for the next house, the big budget or the perfect house!
It's all in a pretty coffee table book that will be hitting the stores in just a couple of weeks! It's already nicely discounted for pre-order at the online stores. BUT GUESS WHAT? Next week, on Thursday October 15, it will be 50% off the retail price on a one-day sale, online only at Barnes & Noble! That is crazy and won't happen again so you'll want to take advantage of that for Christmas gifts, too!