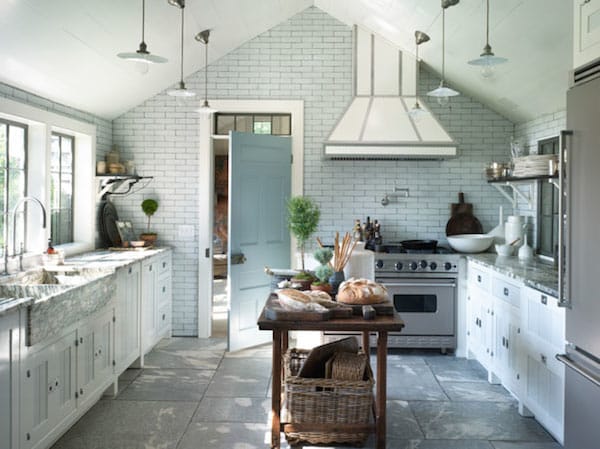 Annie Schlechter via Martha Stewart
It's been awhile since I updated you on my kitchen plans, so today I thought it was high time I share our refined and (finally!) more firm plans! Yippee! I'm super excited to finally feel settled and am very ready to start moving forward on our project. It was so very helpful for me to go through the process of dreaming up all the possibilities and then letting the options sink in (see what I did there?) to see what felt right. As I mentioned before, the main reason we moved here wasn't to design another house, but rather to more fully live. That perspective helped so much in our decision making process.
With our goals and purpose in mind, being intentional about the life we want has really helped me narrow down what we need to do to our house and makes it more clear about what we don't want to do. Having the chance to design another kitchen is a dream and not a must in the grand scheme of life. Being intentional about designing our life is by far the most important challenge and goal for our family. Because our home and our life are so intertwined, I'm excited that we will have an opportunity to see our vision for our home come to life for our family.
We cannot wait to move forward and I could not be more happy with our vision and the design direction! To have contractors stand in our home and confirm the ideas are good ones was so exciting for some reason, I guess I just feel relieved to finally be at this point.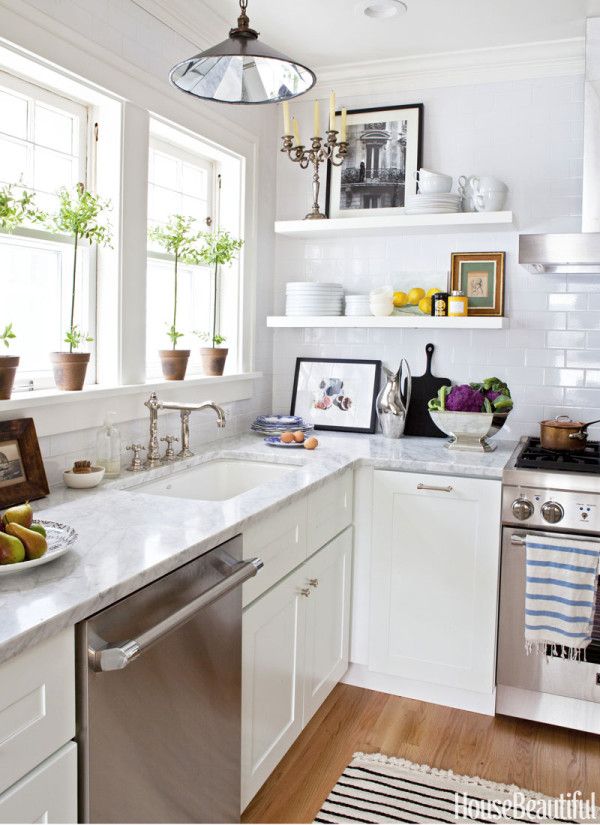 House Beautiful
Hopefully early this summer our kitchen will be gutted and the remodel will actually begin! I told one contractor that if he could gut it TODAY I'd be thrilled. Keeping my fingers crossed because I'm just SO ready. My goal is to have this kitchen finished by fall one way or another. My timeline isn't always realistic and I know there are often bumps in the road (take my side yard which is still in process, for instance) but I'm feeling hopeful that we will be moving ahead in the coming weeks and the pace will accelerate.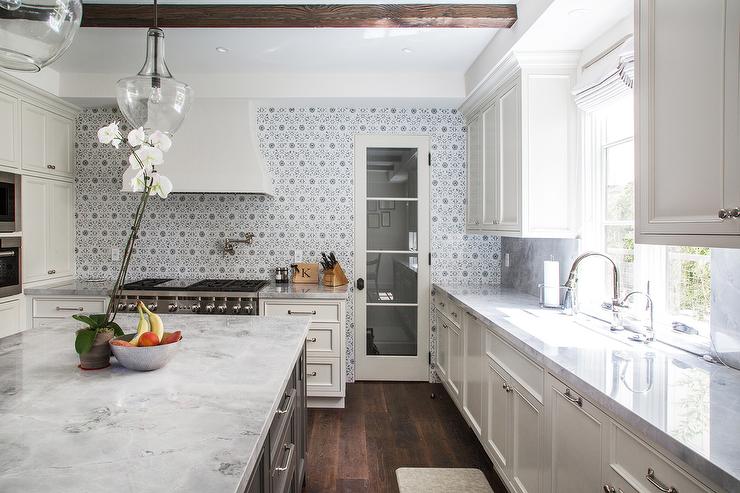 Kitchen – Dana Benson Construction
What about the layout, size and style?
The style of our kitchen will be in keeping with the look we've always loved, a more modern traditional style with a coastal farmhouse vibe (at least that's how I'm thinking of it in my mind!). Our whole house will be receiving a style update over time, so we cannot wait to see the elements we love start to come together!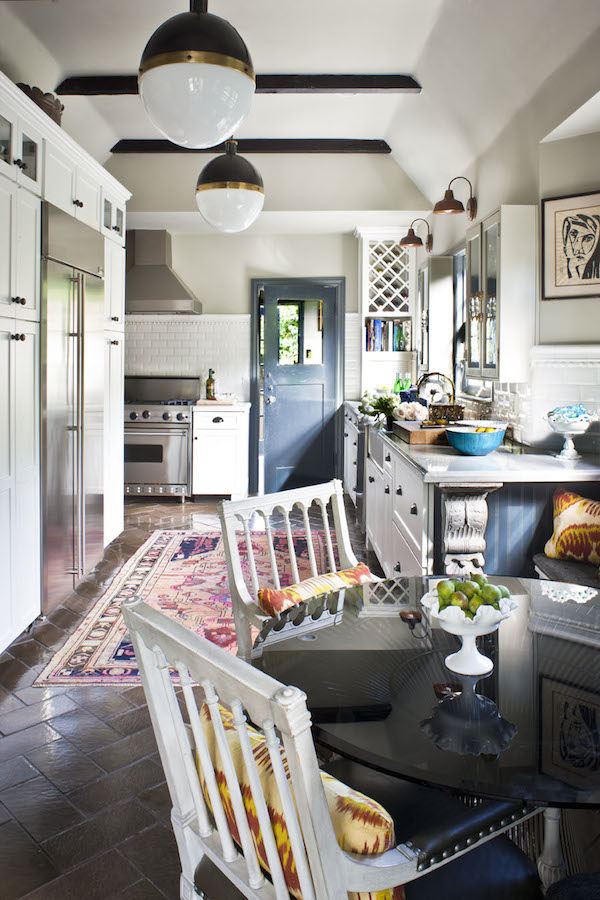 Zoldan Interiors – High Gloss Magazine
The inspiration images in this post have design elements I really like (some I've shared before) and each one has a piece of the puzzle that has inspired an idea, or at least give a bit of the 'feel' I'm looking for (not necessarily the exact colors or details). I'll continue to share more inspiration pics and ideas as we go, certainly the ones in this post are just a fraction of the wonderful ideas that will continue to inspire our design.
The key to simplifying the process and cost (with any remodel) is to leave the physical space intact. That means the appliances, plumbing, windows and layout will remain as is, but the space within the walls will be completely gutted and transformed. It is a small kitchen and will happily remain one. I happen to love the ambience of small kitchens so no complaints from me on that. We will simply address how spacious the room feels and functions and its connection to the dining room in other ways.
What about the location of the sink?
You probably remember my original dream was to place the sink at the back of the house (to take full advantage of the view of the Puget Sound, mountains, and Bainbridge Island) but as we've lived here longer we've decided that wasn't as much of a priority as I originally felt it was. It was a splendid idea, to be sure, but there are other simple yet wonderful ways we will transform the kitchen to fit with overall vision and our goals.
Besides, the great thing is that we will still have the view from our kitchen sink if we leave the sink where it is (with a quick turn of our head or as we move about the kitchen), but by leaving it where it is we won't be blinded by the light that streams in the windows in the late afternoon. Instead, we will have a new full height counter under the the large window with lots of drawers below, the perfect space for a coffee and baking station! We can enjoy the view from that nice wide and unobstructed countertop any time we want to.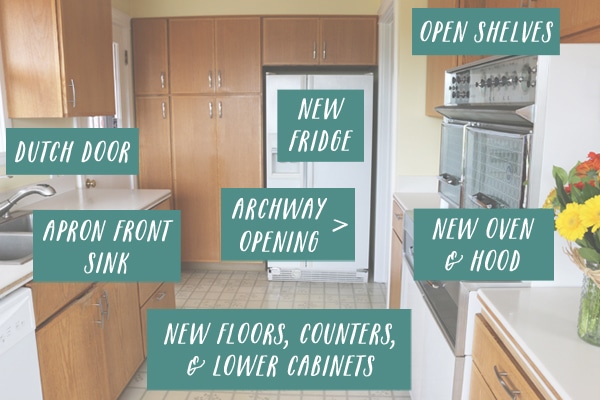 What about the upper cabinets?
All of the upper cabinets (except around the fridge) will be removed to add to the sense of spaciousness and to give the kitchen a really clean and uncluttered look that I love. When I removed the upper cabinets in our last kitchen I felt like I had to often defend or at least explain my choice but now it's much more common and acceptable. Even if you still think I'm crazy for removing upper cabinets in a small kitchen, ha, keep in mind we will be adding lots more very functional drawer space so we will not have any less storage than we currently have. I love how extra spacious countertops feel with no upper cabinets so in a small kitchen that is a big plus for me.
Olivia Babarczy via The Grace Tales
What about the walls?
Besides the joy of an entirely fresh and new kitchen, one change I'm super excited about is we've finally decided for sure to eliminate both of the small cramped interior doors to the kitchen in favor of wider archways. The arch was an idea we had very early on and just couldn't stop thinking about. That's when you know you have a winner of an idea, I guess! And when a contractor took a look and agreed it was doable, it was settled.
Arches are so inviting, romantic and charming, don't you think? We will have a wider archway from the dining room and a narrower one from the entry hall. The change in doorways means three spaces will have more character! It's a triple win. We will have better traffic flow between rooms and from the back Dutch door to the entry hall, which will make the entire tiled hall nearly as functional as a new mudroom would have been. Hooks for the win!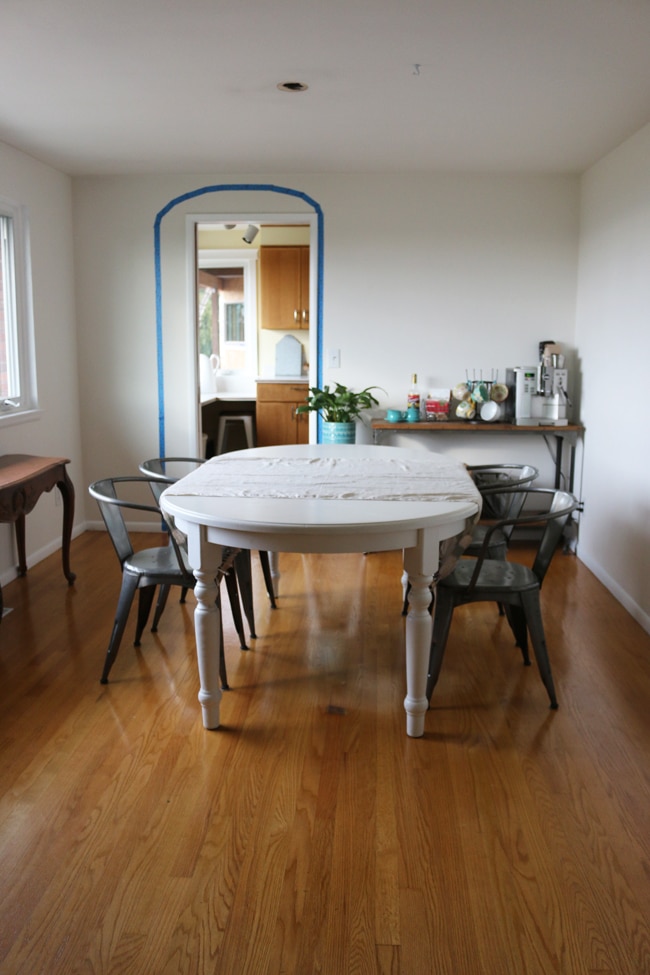 This isn't the layout we will have for our dining room,
but you can see the painter's tape we put up a long time ago to help us visualize an arch!
The archways will open up the wall to bring more light to both rooms, but still allow us to keep the location of the range wall with counter space on each side and a range hood above it. The new arched doorways will also help keep the "messy" areas of cooking in a small kitchen less in view from the dining room and living room than if we removed the walls entirely. That will make holidays and dinner parties much more enjoyable for me. No one really wants to look at the turkey carcass on the stove and all the cookware in the sink during Thanksgiving dinner, right? Problem solved.
So, there you have it, the latest plans! So…SO excited to get this rolling and thrilled you are following along. Stay tuned!
See more angles of the "before" of our kitchen and catch up on past posts about the kitchen here!
Related posts {my guides on eBay}:
6 Ways to Make Your Kitchen Feel Bigger