Update! Everyone who has or will take advantage of this deal through my link (EXTENDED THROUGH TUESDAY!) will also receive a FREE COPY of my book THE INSPIRED ROOM! Seriously.
Have you ever made excuses for why your house is a mess? I have. Trust me. Of course, there are some days or circumstances where you really can't or shouldn't clean. Don't beat yourself up over legitimate reasons and seasons.

But most of the time, ignoring or postponing housework that really needs to be done now or making excuses for why we aren't giving our home the TLC it deserves (and we deserve!) is just stinkin' thinkin'.
Literally.
When your house is dusty, it stinks.
When your sheets aren't fresh and clean, they stink.
When your sink is dirty, it stinks.
When last night's dishes are piled high on the counter, your kitchen stinks.
When you haven't cleaned out the fridge and a bowl of black beans has been sitting in there for four weeks, EVERYTHING stinks.
When our house stinks, we are unhappy. We feel stressed out. Am I right?
The stinkin' cycle of a messy house will never end if we keep making excuses and don't stop the madness! That's why I have had to be committed to kicking housekeeping excuses to the curb.
Making my house smell GOOD is one of the best motivators and rewards for cleaning.
I have some more great tips for getting inspired to do housework and even enjoying it (I know I need all the inspiration I can get, so click on the link to find that post).
I wanted to let you know about AN AMAZING DEAL on some luxury products you won't want to miss out on: for a limited time you can get FREE (and GREAT smelling!) Caldrea products I absolutely LOVE from Grove Collaborative:
Free Caldrea dish soap
Free Caldrea countertop spray
Free Grove Collaborative Be Good dish brush
Free shipping
Value of over $30!
I'll share all the details and answers to questions you might have about the deal below, but here are the links you'll need when you're ready:
Since this freebie is only offered for a LIMITED TIME and quantity, I wanted to make sure YOU, my favorite reader :), got in on this deal right now because it is TOO GOOD TO MISS!
If you haven't yet heard of Grove Collaborative, I absolutely know you will love it as much as I do. Grove curates the best natural household products and delivers whatever you select and need right to your door, on your schedule. It has been a lifesaver for me. I have several subscription type services now that save me time and money and I'm 100% committed on saving both as often as possible.
With Grove I stay stocked on the basic products I love and use everyday even occasionally order fun new things like fresh and pretty dish towels so I always feel prepared for entertaining.
There's no longterm obligation whatsoever, but if you sign up for this deal as a new customer you'll receive three items I love for FREE. Check them out, all the details are below. Trust me, it's an amazing deal.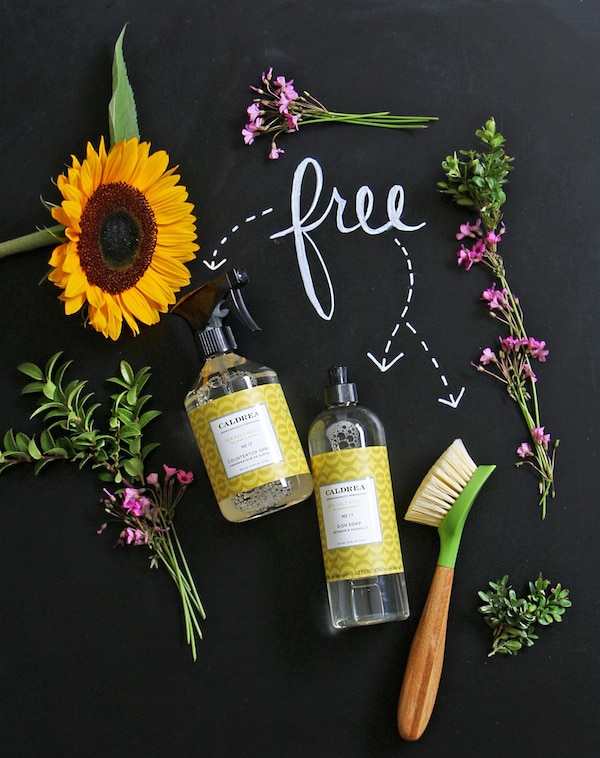 Here's how to get your FREE products:
For first time Grove Collaborative members, click this link here to sign up. You'll receive the Caldrea Luxury Set for free when you sign up and spend $20 or more on your first order (order whatever you want or need anyway).
Answer 4 quick questions about your home that Grove Collaborative will then use to customize your products — this takes under 30 seconds!
Adjust and finalize your basket of products to suit your household needs by adding or removing items (but be sure to keep your freebies!)

Confirm that your order reaches at least $20 to receive this offer. That's easy to do because Grove offers so many products you love and use everyday.

Click Finish & Pay and place your order.
I mean, honestly, what's not to love about this deal?
I LOVE all of these free products and use every single one of them at my house. Caldrea's dish soaps and countertop cleaners are totally adorable (a must in my book!), but what's inside is even better. They're made with safe, non-toxic ingredients, and the cleaning power is hands down the best. They also make a great hostess gift, so I love keeping some extras on hand.
You can choose from four light, summery scents for your freebies: ginger pomelo, sea salt neroli, pear blossom agave, and tangelo palm frond. All are SO GOOD. It's hard to pick a favorite, but I'm loving the sea salt neroli right now. I'm obsessed with good scents so I know what I'm talking about. This is the good stuff.
The Grove Collaborative Be Good dish brush is thoughtfully made with BPA-free recycled plastic and bamboo. 
This orange thyme and cardamom lip balm is new to me this month, but now I will never be without it. It smells SO GOOD and feels great on your lips, too!


Above you'll find a sample of what you could order, the savings are incredible!
Current customer bonus: If you already use and love Grove, there's something free for you, too! You'll get the Grove Collaborative Be Good Dish Brush when you place your order using this link here for existing customers only.
Grove Collaborative Natural Cleaning Products
*Offer expires July 17th. Please note that sadly Grove currently does not ship to Canada, Hawaii, or Alaska

Let me know what products and scents you decide to try! You are going to love Grove Collaborative!
Disclosure: compensated links are used in this post.