Sponsored by Legacybox
Every year about this time I start thinking of creative gift ideas I'd love to give to our family. When I'm really with the program (i.e. rarely), I think about it really early in the year. And if I'm SUPER ON MY GAME (which is unfortunately not as often as I would like) I don't just think about creative ideas. I actually act on them. Maybe even IN ADVANCE.
If you are like me and in your heart of hearts you really want to give creative or memorable gifts but you don't always pull it together in time, I'll let you in on what we are giving this year (P.S. please look away, mom). It's something you can pull together in plenty of time and it will probably be the best gift you ever gave anyone. I think you'll love this idea as much as I do.
Last year we sent an entire box of old video tapes to Legacybox and had so many wonderful memories put onto DVDs. Our family enjoyed watching many precious memories together last Christmas. It was truly THE BEST thing we had ever done.
We had been hanging onto tons of old video tapes and little video camcorder tapes that we couldn't even watch anymore. I was so sad about that, but I kept putting off dealing with it because I was just too overwhelmed with other things and didn't have a clue what to do.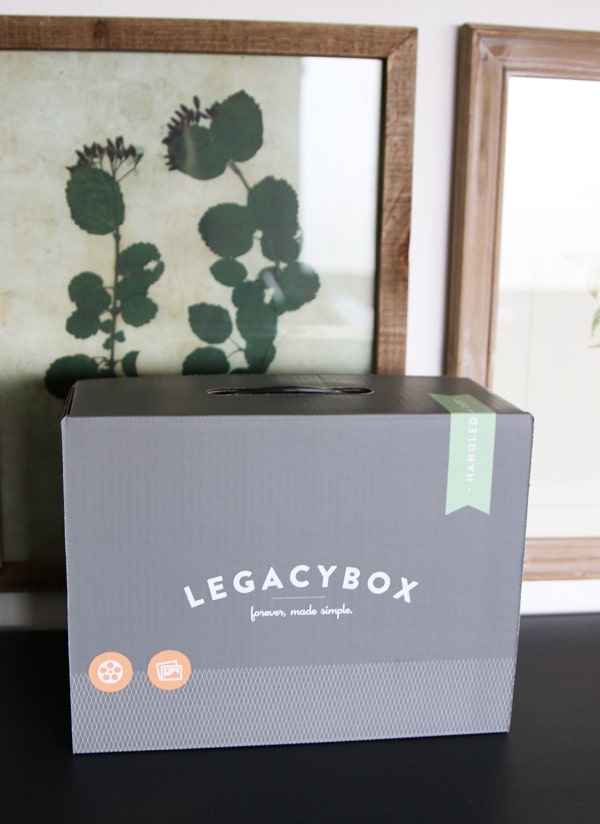 So finally last year getting all those moments preserved on DVD seriously was not only a gift to our family, but it was a gift to MYSELF! Watching my three babies laugh and crawl and run around playing together again gave me so much joy.
Fast forward to this summer when my daughter and I were organizing some shelves. We found another box of tapes we needed to preserve! This time we knew exactly what to do. Sending off another batch of tapes even got our wheels turning about how we could get organized in time for another memorable Christmas!
Here's what we plan to give our family this year:
Give everyone the gift of a lifetime of memories.

What could be better than that?
Here's a few suggestions for giving the gift of memories and maybe they will spark your own ideas, too.
Order a Legacybox and have it delivered to grandparents, parents or siblings or good friends so they can get their tapes out of boxes and preserved for a lifetime. They will THANK YOU forever for such a thoughtful gift. This is so easy!
Create a short memory slideshow or video to mail to friends and family. You can create slideshows with iPhoto if you have a Mac, or through an online service like Smilebox. Everyone will CRY AND LAUGH and be so grateful to you for those memories!
Create a short video greeting of memories that could be emailed instead of cards this year.
Set up a family movie night with popcorn and watch those old memories together to make the holiday memorable. Give everyone a copy of a special family memory DVD to take home as a gift.
Life is fragile and so special, and these memories are precious. They don't belong in old boxes and tapes you can't watch or might lose. When they are preserved on DVD and the optional thumb drive, you can load them onto your computer to watch them whenever you want and save them for future generations.
Here's a little preview of just SOME of the precious memories we discovered on those tapes we found in a box this summer. Prepare to laugh at my 1990s hair.
OH MY HEART! Those memories were on old tapes in BOXES! I'm SO so happy to have them preserved on DVD so we can enjoy them and keep them safe going forward. I'm just SO thankful to still have those memories to hold onto. These memories are going to make Christmas so special this year, too.
Here's how Legacybox works and details on how to get started:

Go to Legacybox and sign up for whatever package best suits your needs. Use the code: ROOM at checkout to receive 40% off your order! Offer expires 11/15. As an add on option at Legacybox, you can also order a thumb drive to make it really easy to load and share your videos on to a hard drive. I highly recommend adding that option as it makes loading your DVDs onto your computer so much more efficient.

Legacybox will send you a box filled with labels for your tapes and reels and a sturdy box to send your items back to Legacybox.

Place one of the preprinted labels on each of your items, according to the directions provided in the box, and package them up in the provided return box. Of course, your original tapes will also be returned.

Drop the postage paid box off at your local FedEx.

You'll receive periodic updates on their progress via email, which really helped me feel at ease knowing where they were in the process and that they were taking good care of our memories.

Soon your box will be returned to your door, containing your original tapes and your new DVDs! It will be the happiest package you'll receive this year, I'm sure.
Deal alert:  To order, click here. First 25 people to use the code: ROOM at checkout will receive 40% off their order! Offer expires 11/15.
HAPPY MEMORY MAKING!