Me in my old kitchen in Better Homes & Gardens 
Happy Friday! This summer I'm excited to have the opportunity to be a blog mentor at the Haven Conference in Atlanta. The Haven Conference is a DIY and home blogger conference, so it's a great place for newbie bloggers and old timers like me to connect and learn together! If you happen to be going, I would love to meet you.
As a mentor I will have the opportunity to share some things I've learned as a home blogger. Today I'm joining in a "blog hop" with the other mentors! Even if you aren't a blogger or a blog reader, maybe you'll enjoy reading some of the posts. We are all answering the same questions, and today is my turn to join in the blog hop and share a little bit my life as a blogger.

blogger life
1. How many years have you been blogging?
I published my first post on The Inspired Room in July of 2007. That means this summer is the 10th anniversary of The Inspired Room blog. Time flies when you are having fun, right? Interesting side note, The Inspired Room actually started out as a decorating business in January of 2007, six months before the blog was a thing. Once I started the blog, I never never looked back!
I've written thousands of posts since then and have six completed books to date, one of which is a New York Times Best Seller (Love the Home You Have). Who would have thought? Not me! I never dreamed I'd grow up to be a writer or an entrepreneur, but here I am!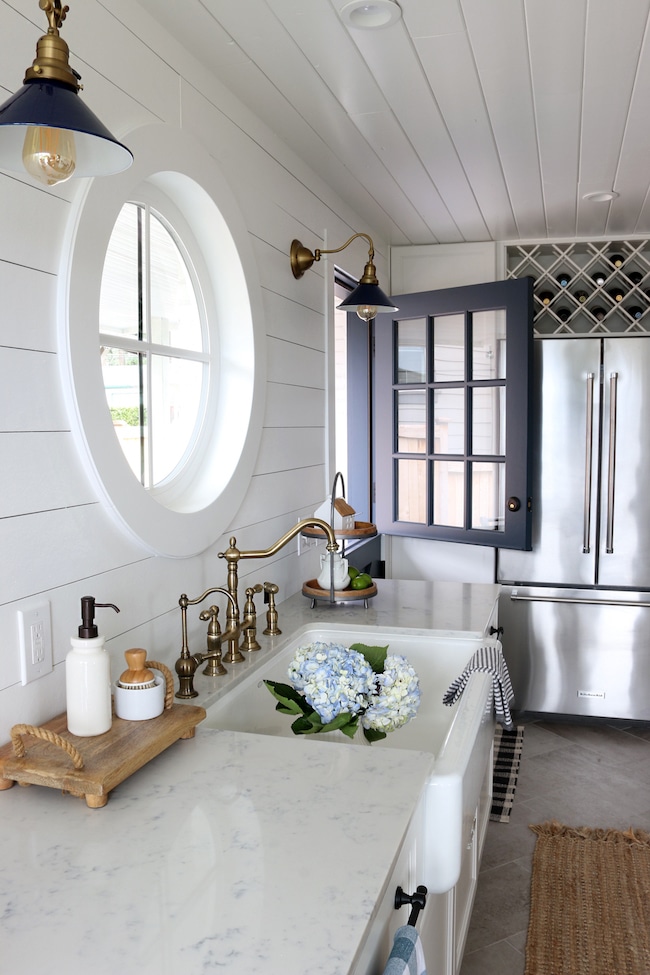 my favorite project
2. What is your favorite DIY project that you have completed?
My favorite DIY's are the projects I get to do as a designer. I don't like to build stuff and I don't often whip out my hot glue gun or power tools like so many talented bloggers do, but I do like to design rooms myself. Do what you love, right? My favorite design project has to be my newly remodeled kitchen.
You can see my new kitchen remodel here.
3. What is something useful you have learned from a blog conference?
Years and years ago as a new blogger, I went to a brand new blog conference called Blissdom. I am such a homebody that the thought of going to a blog conference pushed me way out of my comfort zone. I'm also an introvert! I was also a speaker on some of the panels for several years in a row at Blissdom as well as a speaker at Haven. THAT is really out of my comfort zone!
But one of the things that was really important to me as a blogger was that I committed to and invested in personal growth (not just BLOG growth). Personal growth involved doing things that not only stretched my skills or abilities as a blogger, but got me out from behind my computer to connect with and invest in relationships with other people in our community.
I still credit those early years attending the Blissdom Conference for giving me opportunities to learn new skills, spread my wings and grow. And some of my best blogging friends and connections came from attending blogging conferences! It's definitely a worthwhile investment in many seasons of a blogger's experience.
4. What is something you love about blogging and what is something you wish you could change?
I love that a blog can be an opportunity for anyone to create something beautiful and meaningful out of what you love. It is a way to connect to so many opportunities and people around the world. A blog can be anything you want it to be; there is not just one way to do it and no one path to "success." As a blogger, you really get to define what "success" will look like for you in any particular season.
If being a full time blogger ever appears to be too good to be true (get "free stuff" for your house, get paid to decorate and travel and sit around talking to friends in your computer all day), let me tell you…much of what I do is a lot of fun, but it is often a lot more work than you might think.
As a mom, being able to stay home with my family while running my own home-based business truly was truly a dream come true. I never would have imagined that starting a blog would lead me to what I get to do every day. But it didn't come from starting a blog for free stuff or discovering some magic hashtags for growing a social media following.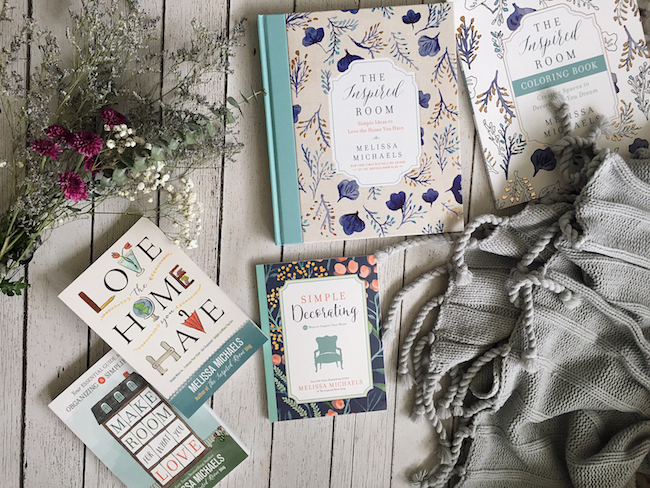 For anyone who wants to build a thriving blog or creative business, you've got to be invested in it for the long haul if you are going to succeed for the long haul. I continue to do what I do because it still has meaning and relevance. Minimal effort or signing up for "free stuff" won't get you far or last very long. Burning out trying too hard isn't a good strategy, either. Sharing from a place of genuine passion, building others up, and still making time to embrace what you love in your "real life" will keep you going as a blogger.
Even with the many hats I wear and the pressures of being an entrepreneur are factored in to what I do every day, I still love being a blogger because it means sharing my love of home with people who feel the same way. There's nothing else I'd rather do.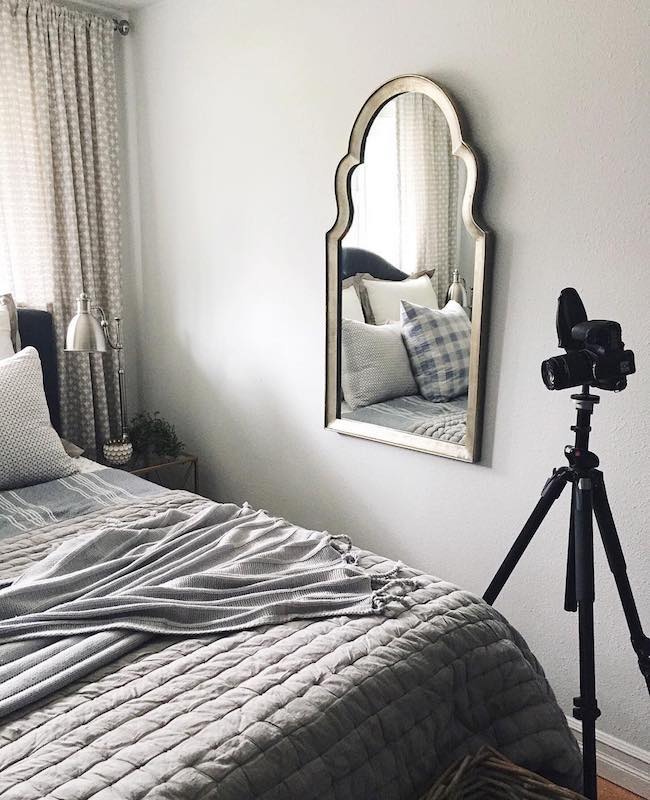 5. What is one piece of advice you would offer a blogger–new or otherwise–who is going to Haven?
Whether you are a newbie or a seasoned blogger, go to a blogging event with the intention of coming home with new friends (and to reconnect with old friends!). Don't stand back or fear that you don't measure up. I guarantee you, no one will go to the Haven Conference feeling like they have it all together. Most bloggers feel like a hot mess most days (I know I do!), so reach out to someone new, introduce yourself even if you are nervous, ask questions so you can learn from others and most of all, just be you! You'll put everyone else at ease by being real. You've got something special to offer the world and no one else can do what you do. <3
Now, enough about me and my thoughts!
Head on over to meet the rest of the bloggers in Friday's line up, links below. Enjoy!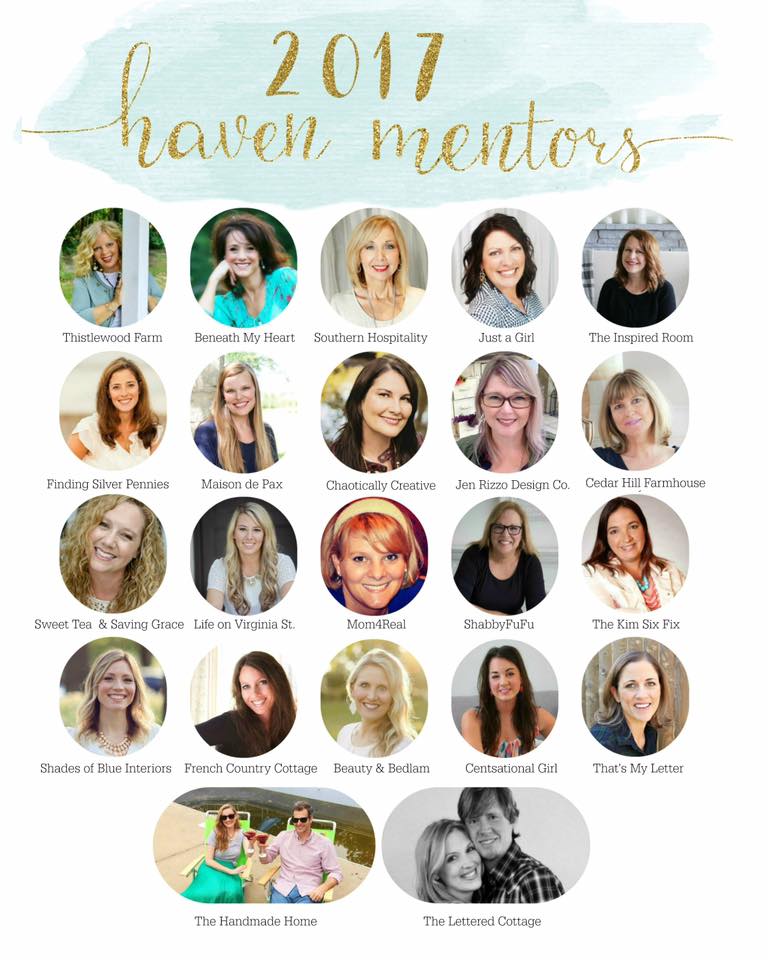 Start here for Friday's line up:  Beauty and Bedlam | The Kim Six Fix | Shabbyfufu
Here are the rest of the links from this week's Haven Mentor blog hop!
Monday: Southern Hospitality | Finding Silver Pennies | Jennifer Rizzo | Chaotically Creative 
Tuesday:  Life on Virginia Street | Just A Girl | French Country Cottage | Maison de Pax 
Wednesday:  Thistlewood Farms | The Handmade Home | Beneath My Heart | That's My Letter | Sweet Tea, LLC
Thursday:  Centsational Girl | Mom4Real | Cedar Hill Farmhouse | The Lettered Cottage | Shades of Blue Interiors