Simple details take Christmas stockings from ordinary to extraordinary.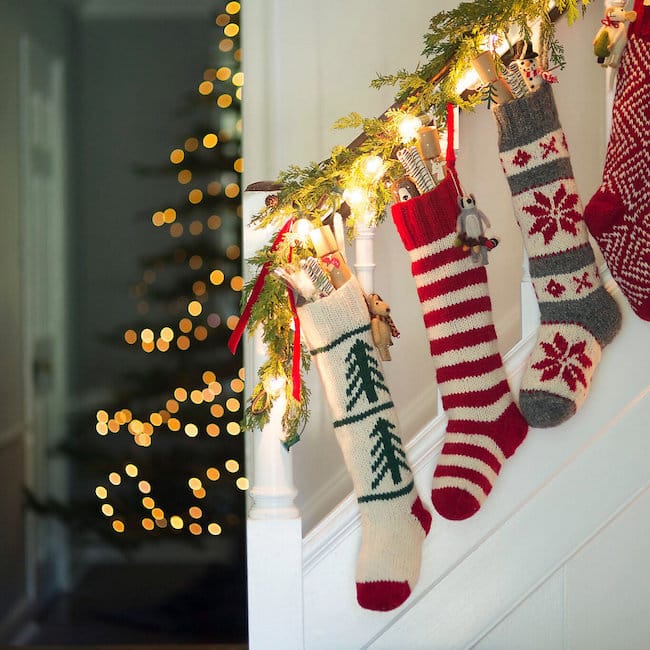 Terrain
Woodland animal ornaments on stockings
Happy December! It's officially time for all the merriment to begin. Even with all the merriment, I'm a fan of simplicity. I don't bring out a lot of decorations mostly because I don't like to put them away at the end of the season. Ha! Does that make me sound like a tired cranky Scrooge? Maybe.
While keeping the decorations simple can give us more time and bring more focus to what matters most, I still believe that adding at least a few special touches to your decor brings extra festivity to this season.
And festivity brings joy to everyone!
What are some key areas of your home where you could add an extra touch of festivity?
How could you take something ordinary and give it an extraordinary look?
Certainly Christmas stockings are one of the focal points in a home this time of year, so let's start there!
Studio McGee / Stockings from McGee & Co
Hang Stockings on Wall Hooks with Ropes and Bells
Pottery Barn
Hang Stockings on a Bed
Jane Johnson Creative
Hang Stockings from a Ladder
The Merry Thought

Make a DIY Branch Stocking Display
Pottery Barn XO Stocking Holders
Use Unique Stocking Holders
Just the Bees Knees/Interiors by Sarah Langtry
Add DIY Pom Pom Trim and Birch Tags
Terrain
Hang Stockings Off Center for Visual Drama
The Chronicles of Home
Add Monogram Tags and Wood Beads
It doesn't have to be complicated, but a special detail added to the stockings or creativity in what you hang with them or how you hang them can bring more cheer.
Are you inspired to try something new with your stockings this year? Tell me your ideas! I'd love to hear them.
Shop Christmas Stockings and Stocking Holder Favorites