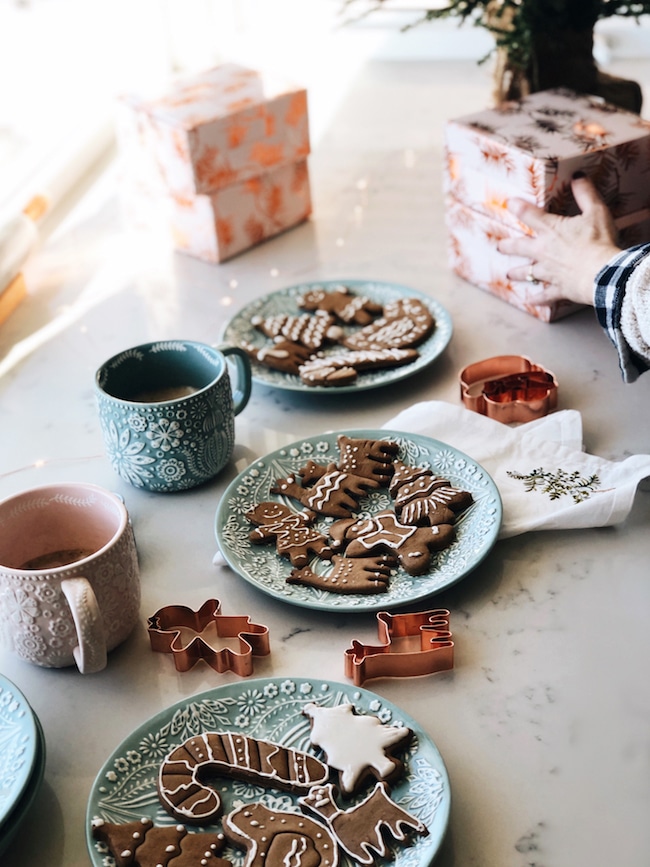 This post is in partnership with World Market
'Tis the season to be in the kitchen. Or is that every season? Ha! It's been two years since we completed our kitchen remodel (well, actually it's coming up on two years! Our contractor was installing our Dutch door on Christmas eve and the whole space was completed after the new year).
So this will be our second December actually having our kitchen available and ready to use (and decorate!) prior to the holidays. Now it's the room I look forward to making festive and enjoying the most. One of the first things we did to prepare for our kitchen for winter this year is to go out in search of new Christmas cookie cutters! Priorities, right? We grabbed a few really pretty copper ones in the baking area of World Market. We love collecting cookie cutters, but the real reason we collect them is we love baking (and eating) adorable cookies.
With various gluten-free, dairy-free and vegan family members, our baking habits have changed a wee bit over the years (hahah!) but we're making it work! We don't eat many sweets, anyway, but it's fun to bake together and enjoy an occasional treat.

Last weekend we had set aside a festive family day. After coffee at one of our favorite coffee shops (Storyville), we visited our local garden center because they are all set up this time of year with so many pretty holiday things (and REINDEER!). Then we came home to bake, decorate the kitchen and watch a movie together!
We had picked up some fun measuring spoons and cups at World Market, too, because most of our old sets were missing parts, so it was time to upgrade our baking tools! Actually, World Market had SO many cute things. A few of them somehow found their way to our cart. ;)
Green measuring spoons / cookie cutters: one, two, three / Similar rolling pin
We found a gluten-free gingerbread cookie recipe online and then made a few modifications to make them dairy and vegan, too. (I'll post our version and the link to the original below). They turned out cute. We frosted some of the cookies, so those were extra tasty and everyone in our house was happy to indulge.
We intended to decorate our kitchen that day, too, but we ran out of time before our movie! We always think we can do more in a day than we are actually able to do. Anyone else? But we had bought some new jumbo paper stars at World Market so the next day we decided to have some fun with them and create a whimsical star (or snowflake) scene by hanging them above counters. Such a simple idea, but and I have to say they make the kitchen feel quite magical!
Gluten Free | Dairy Free | Vegan Gingerbread Cookies
We found the original recipe here but modified it, the version we used is below.
Bake 350 degrees for 9 – 10 minutes
Ingredients:
2 tsp ground ginger

1.5 tsp ground cinnamon

1 tsp ground nutmeg

½ tsp ground allspice

¼ tsp ground cloves

pinch of ground black pepper

¼ tsp baking soda

½ tsp salt

1 stick vegan alternative butter (we used 1 'Earth Balance vegan buttery stick' in this recipe)

⅔ cup coconut sugar

⅓ cup unsulphured molasses

1/4 cup applesauce
Directions:
Mix flour, spices, baking soda, and salt in a bowl and set aside.

In a large bowl, beat butter until creamy.

Add coconut sugar to the butter and beat until fluffy. Then mix in molasses and applesauce until creamy.

Slowly add flour to the butter and sugar mixture. Beat until dough until combined and dough is no longer tacky (or continue to add a tablespoon of flour at a time to the dough until it's no longer tacky.)

Preheat oven to 350 degrees F.

Roll dough to ⅛"-1/4″ thick between two pieces of parchment paper, or dust surface with a little extra flour.

Cut out shapes with cookie cutter and place on a baking sheet (use parchment paper or coat pan with vegan butter), about an inch or two apart.

Bake for 9-10 minutes (until edges are set).

Let cool and then add icing to decorate!

Icing: Mix powdered sugar + a little non-dairy milk and a little vanilla to make a glue-like consistency.
Decorate: We used a sandwich bag with a small hole to squeeze icing onto our cookies!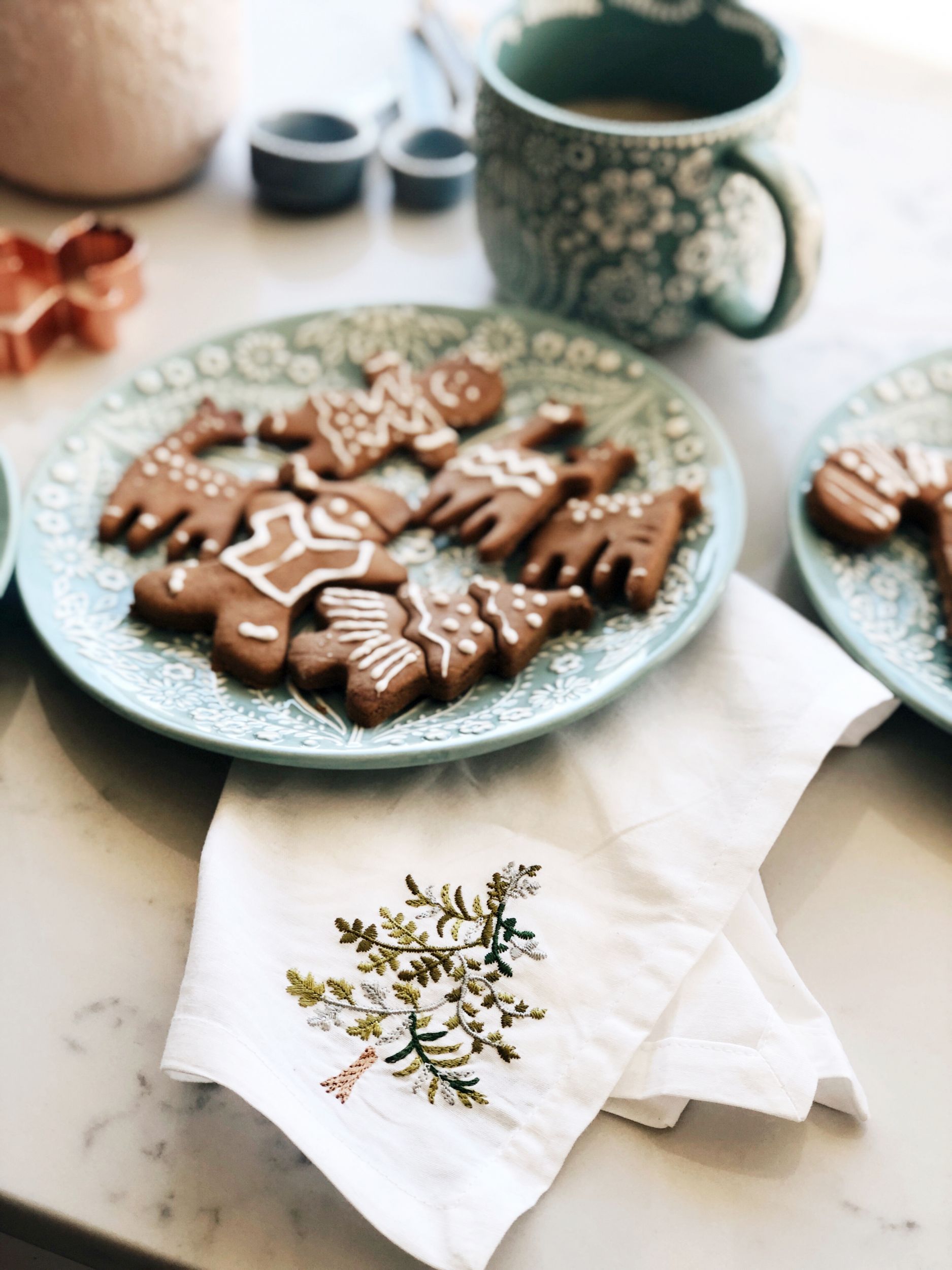 Copper Leaf Patterned Boxes
The plates and mugs are new, too (all from World Market). I love having adorable plates and cups to use myself, or for special family times or get togethers.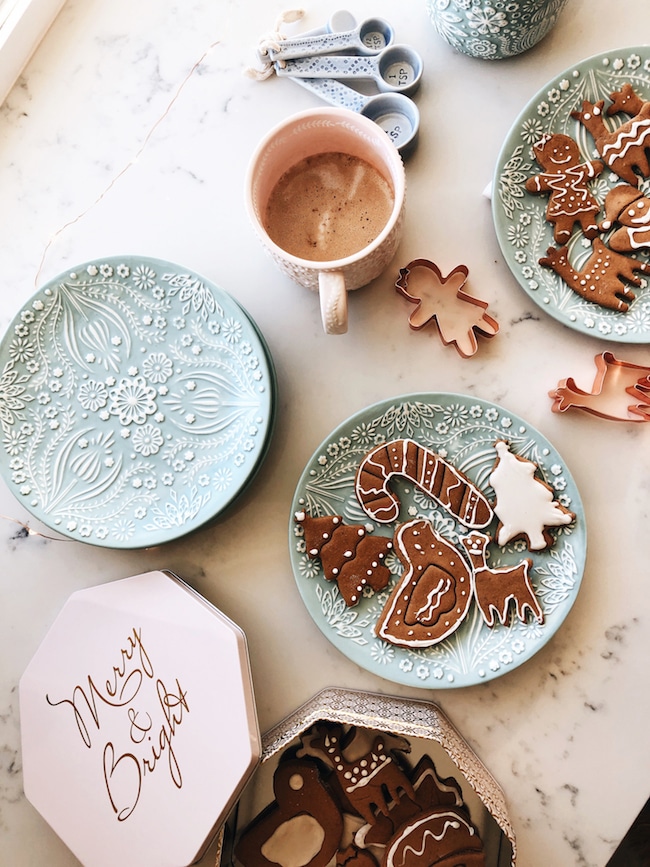 Merry & Bright Cookie Tin
World Market had some fun holiday tins and boxes, so we got a few for packing up goodies to give away or send home with guests.
All in all, it was a very festive and tasty couple of days at our house!
What's your favorite treat to bake around the holidays?
Pin for later!