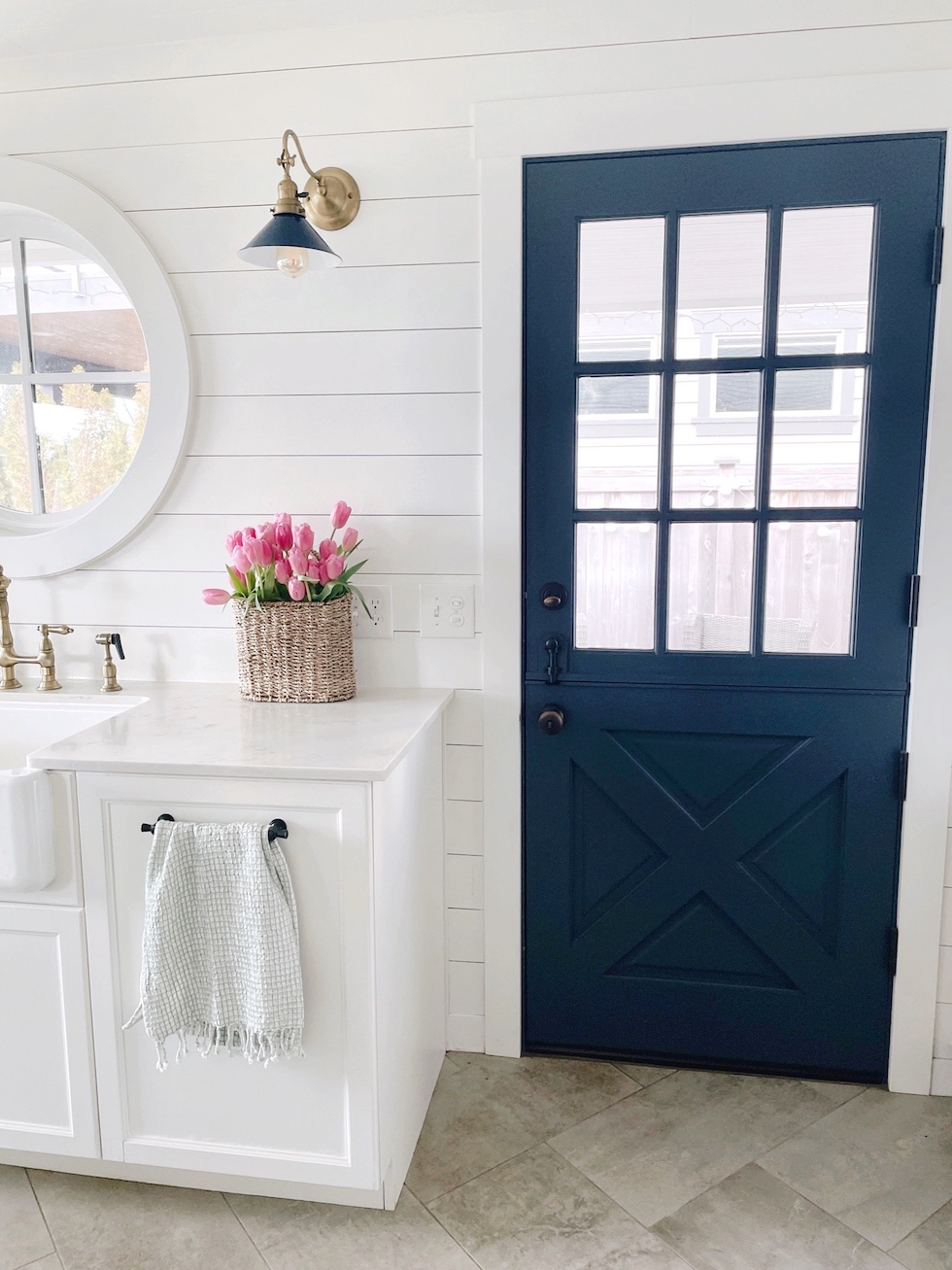 It's fun to think outside the box when decorating your home for spring. Or in this case, it's fun to think outside the vase :). What could be prettier than a simple spring bouquet? A pretty spring bouquet in a basket!
Grab some tulips or any blooming flowers from a local farmer's market or store (I got mine at Trader Joe's) and a basket (mine is this large hanging wall basket). If you have fresh flowers (rather than bulbs or potted plants) you'll want to put a drinking glass or vessel inside the basket to hold water and then place the stems in the container. I actually put TWO mason jars inside mine, they aren't too wide so they help the flowers to stand up better, too. If you're using blooming spring bulbs or plants (which is good because they will last longer!), line your basket with plastic before setting the plants inside.
Tulips tend to have a mind of their own, so they will flop whatever way they want to, they don't have to be perfectly arranged! I think that's part of their charm. I remove one of the leaves on each stem make more room for the flowers and put them in cold water. You'll want to refresh the water often.
So easy! Now you have a charming spring bouquet to set on your counter, dining table, entry console or nightstand to inspire Place your basket wherever you will see the most often or where you need the most joy! It would make an adorable spring gift as well.
My mission here on The Inspired Room has always been about inspiring you with simple, attainable ideas to beautify your home (because simple is what I like at my house, too!).
I hope this idea inspires you today to bring a little pop of spring to your home! Scroll below for a couple of more fun ideas and inspiration.
By the way, over on Instagram, several sweet friends and I decided this would be "Dutch door week"! I LOVE my Dutch doors, they are so fun to open in spring when the sun is shining and the birds are chirping! I posted a live video yesterday talking about my kitchen remodel and Dutch doors yesterday, you can see it in the Dutch Door highlight on my Instagram profile to catch the replay if you missed it!
Be sure to check out more Dutch door inspiration from my friends:
@yellowprairieinteriors @azurefarm @lollyjaneblog @thegingerhome
Also, BIG NEWS! I just found out that my beloved Aria diffuser is finally back in stock!!! I get asked about this so often and many of you have been waiting for it, it's definitely a favorite! It comes with a set of incredible oils in a starter kit (it's the only way to get it AND it's the best deal, too!!).
Get it here and you'll be able to be a part of my Dwell Well Collective community, which is exclusive for my Young Living members. We offer education, a life-changing vault of wellness testimonials, super fun giveaways, DIY recipes, exclusive classes, personal support, a wealth of wonderful resources, and creative inspiration so everyone thrives! We'd love to have you a part of it! All you need is your kit. You can choose the Aria or any of the other premium starter kits with my link (or the basic kit!).