We had a fun small family birthday gathering for my daughter Kylee's birthday this weekend! Simple gatherings are my favorite (and not just because I wrote a book by that name!). I love to make any event in my home (even last minute ones!) more special and memorable in simple ways.
I keep a few stems of faux flowers and foliage on hand for "in between seasons" and occasions just like this! Aren't they fun for spring? Faux stems don't take up much room to store, plus it's so nice that you don't have to spend more money to decorate or run around town to get flowers at the spur of the moment. You can be spontaneous in inviting people over, and yet still make the atmosphere so festive at a moment's notice!
We have so many flowers and trees at our house that we can cut in spring, but right now we don't have much blooming yet so I was happy to be able to put a few party arrangements with what we had. You can also use real and faux together to maximize their impact! I had just made the tulip basket a few days prior so we had both in our home.
There are some really lovely faux flowers available online right now! I feel like they just keep making them more realistic and more beautiful! Real flowers are my favorite, but they can add up over time and don't always last very long. Sometimes faux flowers can seem super spendy in the moment, but I think they are worth it. They are like a gift that keeps on giving!
I can't wait to order more, you can see some of the most gorgeous faux blooms below!
Sources for above graphic, top to bottom left to right:
Faux Hydrangea Stems // Silk Cherry Blossom Stem // Faux Monstera Leaf Stem // Faux Pink Peony Bundle // Faux Tulip Bouquet // Lace Hydrangea Bundle
More Faux Flowers (click the photos below for sources):

More of my latest Spring Finds: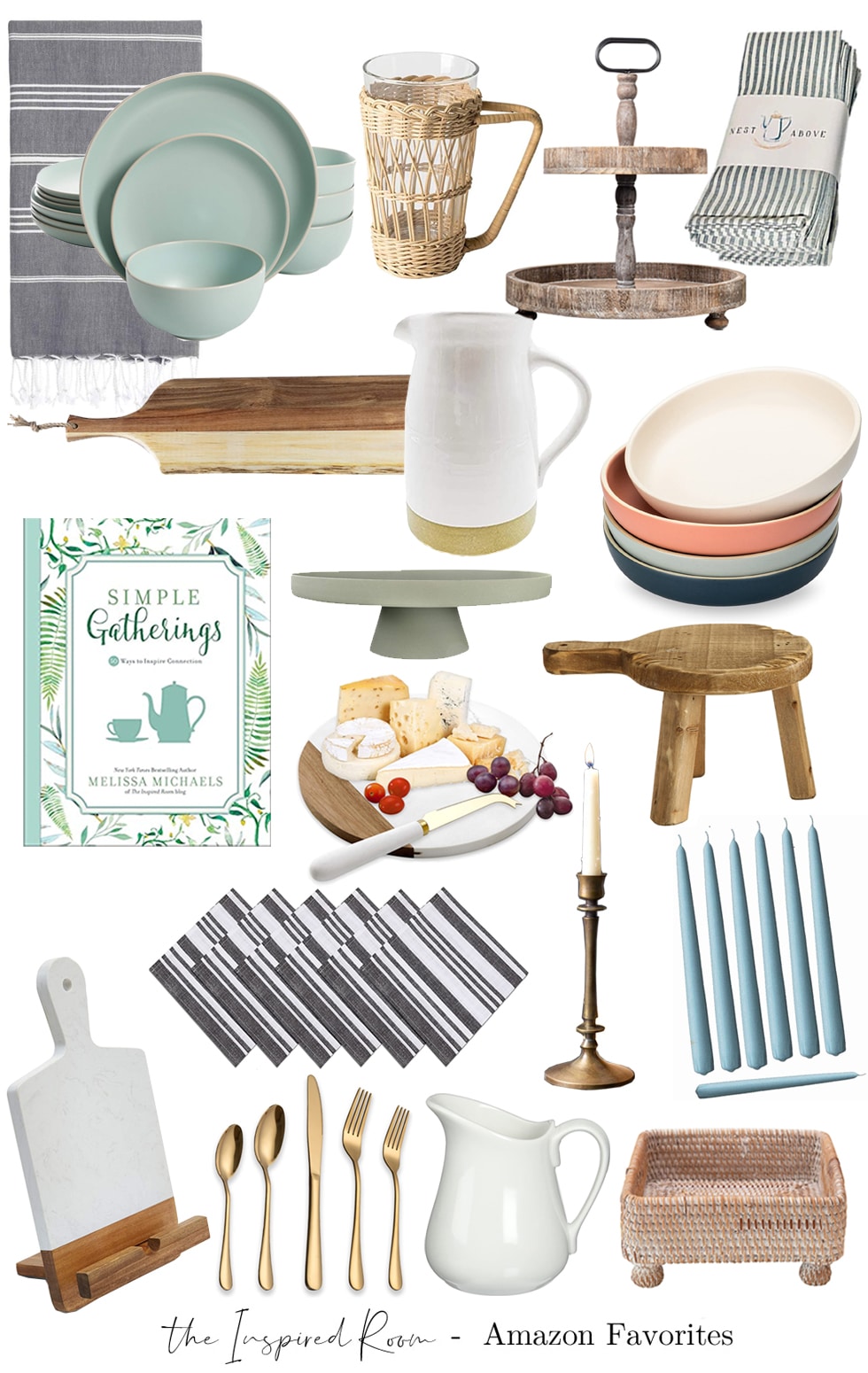 Click here to find my entertaining and tabletop decor favorites on Amazon!
Sources for above: Turkish towel (many color options, love using these as tablecloths!) // Teal Matte Dinnerware // Simple Gatherings Book // Wood Pedestal with Handle // 2 Tiered Wooden Tray // Matte Porcelain Dinner Dishes // Bamboo Rattan Cup with Handle // Brass Taper Candle Holder Set up Two // Sage Green Pedestal // Blue and White Ticking Striped Cloth Napkins // White Marble Acacia Wood Round Cheeseboard // Stainless Steel Gold Flatware // Farmhouse Ceramic Pitcher // Marble and Acacia Wood Cookbook Holder and Serving Board // Woven Rattan Napkin Holder // White Porcelain Pitcher // Blue Taper Candles (many color options) // Gray and White Striped Cloth Napkins