This post is created in partnership with Walmart
Hi friends! First of all, I wanted to thank you again for all your sweet messages lately. It means so much to us that you're excited for our family and this move. So many of you have been here for years, or even from the beginning of my blog, so I'm extremely grateful for your kindness and support. If I could I would invite every one of you over! So today, consider this your (virtual) invite to come on in! :)
I mentioned in my last post that this house came furnished! So while we haven't moved our own things in yet, we already have some furniture here so we feel comfortable right away. Some pieces here will stay, others will go to our kids, some we'll be giving away. And of course, once we officially move we'll be using many of the pieces we love from our other home.
Even though we have comfy furniture to use right now, one of the first things I wanted to do when we arrived was to make this place feel even more like our home. I was especially EXCITED TO START FALL NESTING! All of the accessories we own are packed away or at the other house, so I did a little online shopping at Walmart to find a few new affordable things to begin to cozy up our new home and make it our own.
I'm so glad we did–choosing and arranging these special fall touches for the new entry and porch made me feel at home.
I'll share decor sources throughout and a full list at the end!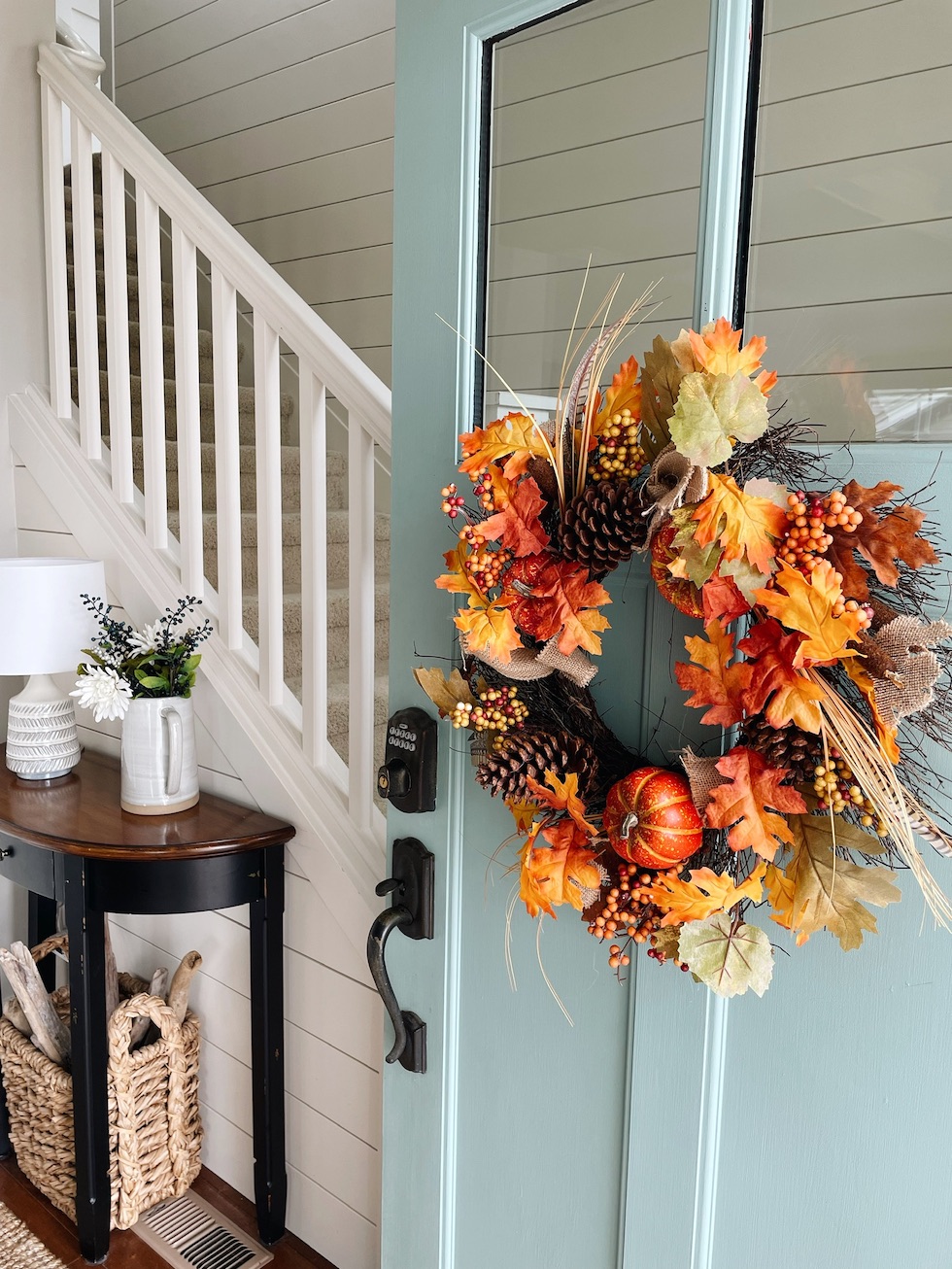 One of my favorite simple ways to bring the feeling of fall to an entry is to add a festive seasonal wreath! I love all the texture and variety in this one with the pumpkins, colorful leaves, berries, pinecones, wheat, feathers and burlap. A neighbor already stopped by to say how cute this wreath was! It was a great deal, too. Click here for the wreath (SOLD OUT – click HERE for a similar one)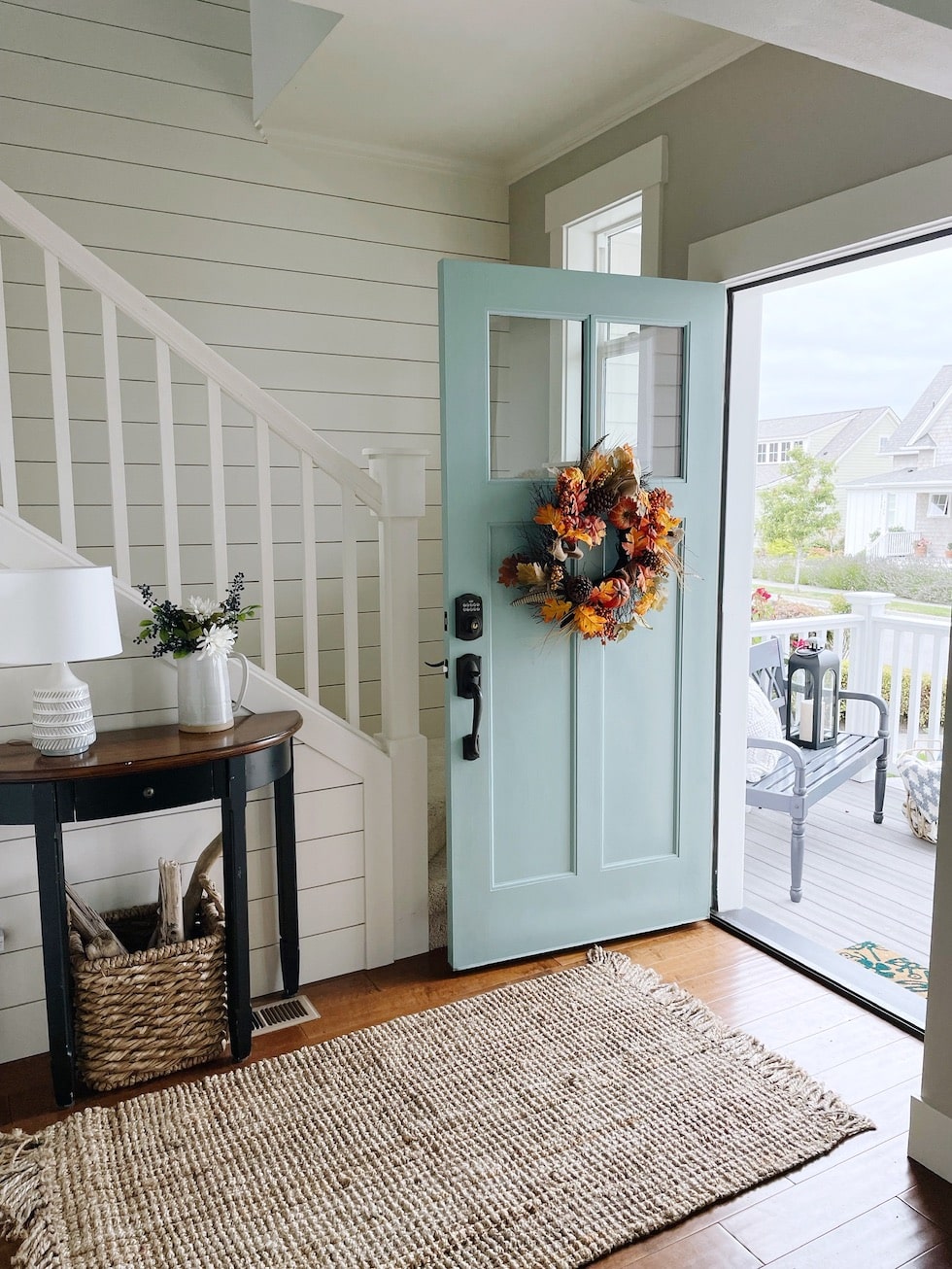 We put this jute rug in the entry and immediately felt the extra warmth and coziness.
I am missing my porch lantern and Dutch doors right now, sigh, but I am SO thrilled to be here with my cute new porch and entry! This porch is going to be SO FUN to decorate every season. I'm already thinking about Christmas here! Ahhh! It's nice to have room for a bench on this porch, it is a great anchor piece to decorate around. Ours was here already, but here's a similar bench.
The simplest way to begin decorating your front door for a new season is to lay down a fresh new doormat! You can layer rugs if you want, or just keep it simple with one. I think with all of the seasonal decorators out there posting photos of their over-the-top porch ideas, we can start to feel like the only way to decorate for fall is to have a million pumpkins lining the porch and many layers of accessories. Sometimes I just think simple is best. You can always add more, but simple is often enough.
This is the doormat we chose–I like that it's not too distinctly fall so I can use it in many seasons.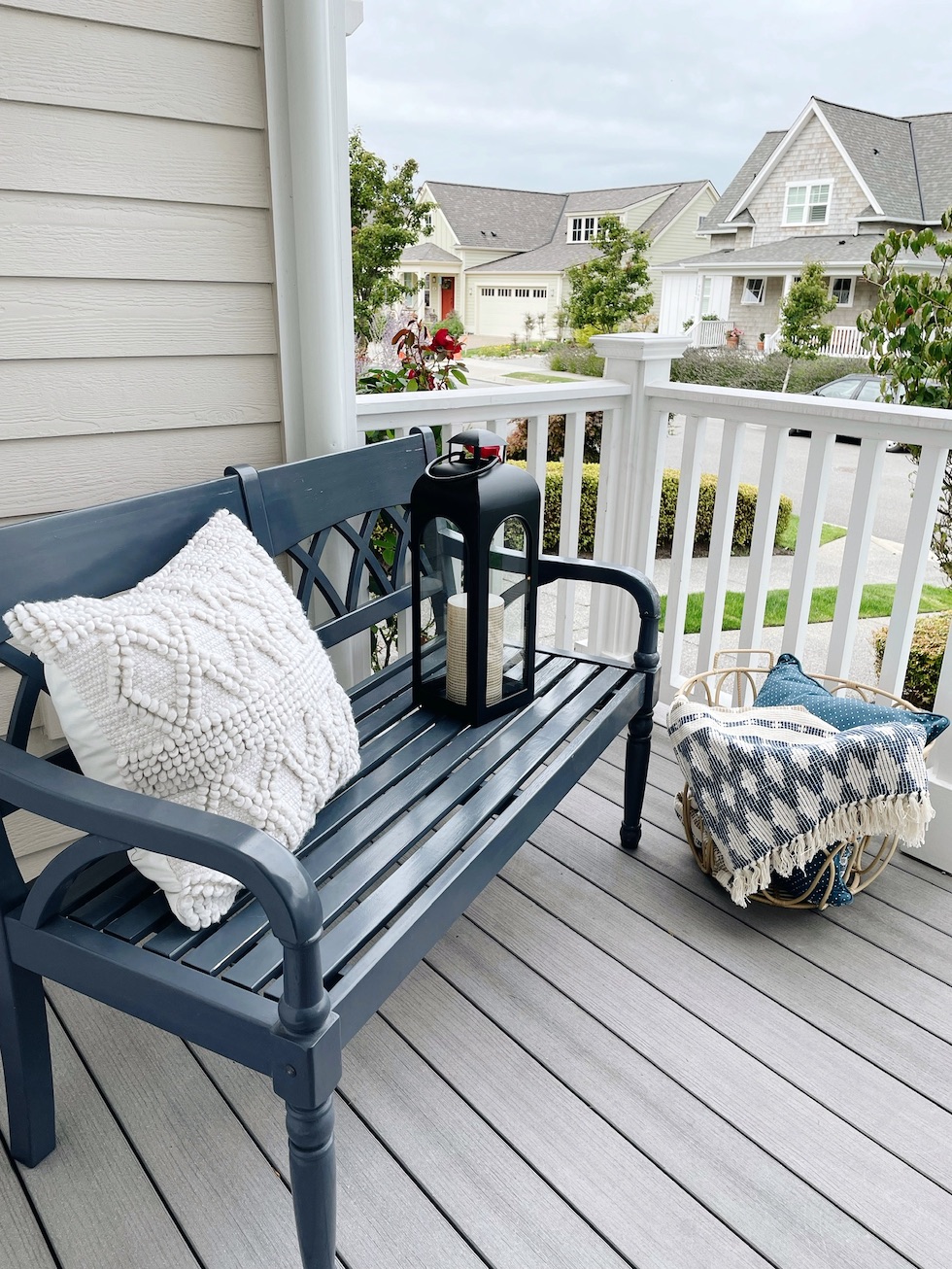 I had a great spot for this woven textured throw pillow inside but I loved it on the bench, too! With all the hard surfaces on a porch I feel like the pillow softens it up.
I found the pillow in the Wow & Now! section–which has great affordable finds that are only available for limited times. Their assortment changes often so I always check it out to see what's new!
It was fun to try this black lantern in a few different places on the porch. I think I will order a few more, they look cute everywhere and add such a nice glow around the porch in the evening. You can even use outdoor battery operated candles like these and they will come on automatically!
---

---
Scroll through the arrows above and click the photos for details on each item, and find a full source list toward the end of this post!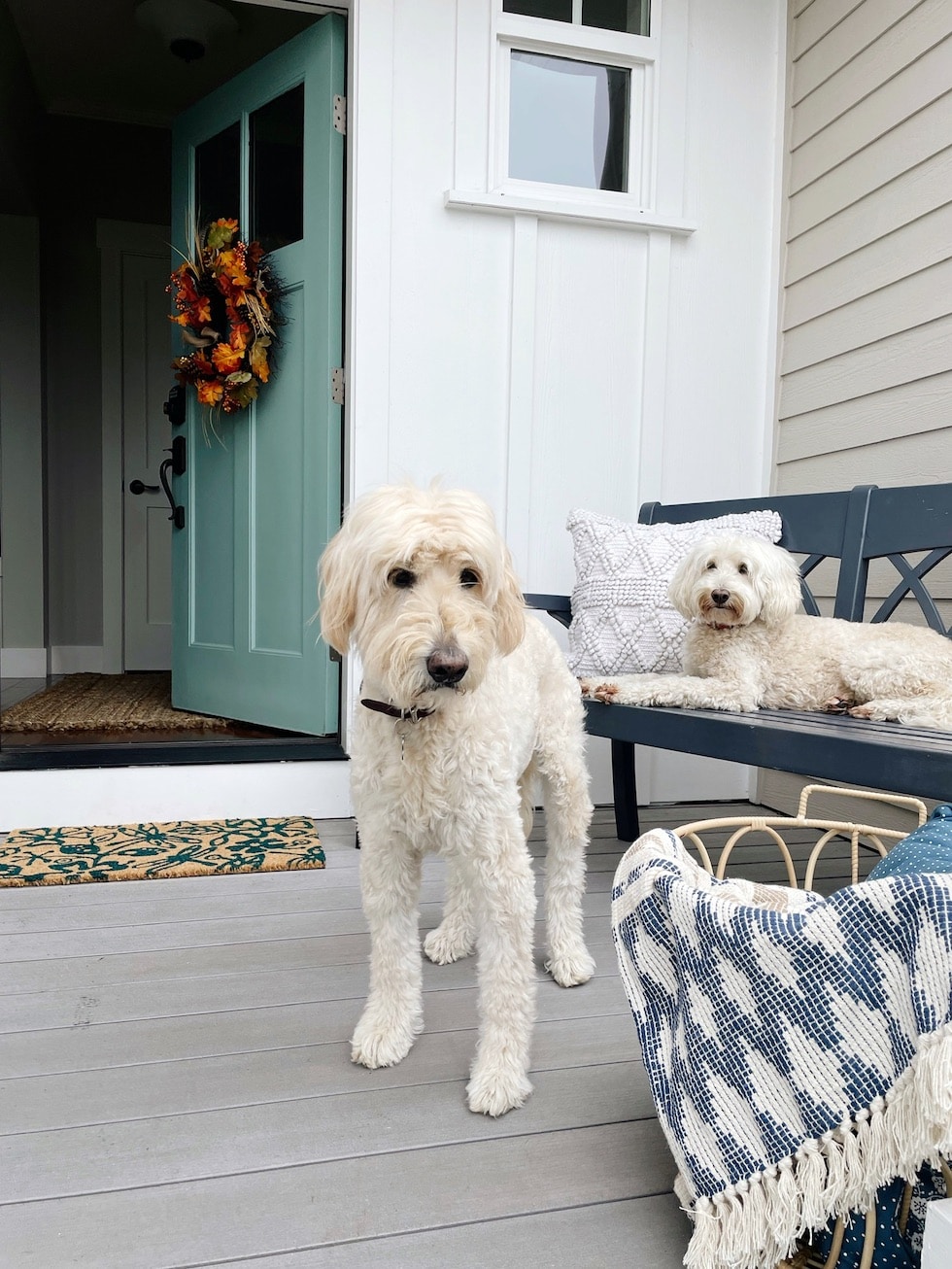 This rattan basket is super cute and looks adorable with this darling patterned tassel throw blanket inside. I got this all set up on the porch and a little while later my husband was wrapped up in the blanket in the living room–ha hahah! It's fine. That's what we brought it for, to grab and be cozy!
Jack and Lily have been thoroughly enjoying the new house and all their new views and lookout points. :)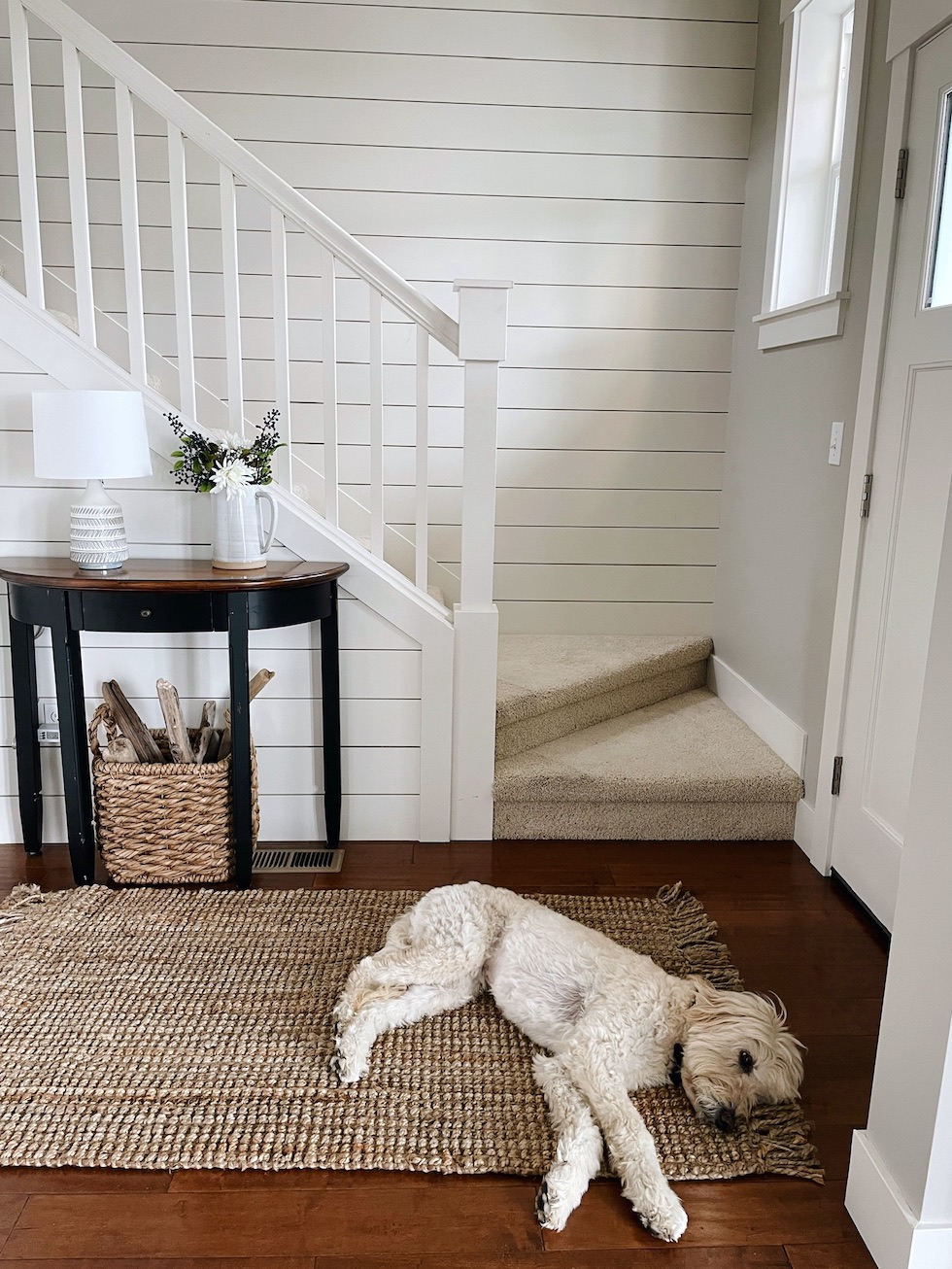 But Jack's favorite habitat really is just staying cozy inside. He's a homebody like me. He's been enjoying the texture of this jute rug.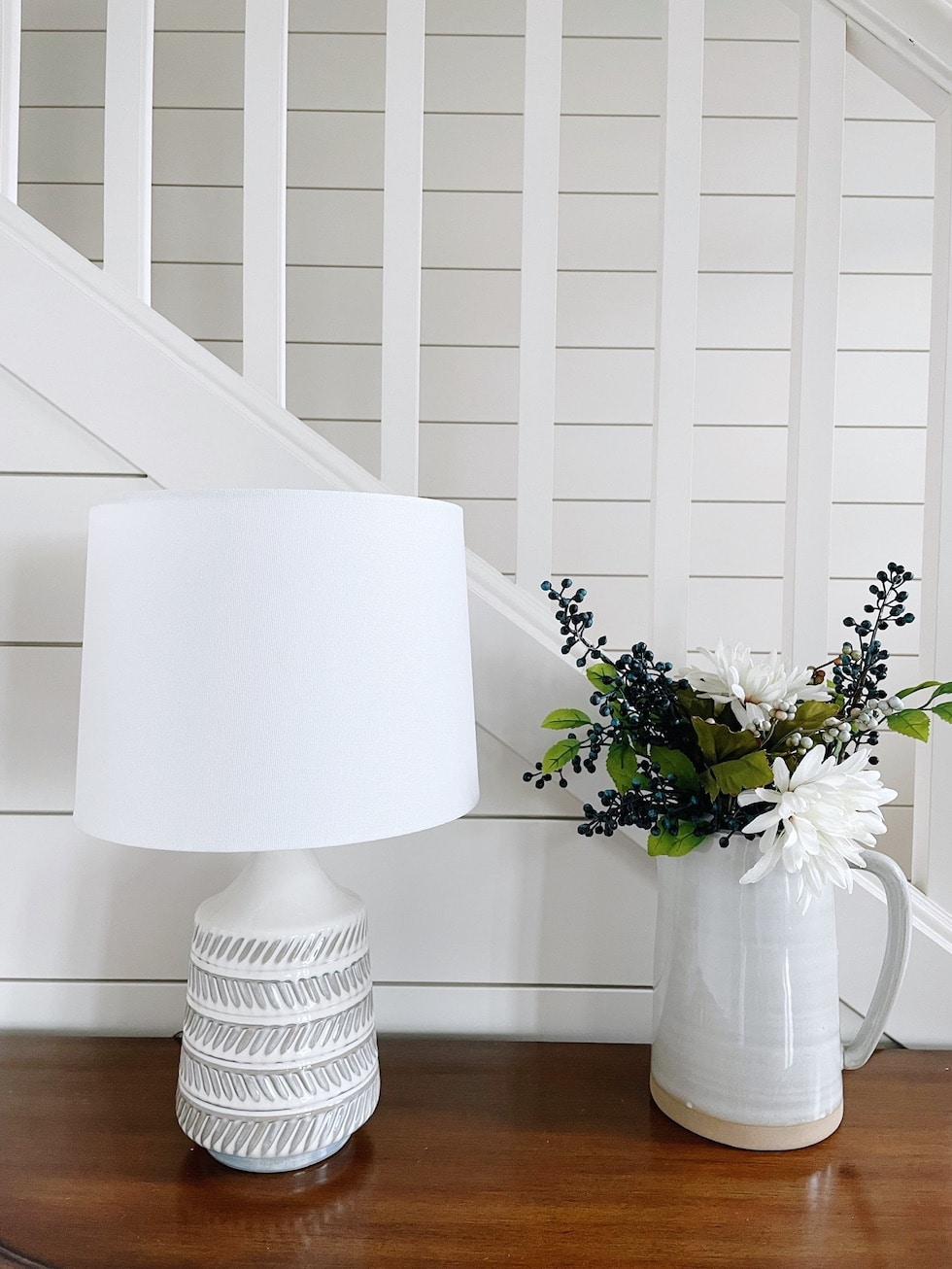 I fell in love with this white and beige ceramic lamp for the entry table. It's so pretty, great quality and the perfect compact size for a small space! There was a cute lamp on this table when we moved in, but we needed it in other room so we got this one to replace it. A lamp in the entry really adds warmth to the entry in the evenings. It's always one of my staple pieces.
SO COZY!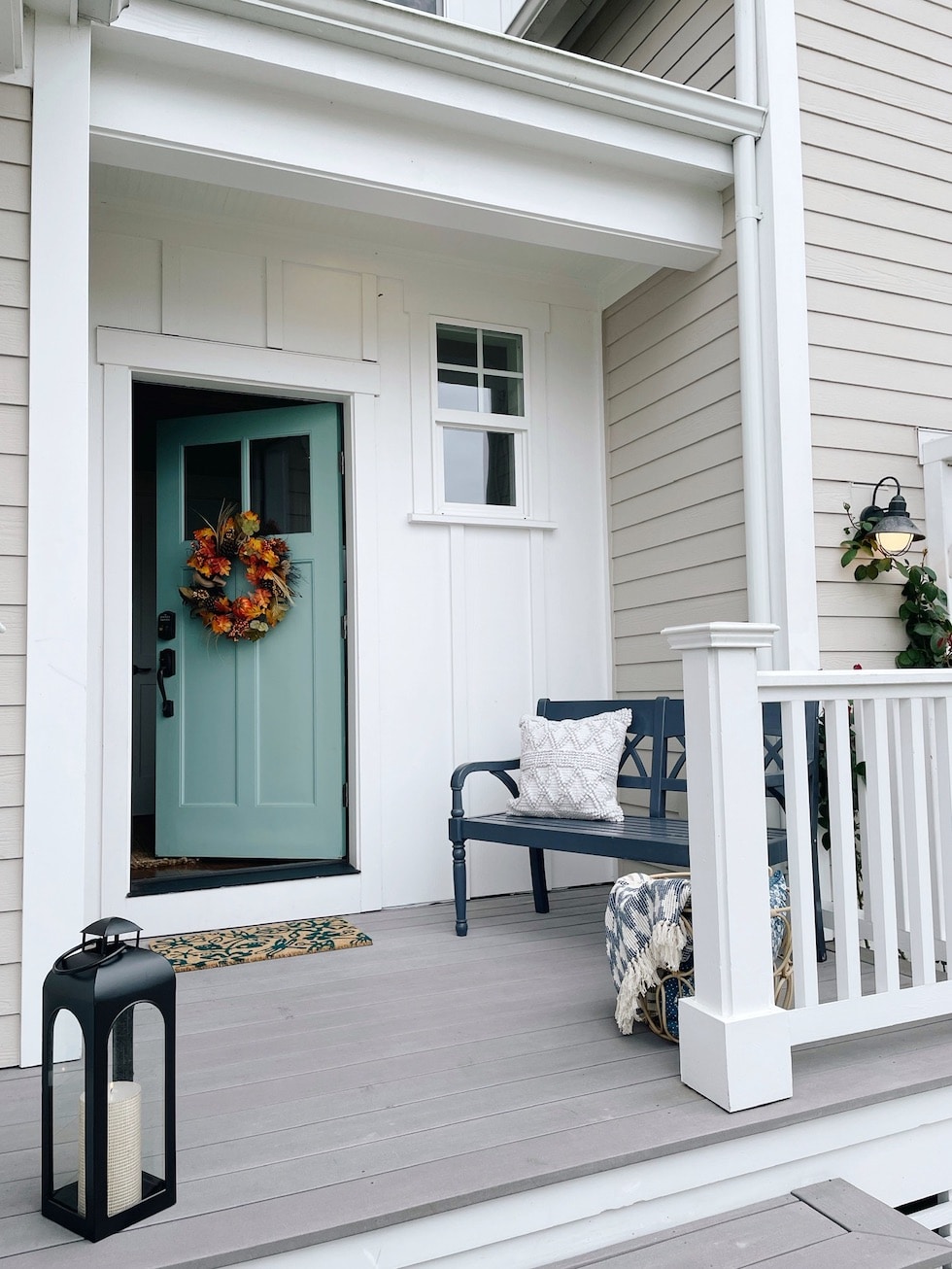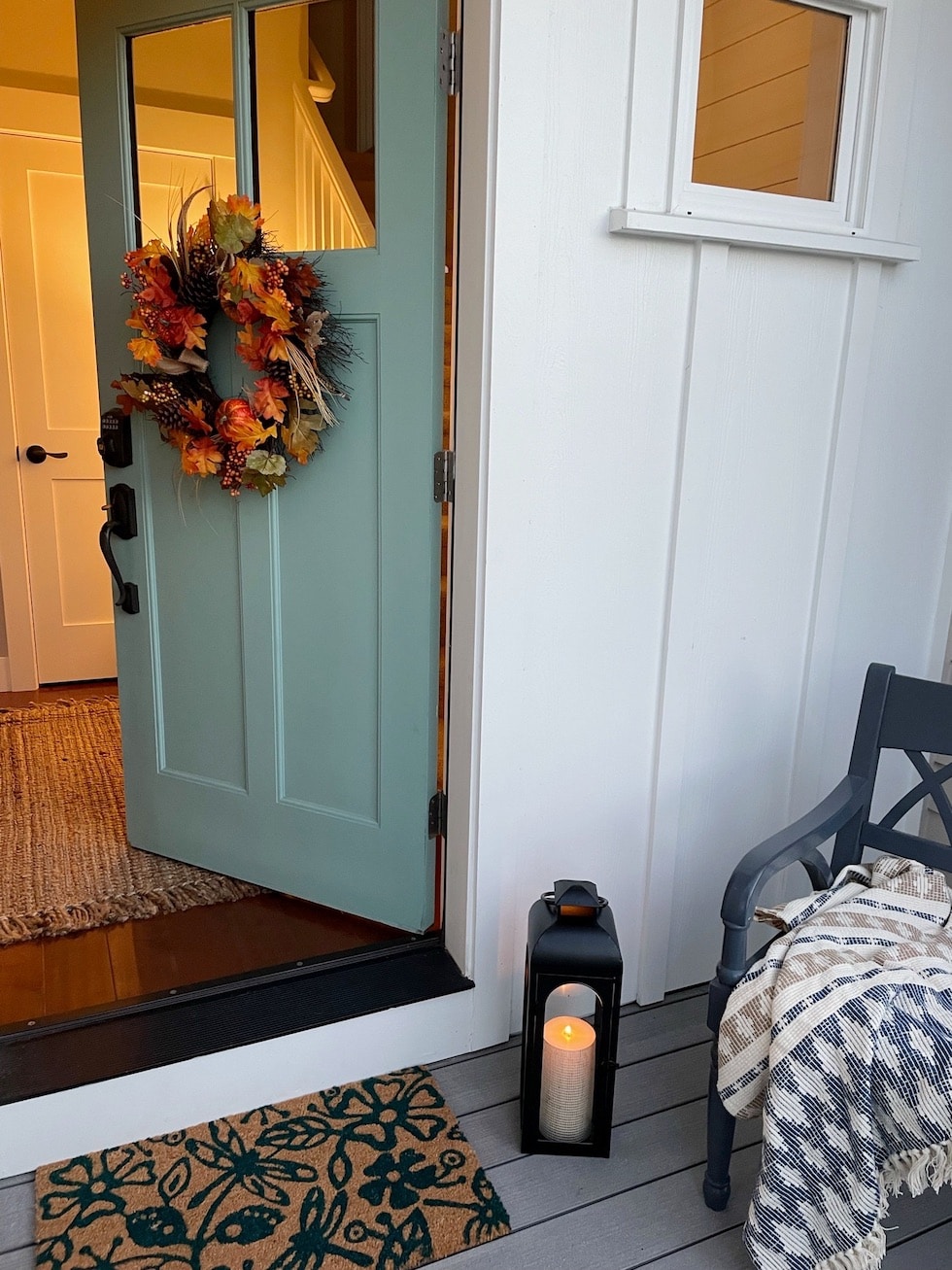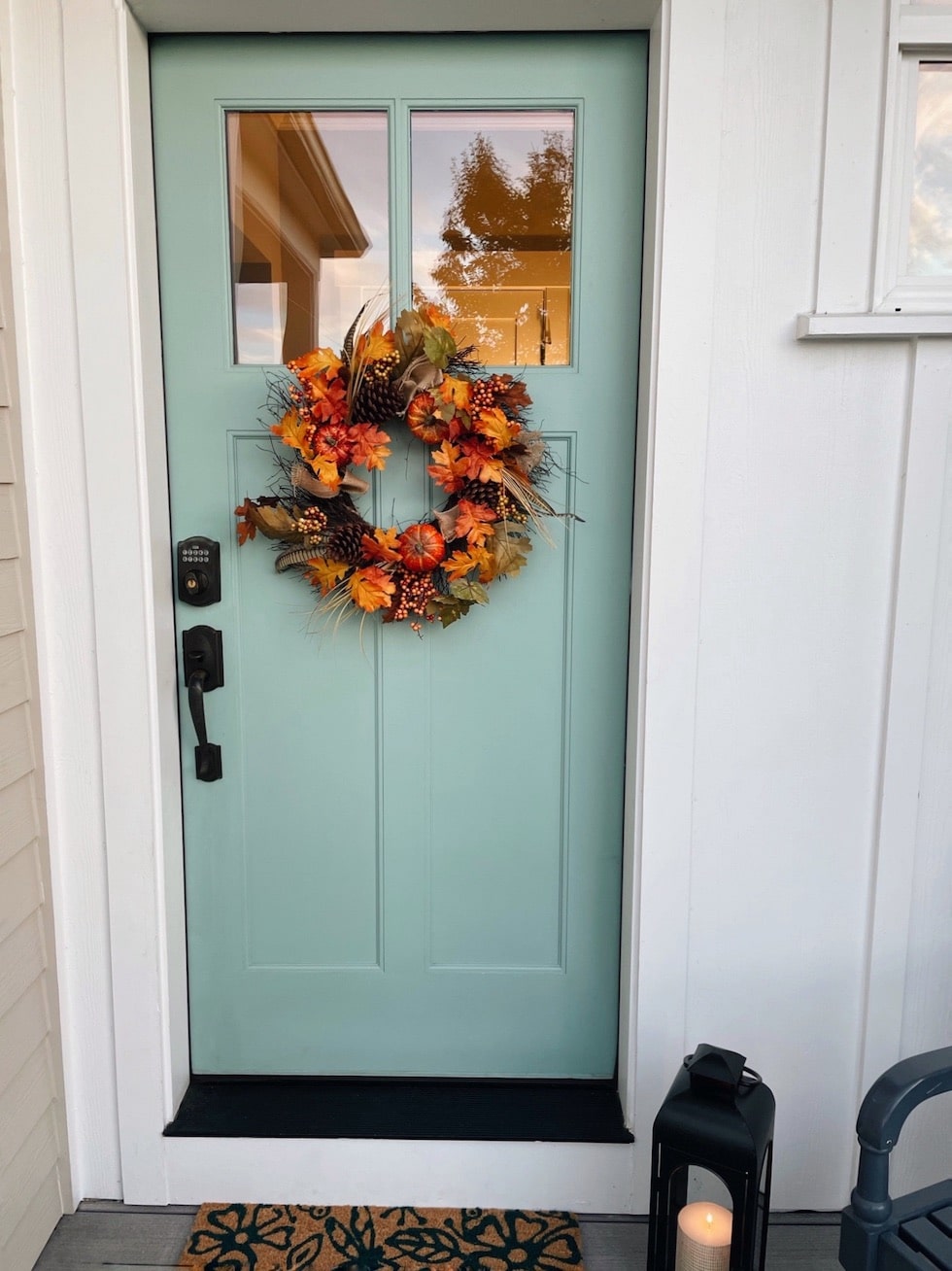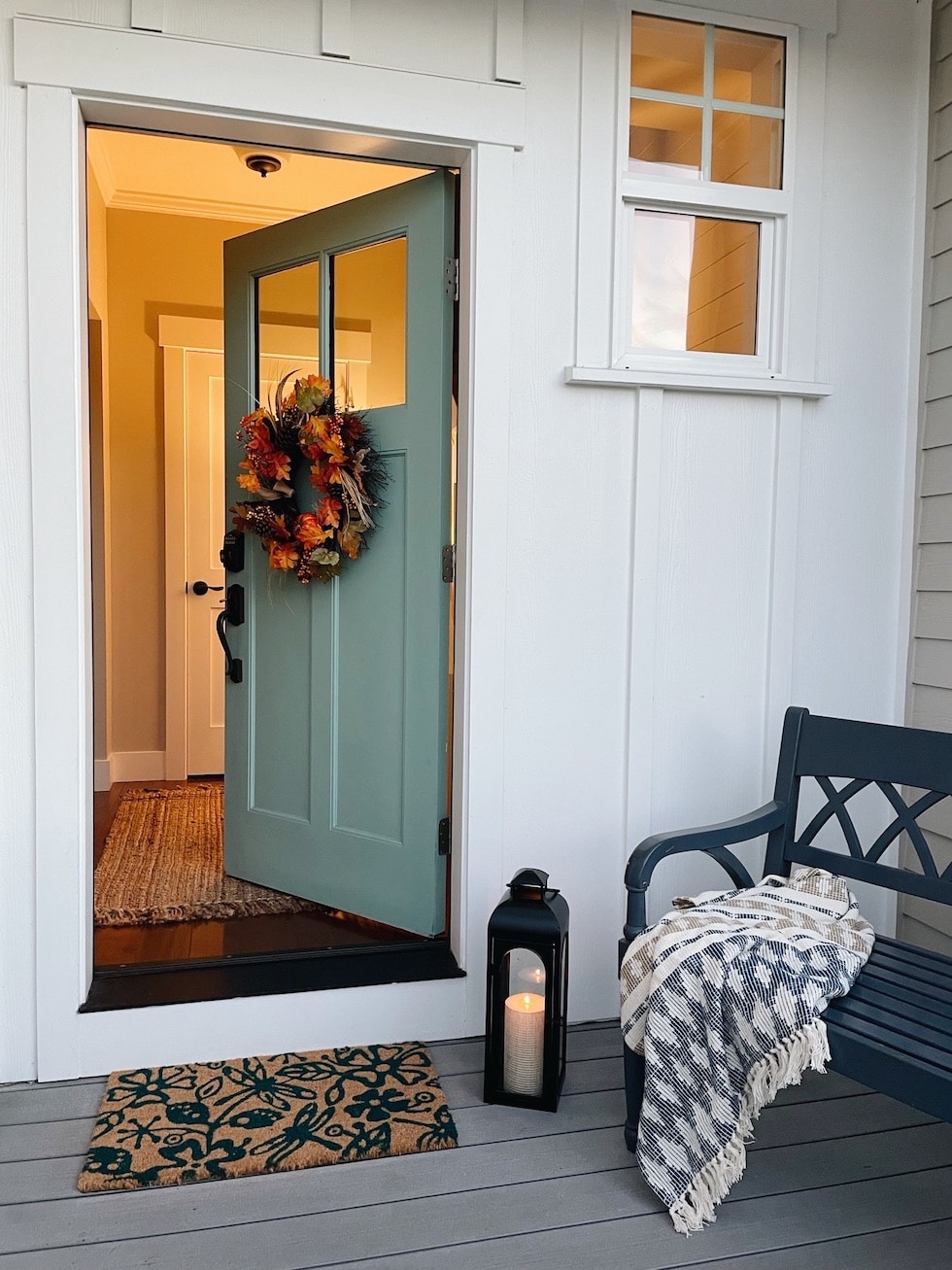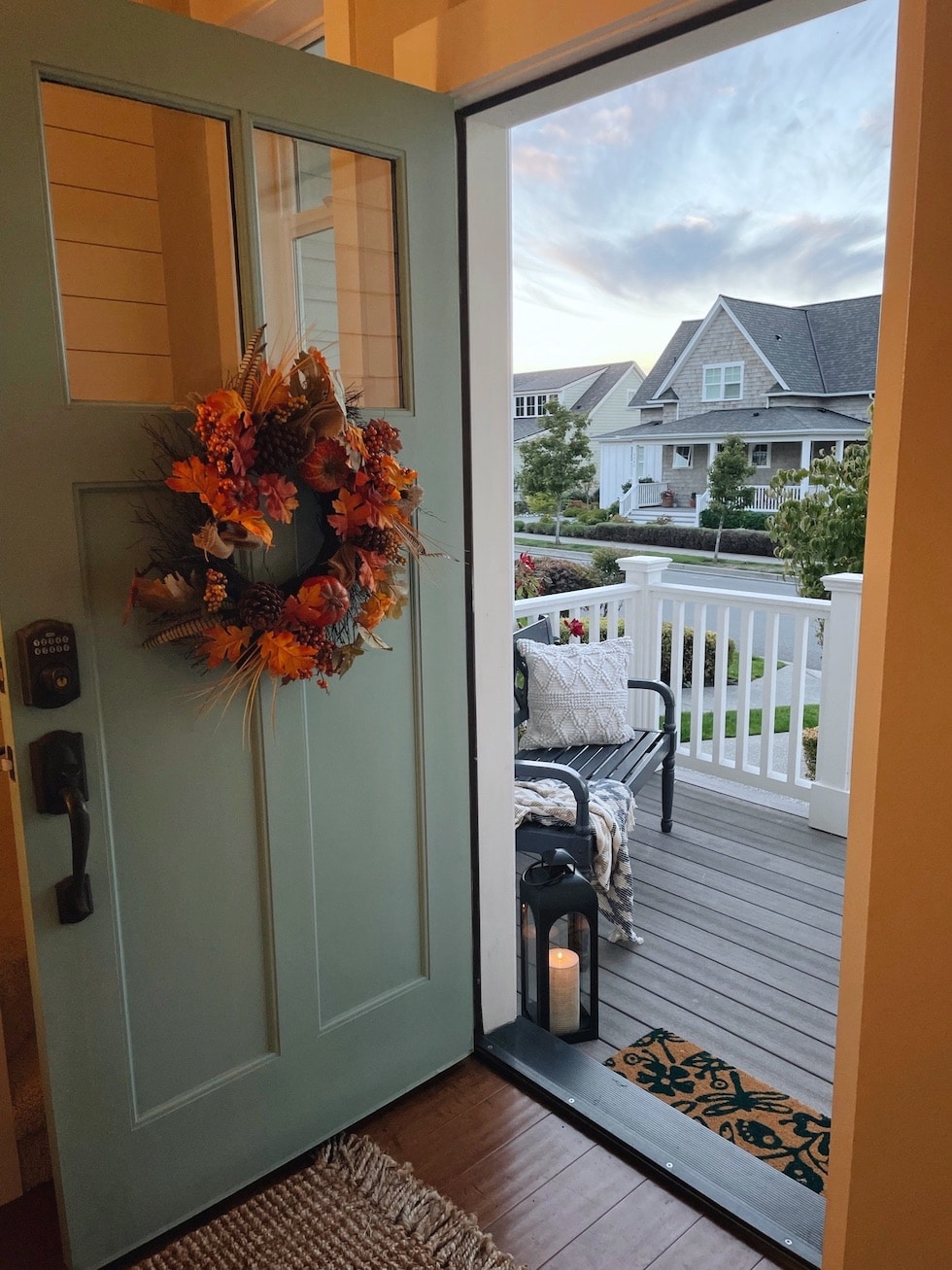 I think it's so neat that we are moving in to this home in fall. Even though many people especially love this neighborhood in summer due to the walkability and nearby ferry, beaches, and parks, I'm extra excited to be here in autumn. Cozy nights snuggled up by the fire? That's what feels like home to me.
Thanks for coming to my new home, friends! More to come! You can find the links to the items I used from Walmart Home below.
Sources: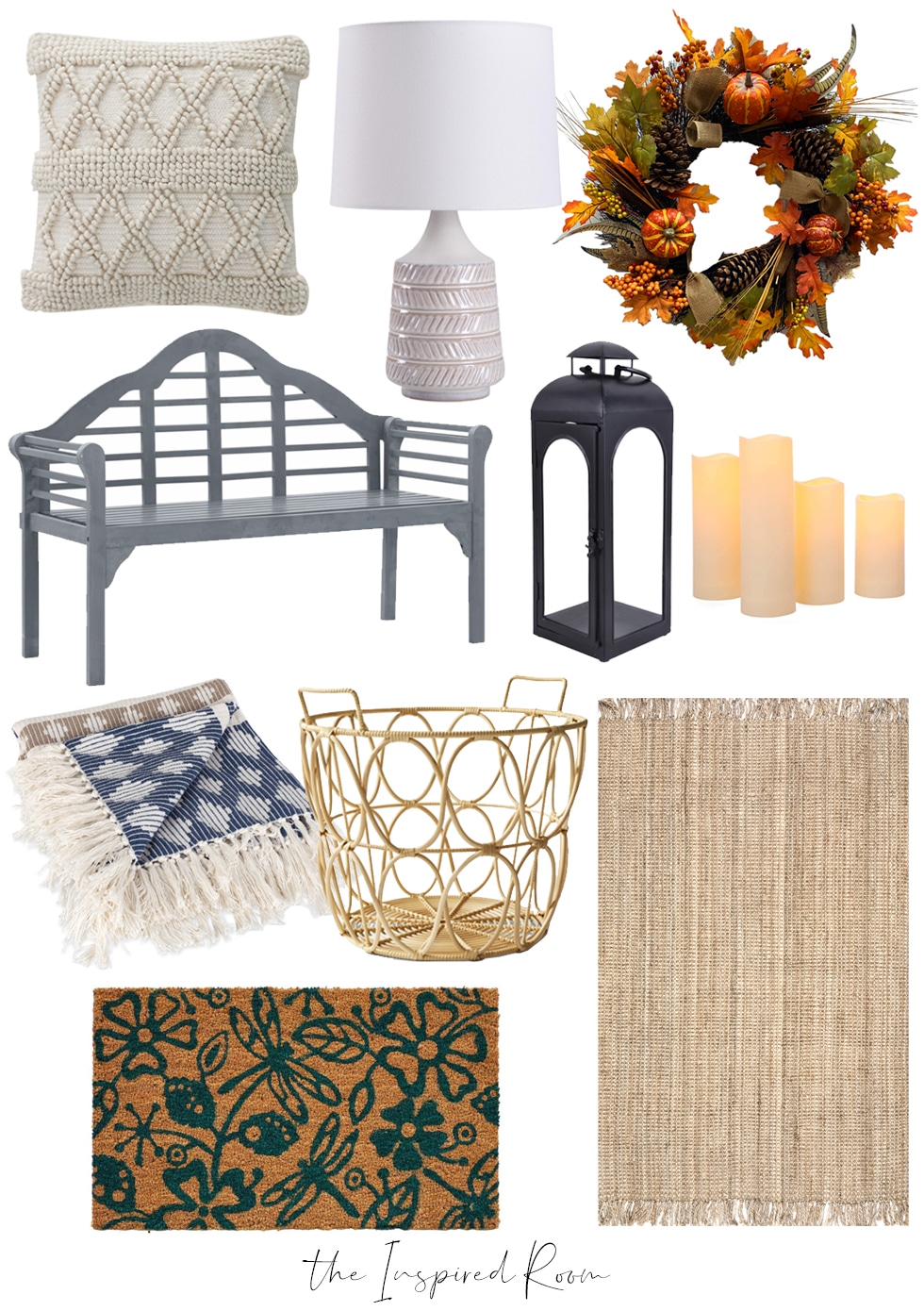 Sources for above:
Woven textured throw pillow // Entry Lamp // Wreath (SOLD OUT – click HERE for a similar one) // Bench (similar) // Black lantern // Outdoor battery operated candles // Patterned blue and tan throw blanket // Rattan basket // Jute rug // Doormat
More Walmart fall finds (click the thumbnails below for details):

---
For more fall decor, check out out Walmart's Fall Home Lookbook here!