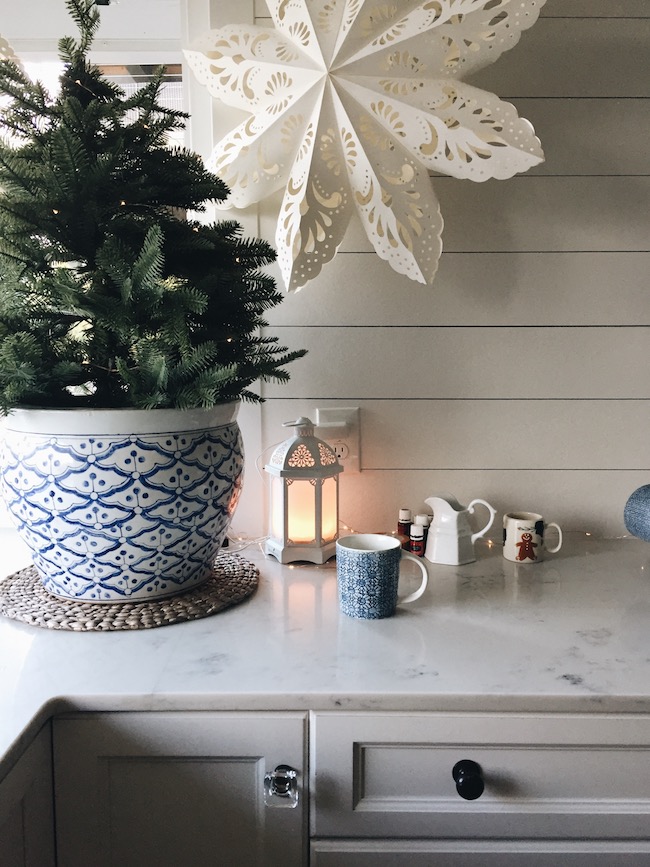 With Christmas on its way and winter wellness on all of our minds, we're doing a lot of extra cleaning! Whether we're getting the house ready for the holidays, tidying up the kitchen and bathrooms before or after guests or just wanting the house to be clean and free of any "bugs" for our family, we use our favorite, Thieves Household Cleaner Concentrate. I never want to add toxic cleaning fumes or ingredients to our home or lungs, so THHC is all I use because I trust it to be safe for our family and pets.
Grab a bottle of Thieves Household Cleaner your home, you can get it HERE!
We love THHC, it's extremely economical (one bottle of concentrate makes 29 bottles of cleaner and it cleans every single surface in the home, all for less than $1 per bottle). Of all the toxin-free cleaners I've tried over the years, it's the only one I trust, plus It's by far the most effective! It's all we need to keep our home clean.
Today I wanted to share 10 different cleaning recipes and ways you can use THHC for all of your cleaning needs, including my favorite way to make cleaning smell like CHRISTMAS!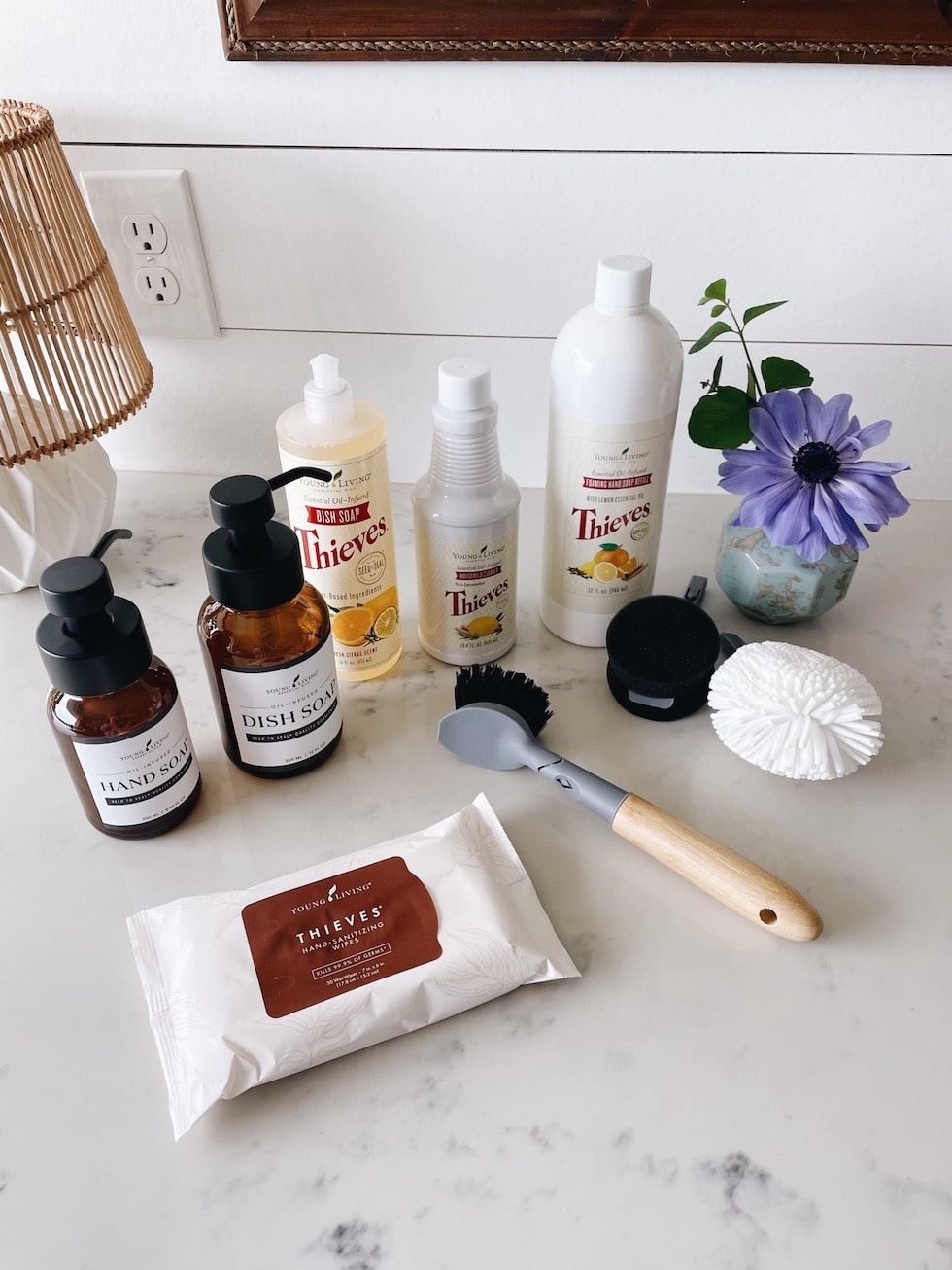 Make The All Purpose Cleaner:
This is what I use most often for daily cleaning of most surfaces. For the holidays, I simply add Christmas Spirit oil to give it a holiday scent! It's so good, smells like Christmas without any toxic ingredients.
In a spray bottle, mix the following:
-1 capful Thieves Household Cleaner
– Add as many drops as you want of Christmas Spirit for added festivity
-2-3 cups water
-Spray liberally and wipe with a damp cloth.
Prevent shower soap scum. No more water droplets!
In a spray bottle, mix the following:
-½ capful Thieves Household Cleaner
-10 drops Tea Tree essential oil
-4 cups water
-Spray shower walls and door daily.
-Squeegee excess off
Couch and upholstery cleaner:
Combine 1 capful of Thieves Household Cleaner with 1-2 cups baking soda. Mix well. Let sit for 24 hours to thoroughly combine.
Add 5 drops of Lavender essential oil for an extra boost of freshness.
Sprinkle lightly over furniture and wait 1 hour.
Use a stiff brush and back-and-forth motions to work the cleaner into the fabric; then vacuum up the excess.
Stovetop cleaner:
Tackle light and heavy degreasing.
In a spray bottle or bowl, combine the following:
-1 capful Thieves Household Cleaner
-1 drop Pine essential oil
-1 cup water
Apply with cloth to remove buildup; when grease is gone, wipe clean with a damp cloth.
Shine and polish hardwood floors:
In a bucket, mix the following:
-4 cups water
-2 tablespoons white vinegar
-2 tablespoons grape seed oil
-1 capful Thieves Household Cleaner
Mop your wood floors!
Wood furniture:
1 capful Thieves Household Cleaner with 2 cups of water. Wipe down furniture!
Sinks and counters:
Add 1 capful Thieves Household Cleaner and 2 cups water to a spray bottle. Spray and wipe!
Oven scrub:
In a spray bottle or bowl, mix the following:
-½ cup white vinegar
-½ capful Thieves Household Cleaner
-½ tablespoon dish soap
-2 drops Thieves essential oil blend
Avoiding the heating elements, sprinkle baking soda liberally on the bottom of the oven, and then spray with Thieves Household Cleaner and vinegar.
Let sit until it stops bubbling.
Scrub stubborn spots with a sponge.
Wipe the rest of the cleaner off with a damp cloth and rinse well, making sure to remove all baking soda
Stainless steel cleaner:
In a spray bottle, mix the following:
-½ capful Thieves Household Cleaner
-2 tablespoons olive oil
Buff the cleaner into the stainless steel with a damp, lint-free cloth.
Wipe off excess with a clean, dry cloth.
DIY Soft Scrub:
In a jar or other glass container mix:
-1/2 cup baking soda
-3 capfuls thieves household cleaner
-10 drops lemon essential oil (helps cut sticky residue!)
Mix it up and use the paste with a sponge or brush to scrub surfaces! Great for sinks, tubs, toilets, and more!
GRAB A THIEVES STARTER BUNDLE!
Grab your Thieves Household Cleaner in the Home Bundle HERE with my referral link! We'll get you hooked up with pretty recipe cards, cleaning and household tips and ways to keep your home happy and healthy all winter long! #referral #3731456.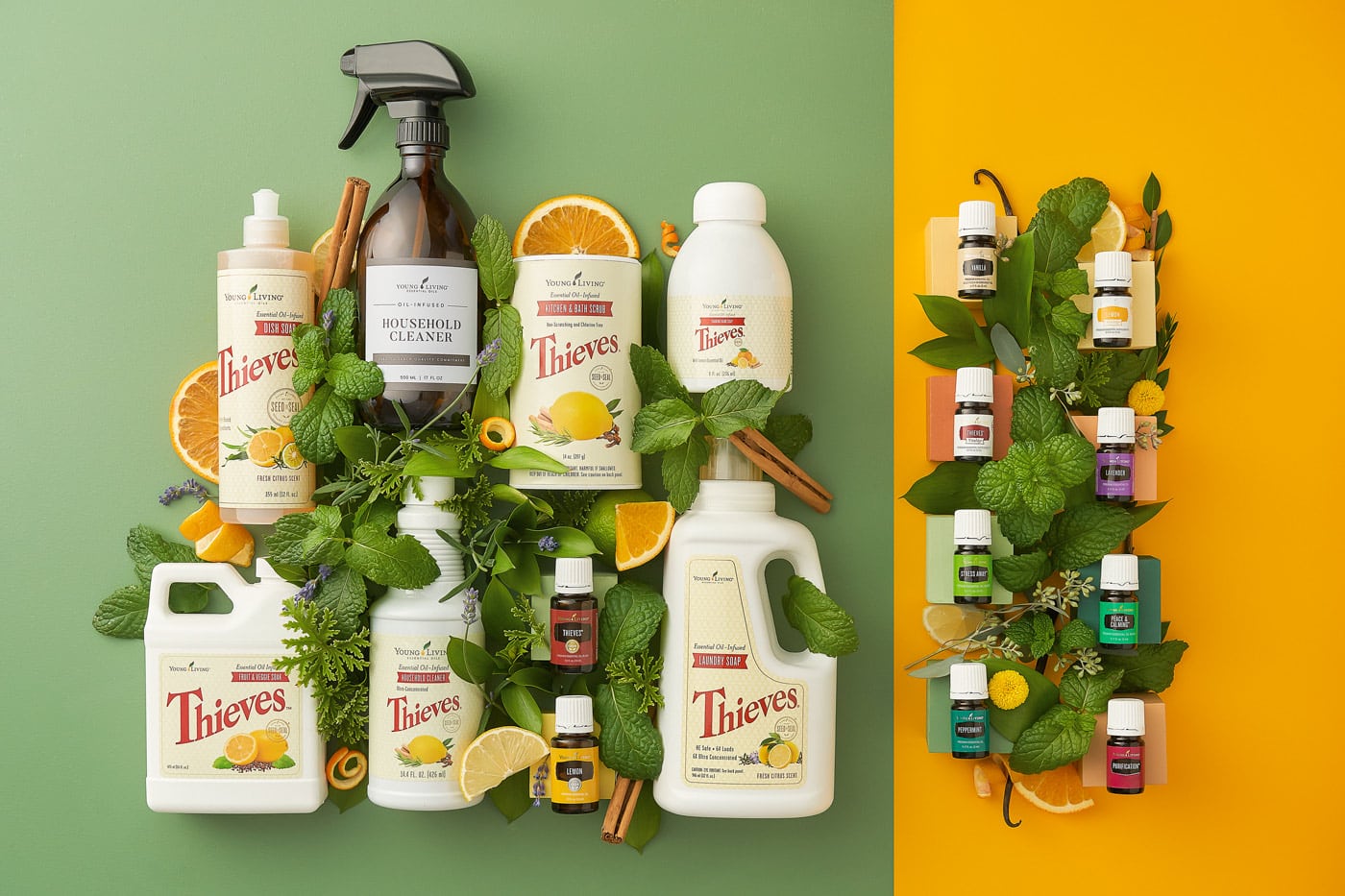 I also love the Thieves Lozenges, the Lemon Foaming Hand soap, the Thieves Spray, Thieves Chest Rub, Thieves Vitality Oil and Thieves Roll On. All must haves at our house!
Feel free to text me at 503-805-6457 or email me at [email protected] if you have any questions on your order.