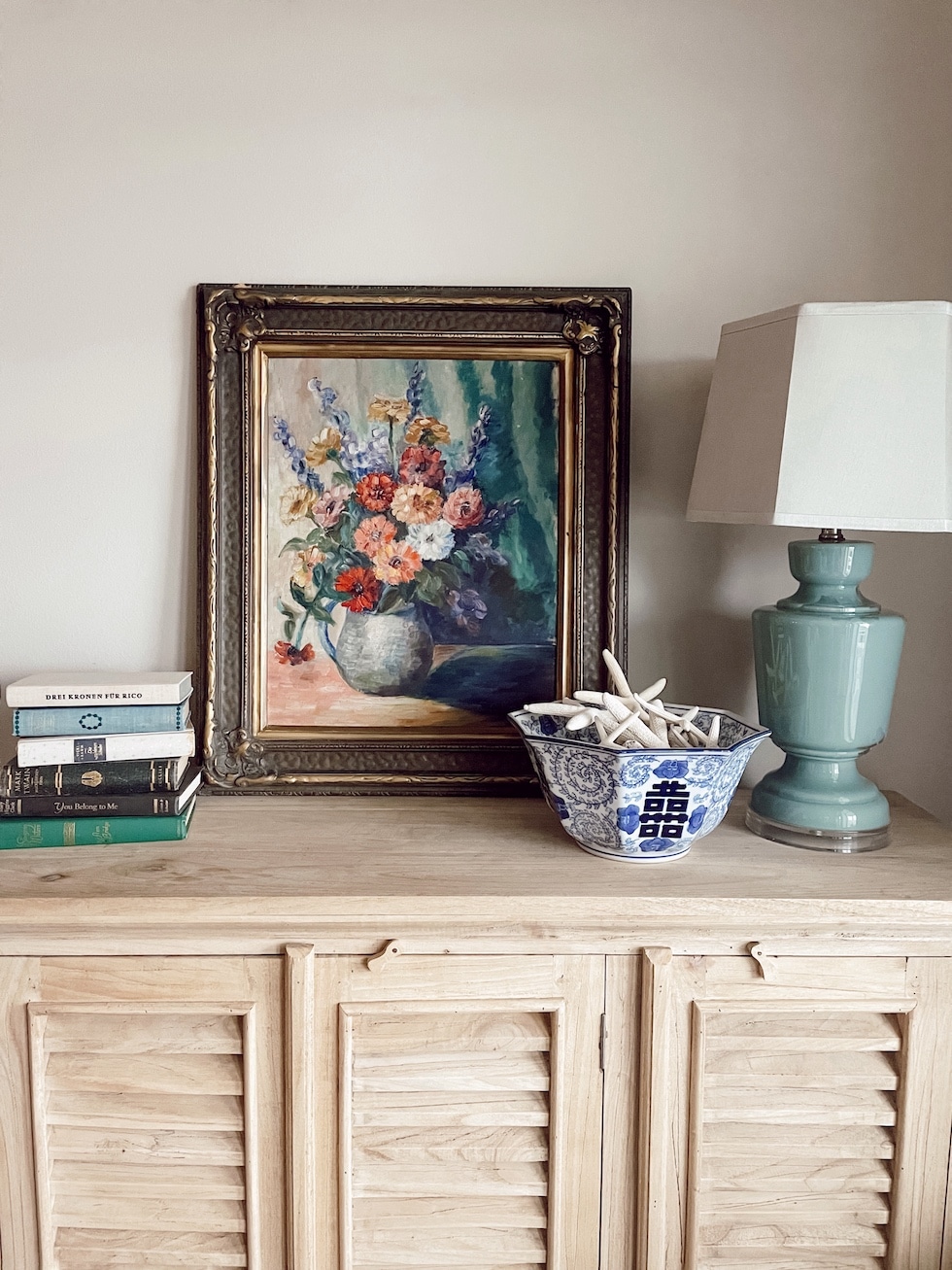 My husband and I have collected original art since we were newlyweds. There's nothing quite like the history, the story, texture and beauty of original art in a home! We've rarely spent much and don't have a particularly extensive collection or anything, but from time to time we have bought art as a gift to ourselves for an anniversary (at estate sales or second hand shops) or while on vacation (as a fun and memorable souvenir). We also keep our eye out for pieces that speak to us (if we see something at a store or on eBay, for example).
Decades ago we found this beautiful moody floral painting at a local garage sale. It came in the gorgeous frame! I'll share some similar art below if you are looking for something like it. We have hung this piece in every home since then, except our last one!
It was kept tucked away in a box of art when we moved there. We wanted to paint all of our walls first and it took awhile for me to decide where and what we wanted to hang things, but by the time I was ready for it, I couldn't figure out where it went! HA! I have aways given away many things when we move (to our kids or friends), but I rarely give away original art so I was dumbfounded on what had happened to it!
Gratefully, this piece was found during our move here to our new home! I'm not sure yet where we will hang it, but for now it is sitting in the living room so I won't lose it again :). I love the mix of cheerful colors with the moody overall vibe of the art and frame. I love a more complex mix of moods, so it is one of my favorites!

Even if you don't collect (or create!) original art, I really believe that what we hang on our walls can have a powerful impact on how we feel in our home.
I find it so therapeutic to hang art that is meaningful. Perhaps it stirs up positive emotions simply through its beauty, or because it brings back happy memories, or because it helps tell a story of our life (or our personalities!) in some way.
Do you have art that is meaningful to you? If you love moody floral art, too, we put together some options below.
We also shared these art finds on The Inspired Room Style instagram too (I hope you'll follow there, it's our free to use design service where we find and share furniture, art and lighting sources daily, so you can create your own inspired look!).
Click the images below for similar art pieces: