When I first got my oils, I had NO idea how to use them or what they were for.
The first time I signed up for a membership with Young Living, I got one without a kit (misunderstanding #1). Because I only had two oils (and no diffuser) I began ordering only what I thought would smell good (not realizing oils were about wellness, not always just scent). I then ordered the wrong kind of diffuser (from Amazon), not having a clue how powerful Young Living oils were (I also didn't understand the value of ordering the kit with the diffuser on day one).
Once I finally got a kit, I would pull out only a few oils to diffuse. But I thought the rest smelled strange (because I didn't understand that many amazing plants will smell like plants, not all are going to smell like perfume) or I wasn't sure what they were for, so they sat in their box for far too long.
Worst idea of all, I continued to buy toxic cleaning products, skincare and household products from random sources online, usually based on the lure of seasonal (toxic) scents, having no clue that I was completely missing out on some of the key benefits of being a member of an incredible wellness company.
I finally realized I was overcomplicating everything.
Simplifying was easier than I thought.
I've been getting a monthly wellness box (through Young Living's Essential Rewards program) every month for THREE YEARS now. It's definitely simplified our choices, our life and budget, along with improving the products and ingredients we bring into our home.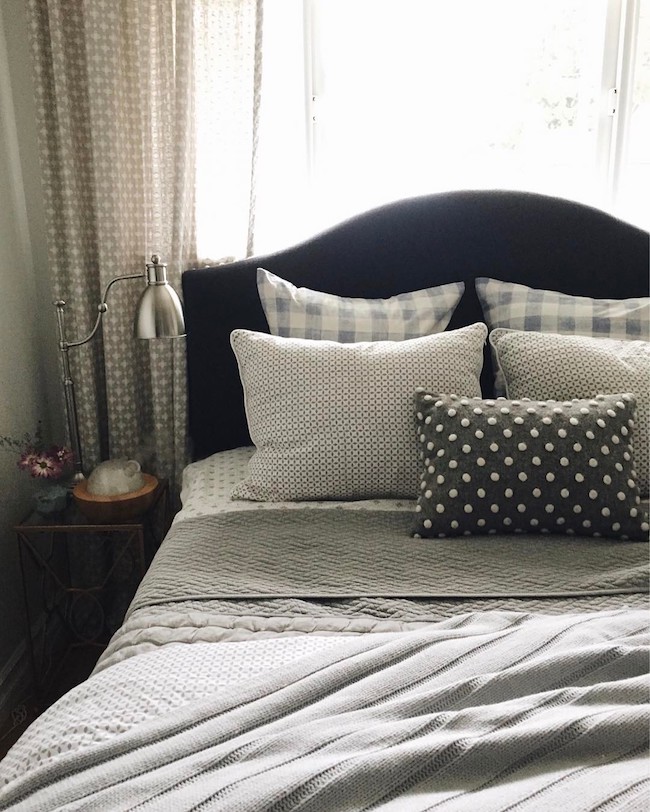 SIMPLE WAYS I USE OILS:
I turn on my diffuser in the morning. I love diffusing blends that energize us or give us a boost of happy.
I make an Immune Boost tea by adding a drop of a couple "Vitality" labeled oils and raw honey to hot water or tea.
I put a drop of Thieves on the bottom of my feet before I head out for the day or head into germy places.
I diffuse Thieves and Raven or RC for breathing better.
I make rollers as a convenient way to use oils and roll them on.
I drink a shot of Ningxia Red every day (full of superfoods, antioxidants, essential oils).
I put a drop of Digize Vitality into my water or directly under my tongue for digestive system support.
I apply a drop of Digize and a drop of Peppermint directly to my stomach with a little carrier oil after a big meal or occasional stomach discomfort.
Throughout the day I like to roll onto my wrists or back of neck a 'happy roller blend', or any uplifting oils like Stress Away or Joy or orange.
I apply a drop of a cooling oil like peppermint with carrier oil to sore muscles after a workout.
I put peppermint + carrier oil on my temples for a happier head (avoid eyes!).
I diffuse oils that to help me focus when my brain is feeling scattered, like citrus fresh or peppermint or vetiver or Clarity.
I put oils on the bottom of my feet to promote relaxation and to help me sleep solidly through the night.
I add a drop of Lemon Vitality or Thieves Vitality to my stainless steel water bottle.
I diffuse Citrus Fresh or Purification after cooking dinner to freshen the air.
I open a bottle of Thieves and set it next to my cutting board while cutting onions to avoid the tears.
I incorporate Vitality oils into recipes when cooking/baking (remember these oils are highly concentrated so a little goes a long way), and in capsules for wellness support. Lime Vitality in Guacamole, Peppermint Vitality in brownies, Lemon Vitality in pastas, Oregano Vitality…etc.
I make a chest/throat rub by combining carrier oil and Raven, and apply it directly to my skin for a cooling sensation and better breathing.
I put a drop of Copaiba and Frankincense into my hand with my neutral face moisturizer, and use that to moisturize my face/neck. Copaiba and Frank are a dream for the skin.
I make room sprays with oils and water in glass spray bottles.
I drop a few drops of Citrus Fresh or Lavender on wool dryer balls instead of using dryer sheets.
I sprinkle some baking soda and 2 drops of Lemon into my garbage disposal. Then turn on the disposal while running warm water to freshen.
I put a couple drops of Citrus Fresh onto a cotton ball and place it in the bottom of my trash can to freshen it, or into my car air vents.
I rub 2 drops Raven or RC plus a carrier oil on my chest before exercise for breathing.
I combine oils and epsom salts to add to a bath. Lavender and Stress Away for a relaxing bath, or PanAway for a soothing bath.
If I was putting on a Band-Aid, I would put lavender on my skin beforehand.
I put a drop of a calming oil on my dog's bandana to help him chill out.
I add a drop of oils to a diffuser necklace, Stress Away is one of my faves.
I put 1 drop of Citrus Fresh or Purification directly into some stinky shoes.
…and so many other ways!
What are some other products I love from Young Living?
Keep in mind that when you get the kit you aren't just getting a set of oils and a diffuser (as great as that kit is). You will also have a life-membership with access to wholesale prices on all the other extremely well-loved and trusted quality plant-based products Young Living offers.
You can get NingXia Red, the very best wolfberry antioxidant drink.
You can get Thieves products, from toothpaste to hand soaps to dish detergent and more.
You can get amazing mineral makeup from Savvy Minerals and ditch the endocrine disrupting junk formerly in your cosmetic bag.
You will have skincare products that will do amazing things for your youthful appearance. Satin Mint Facial Scrub, Orange Blossom Cleanser, Charcoal Soap, the ART line…
You'll have baby products you are confident to use with your babes (the Seedlings line)
You'll help your kids live their best life with products that support their little minds and bodies (KidScents)
You will love the all natural Lavender Lip Balm, or Grapefruit or VanillaMint (best lip balm we've ever used)
You'll never want to be without your Thieves lozenges so you can say no to the winter yuck.
You'll love how energized you feel with your daily Super B supplements.
The Young Living Einkorn Granola will be the best you've ever tasted.
You'll have a probiotic you'll wonder how you ever lived without (good health starts with the gut!).
You'll find so many more products you'll love.
Supplements like Super B (energy support), Inner Defense (immunity), Life 9 (probiotic).
The entire Thieves Line, Thieves Cleaner, Laundry Soap, Hand Soap, Hand Purifier, etc. have replaced ALL the old products I used to use.
Lavender, Lavender Mint, or Copaiba Vanilla Shampoo and Conditioner
Endoflex Vitality (a drop in water or in a capsule as support for the Endocrine system)
I put a drop or two of Progessence Plus on my wrists every night (incredible for balancing women's hormones and supporting overall well-being, all the important things for women).
I have a Thieves Lozenge almost everyday (full of wellness oils), many times a week or just anytime I feel like I need a little immune boost to stay ABOVE the wellness line.
I brush my teeth with Thieves Aromabright toothpaste (no fluoride, synthetic dyes, artificial flavors or preservatives).
I use natural skincare lines that include skin-loving oils. I love the Orange Blossom Cleanser.
Christmas Spirit smells like a dream in the diffuser. You can mix it with other oils, too, for a unique spin on the holidays. I have lots of "forest" oils I love in the winter like Northern Lights Black Spruce.
What is a Carrier oil?
Carrier oil is what we use to dilute essential oils when applying them topically to the skin! You may choose to use certain essential oils undiluted, but carrier oil is generally recommended for topical use. It helps spread the essential oils across your skin and decreases the likelihood of a skin reaction. You can use coconut oil (unrefined in a jar gets solid in the cold so just put a little in your hand and add your oils), fractionated coconut oil (awesome for making rollers since it stays in liquid form!) jojoba oil, V6 oil from Young Living, olive oil etc. I most often use coconut oil.
If an oil feels too warm on your skin, no problem! Apply a carrier oil right over top to cut the heat.
When and how to use carrier oil:
Look at the back of your essential oil bottle to see what the dilution suggestion is. As you get more comfortable with essential oils, you may find you need to dilute less. For kids, always dilute more. I'm not scientific with ratios personally, but there are plenty of dilution guides online (or in my group for my members).
Don't let carrier oil confusion trip you up!
What are Vitality Oils:
Young Living offers a special line of oils that are labeled as a dietary supplement, which means they are oils that are considered safe for internal use. In the U.S. they have a white label and are called Vitality oils, in Canada they are white labeled under the + line of oils.
The oils found within a bottle of a Young Living Vitality oil (or + oil in Canada) are the exact same oils you'll find in the same non-Vitality labeled bottle (Thieves Vitality vs. Thieves for example). The FDA does not allow both internal use and topical use direction information to be listed on one label, so the white labels are intended to make it easy for you to recognize which oil is considered safe for dietary use.
Each oil offers usage information on the label so you can be confident in how to use each one effectively, but many oils (such as Thieves!) can actually be used 3 ways!
Of course, ingesting essential oils totally optional. But if you do, make sure it's only Young Living as other brands can contain harmful perfumes, fillers or preservatives that you will NOT want in your body.
Questions? Email me at theinspiredroom@gmail.com!
Follow my girls and I at @pureandlovelyco for lots of oils and wellness inspiration! You can also follow Dwell Well Collective on Instagram for inspiration from our members.