I'm living in a fairly newly built house, but I still have a crush on older homes. You may not get crushes on older houses, but I really do. I fall hard. I adore the character that comes with a charming house built before I was even born. The rounded wood doors, creaky wood floors, the chunky wainscoting, the old lanterns in the hallways.
I've been blessed to live my dreams in many beautiful old houses. And I've been infatuated with many more old houses I've only loved from afar. I obsess over older homes in neighborhoods and I stalk them online. When I was younger I dreamed of castles and fairytales and all that romantic girlie stuff, so it is only fitting that I'd romanticize life at home.
But alas, owning an old house isn't always as romantic as it sounds. Trust me on that. With character and age come many expected and unexpected updates and repairs. You dream of decorating and furnishing that lovely old home, but in reality your money might go to exciting things like new sewer pipes, roofs, and electrical panels.
Ahhh, the romantic love of an older house can easily dim once you experience what it's like to replace a sewer line when you were saving up to buy a brand new six burner stove for that charming but oh-so-out-of-date and non-functioning kitchen.
That is one of the reasons we chose to buy a new house this time around. We needed to know with relative confidence that we wouldn't have a major plumbing repair or roof leak in the first few years of ownership.
Ain't nobody got time or money for that.
We had so much else to focus on when we moved here that an old house just wasn't something we could handle at that time. But, alas, the romance, tingly toes and giddy feelings we normally had with houses we had crushes on and planned to buy just weren't there this time. This was more like a practical, business-like decision you make with your head — not a love affair of the heart.
But the saving grace with this more practical house buying endeavor was I've always had a bit of a secret dream, to buy a new house and give it the character I've always loved in my old houses. Maybe if I added some old house character I would feel those goosebumps about my new house too? It was worth a try to see if we could have the best of both worlds.
I'm not sure my new house will ever be as romantic to me as that beautiful old house in my dreams. But if I've learned anything at all about life thus far, it is that romance is often something we need to create. It can be right in front of us, if we only would nurture it and see it as worthy of falling in love with. It's worth the effort to try!
Unless you are already living in your dream house (or have a tiny crush on your house already), your love affair with the home you have probably won't even start until you fan the flames and flirt with it a little bit. You have to make the effort. You can't settle for mediocre just because you don't feel the love yet. We might need to get creative and shake things up before we even see a spark.
Maybe we need to start a 40 day love dare for our house. Do something loving for your home every single day for 40 days, and then see how you feel about your home.
If those giddy feelings of infatuation for your home are not there yet, all hope for love is not lost. Maybe you have fallen out of love with your home and are looking for greener grass. No house is perfect and circumstances aren't always ideal. Old house, new house, rental house, borrowed house, military housing, apartment, big house, small house … they all have their issues.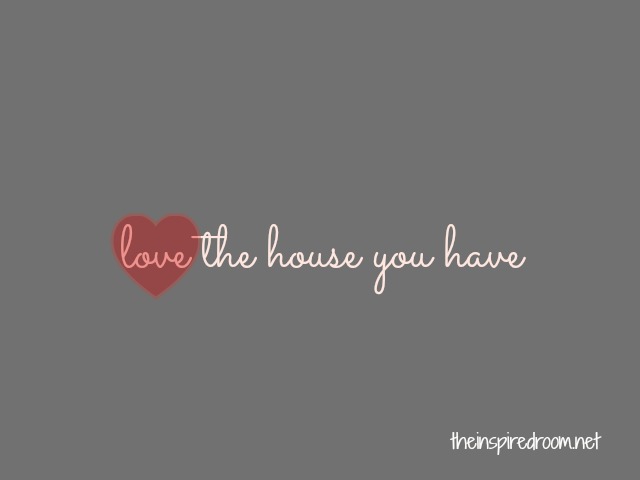 But let's not give up on romance, even if you don't think you could ever truly fall in love with the home you have. If you let your heart wander a little bit to see the house of your dreams, the home you picture probably doesn't really resemble what surrounds you every day. And maybe it is as far from it as you can imagine.
But that is OK. Real life romance is much sweeter and more precious because it is what you actually have. It is YOURS to nurture and cherish in whatever way you are able to right now. Even if you won't live here forever, make the best of the time you have.
Whether it is having fun setting up family dinners at the table, cleaning out a closet to make room for a neglected hobby, hanging a new charming light fixture in place of a standard builder light, recovering some throw pillows in a favorite fabric, painting a wall a color you truly love, counting your blessings every day, or working on something bigger like fixing up a bathroom or kitchen — they can all add to our home's "love bank." It's worth investing emotional energy in the home you have, because you'll feel that love coming right back to you.
Love and romance take time. You have to start somewhere, anywhere! You just have to start! Build the memories one by one, take care of what you already have, add a little more character and personality every day, and layer by layer you'll probably fall more in love with your home.