Designer: Constance Ramos
Designer: Candace Olson
Designer: Candace Olson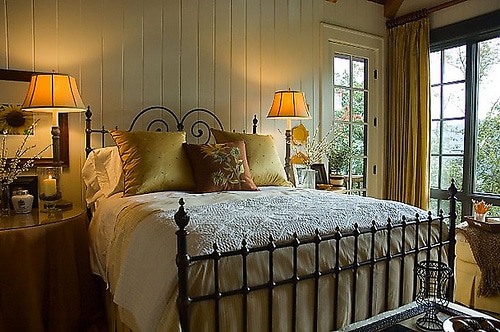 Designer: Linda Woodrum
Designer: Vern Yip
Designer: Candace Olson
F

rom cozy to chic to sophisticated, the sky is the limit on our choices in bedroom ambience and style. Which photo above seems to inspire you the most and why? What ideas can you take from it that won't break the bank?
Inspiration for Creating a Peaceful Master Bedroom Retreat
A bedroom is the place where you begin and end each day. Make it your most restful and nurturing room in the house.
Look around the room and ask yourself "What are the distractions to my feeling of calm in this room?"
Start by removing as many things from the room as you can. Clutter is the enemy of a peaceful bedroom.
Consider an electronic free bedroom. If you do want a TV, find a way to keep it hidden when not in use.
Keep electric clocks and cell phones far away from your bed as a health precaution.
For your best night's sleep, make sure you cannot see any light from your bed.
Avoid bill paying areas or work zones in the bedroom whenever possible.
Good reading lights are a must for ambience and nighttime reading. Avoid using overhead lighting.
Nightstands are clutter magnets. Consider closed storage cabinets for visual serenity.
Use covered boxes or baskets with lids to hide table top necessities.
Install dimmers and three way switches to add mood lighting.
Even if you aren't redecorating, give your room a good cleaning. Rid your room of dust and grime. Wipe down light switches, door frames & doors, headboards, furniture, window sills and floors. Clean windows. Wash curtains, bedding and dust ruffles. Clean under the bed.
Consider your senses in this room. Is it visually attractive, peaceful and quiet, do you have quality sheets and blankets, does the room smell fresh and clean?
Commit to making your bed as soon as you start your day. I've found that when I make my bed first thing, the rest of the room stays cleaner and more orderly throughout the day. It only take a few moments but it can change your whole day.
Avoid using your bedroom as a dumping ground for clothing and stuff. Treat your room as a sanctuary and sacred place.
Teach your children and household members to respect your privacy when the door is shut.
Need more inspiration for decorating a bedroom?

Transform that boring window to a charming one by adding window treatments. (promotional link)