After creating my own "northwest coastal" style winter front door decor, I decided to look online for some more beach inspired Christmas decor inspiration. Of course, I found some inspiring ideas over at Coastal Living!
While I have no intention of having a mermaid as a tree topper, it is an eye catching, whimsical and unique Christmas tree (above!). Theme trees can be so fun.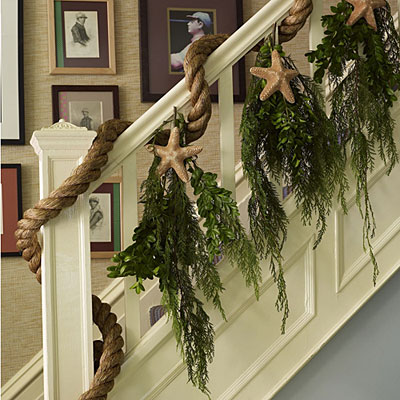 The rope on this stair railing makes a clever statement and hanger for the greenery and starfish. It is fun to think of unexpected items you can incorporate into your holiday decorating.
The bedside branches and ornaments are a simple but lovely touch of festiveness next to the glass lamp.
The pops of red are striking: the wreath hanging in the window, the ball ornaments suspended from the chandelier and the red towels or cloths hanging on the back of the chairs! And of course, the centerpiece is very pretty too!
These little trees remind me of gumdrop trees, but they are actually made out of dyed shells!
I guess I am not the only one sticking starfish and shells on my front door greenery! I love seeing the starfish in contrast with the green leaves.
You can find DIY instructions for many of these projects and MORE at Coastal Living