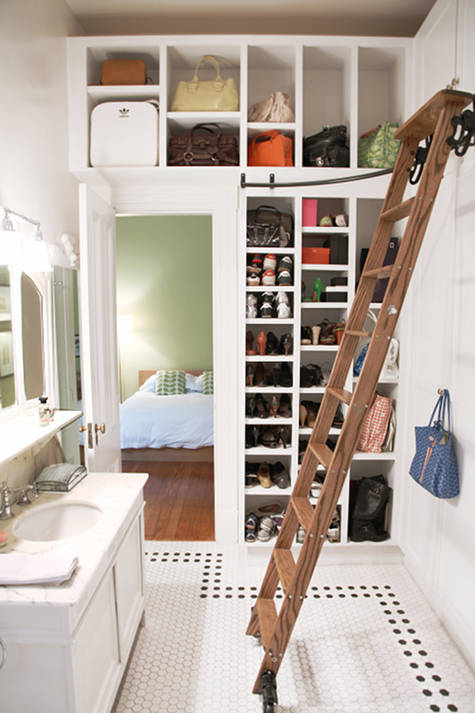 image via Design Sponge no, this is not my closet or my bathroom. bummer.
As I mentioned, I planned to follow along with Simple Mom's Project Simplify challenge this week. Although I did procrastinate starting until Thursday. I have to confess (as you might already know if you follow me on Facebook) that I panicked a little bit when I read that this week's challenge was to work on our closet. MY CLOSET? NO! That was my dreaded project. I knew I was too busy to do a "closet makeover."
In fact, I have been putting off even hanging hooks in there since we moved in. Why? Because I have a sickness. I think I need to paint the closet first, map out where everything will go, have custom shelves, hang beautiful hooks, put lovely baskets on the shelves — basically make it all charming AND organized. Because I'm insane. And, I have 5,000 other projects waiting in line before my closet, so that means my closet was going to stay the way it was, nonfunctional and not pretty, for probably another year.
But, I promised Simple Mom I'd follow along with her challenge this week. And she said to work on my closet. She didn't say to make it beautiful or ready for a magazine. She said SIMPLIFY.
Soooo, after dreading "the closet project" all week, I finally decided I better open up Simple Mom's book for inspiration. She likes to simplify stuff. And clearly I was making this too complicated. On page 121 I saw this heading for a list I should make:
Today's Items NOT To Worry About
BINGO! That is what I needed. The What Not To Do List. I needed to lower my expectations. But I didn't need to lower them to doing NOTHING. I needed to stop worrying about everything I should do, could do, would be nice to do, and just pick ONE project in the closet in order to make PROGRESS in having a more functional closet. It doesn't have to be an all or nothing thing! DOH!
So today I decided to just tackle ONE project in my closet. Just one thing that would simplify my life.
It wasn't about making it beautiful. It wasn't about the amazing AFTER photo. It was about making something better than it was.

So what if I can't paint this closet yet? So what if I can't have custom shelves and a ladder put in my bathroom? I can at least get my SCARVES and BELTS off the dresser top and floor, right? Sheesh. Of course I can.
Closet Wall. BEFORE. Yes, those are random cedar planks.

Closet wall. AFTER.
So I looked around for a way to hang them easily. I happened to have a curved iron towel rod that I've been saving for use somewhere. I've been waiting for the perfect spot to use it for like 7 years. It just sits there doing NOTHING. Year after year. So why not let it be a scarf hanger? Ha. Finally, I'm putting this to use!!
The only available wall had a wonky electrical panel thing that I couldn't cover up, so hanging the rod above it did the trick.
I know the rod looks crooked (it isn't), and so not staged fancy or magazine cover-ish, but you get the idea.
It took me about five minutes to hang it and tie the scarves on. I set a mirror on the floor of the space to solve the problem of having no mirror to see our lower half.
Two problems solved in five minutes. What was I waiting for again? Oh yeah. Beautiful? Charming? Oh well. Maybe next year.
What holds you back in making progress on projects?
Are you an all or nothing girl?
PS. My friend Krista Colvin has a great online resource for organizing your closet!  She is awesome! Thanks Krista!