Spring Decorating
When I was a girl, my mom was really into decorating our tables for the seasons. I loved it. I would always be so excited about the centerpieces at the dinner table — everything was all festive and dressed for holidays! Let's get inspired by SPRING table decor!
Here is what I like to use for a pretty Spring Table:
Mix and match dishes (have a few patterned or colored accent pieces to mix in if you have all white dishes).
Various pretty containers and pedestals (try baskets, wood and ceramic bowls, flower pots, urns, books, pedestals, cloches, glass domes, cake plates, candle sticks).
Natural elements. (gather up things you find in nature in spring, like plants, faux birds (no real birds on the table, lol), fruit, decorative eggs, moss, rocks, nests, flowers, etc.)
Napkins (cloth or paper are both fine), tablecloths, place mats, or fabric for your table if you so choose.
How to decorate your table for every day enjoyment:
I think it is fun to have seasonal centerpieces and decor on my table every day, even when I'm the only one home to enjoy it!
When you are decorating for fun and aren't worried about people having a conversation over your centerpiece, you can set up something with more height and impact in the center of the table. Sometimes a simple pitcher of flowers is enough, but it is fun to group related things together to create a more interesting centerpiece.
My table is quite small, but I love to put birds, nests, small plants and pretty eggs on my table in the spring, but you might have another collection you'd like to use. It is fun to be creative!
How about setting up a spring breakfast table for two?
How to decorate a table for two:
If you are setting a pretty table for two (which I must say is way more romantic than eating in front of the TV!), you can have fun with off-center arrangements. Keep the center piece low for easier conversation and put taller items to the sides to give visual interest around the table.
How about a sunny table just for you?
For entertaining larger groups, if you are limited on space like I am, you might need to get creative when it comes to how you use your space. At my house, I prefer a buffet style set up with various food stations around my home. I stack dishes on my table, put silverware in my caddy, and a few appetizer style dishes, or fruit and rolls for brunches out on my dining room table. Then the rest of the food is set up in the kitchen, potluck style. Sometimes I put desserts in my dining room (to create more of a fun dessert destination!), salads on my kitchen table and main dishes on the kitchen counter.
Separating the meal into "stations" helps with traffic flow and makes it feel more festive and party-like!
spring brunch
How to decorate your buffet tables:
Even if you are limited on space, you can still add a few purely decorative items to a buffet table. I like to mix in some seasonal decor around the food or dishes, utilizing creative containers and pedestals. Use items that take up minimal space but still allow you to add a spring touch.
I find candlesticks, hurricanes, pedestals, vases or spring accessories to tuck in and around the food and dishes. I vary the height and sometimes put small items up on something to give it more importance among the dishes.
It is OK if the table looks full, more cluttered or more decorated than you normally would like, it is a PARTY so you can be more festive if you want! When you aren't actually eating at the table you can use every available inch for food and decor.
Tuck in little spring surprises like birds and greenery
What if you don't have a formal table or dining room?
You can still decorate and entertain even if you don't have a formal dining room or table … you can use a coffee table, ottoman, or side tables for the food stations or festive decor. Set up card tables of food and dishes in the bedrooms if you need to, you don't have to have a formal dining room in order to entertain!
Spring party in a basket
Spring party in a basket
Another spring party idea I like is to gather up a "spring party in a basket" (a basket or tray filled with dishes, spring napkins, drinks or whatever you want) and set it on an ottoman or coffee table. Somehow putting things in a basket like this makes even a simple get together feel more special. You could also create a wonderful Spring Breakfast in Bed basket for your sweetie!
This is a really simple spring table decorating idea: put inexpensive plastic craft eggs in a hurricane and fill with spring sticks!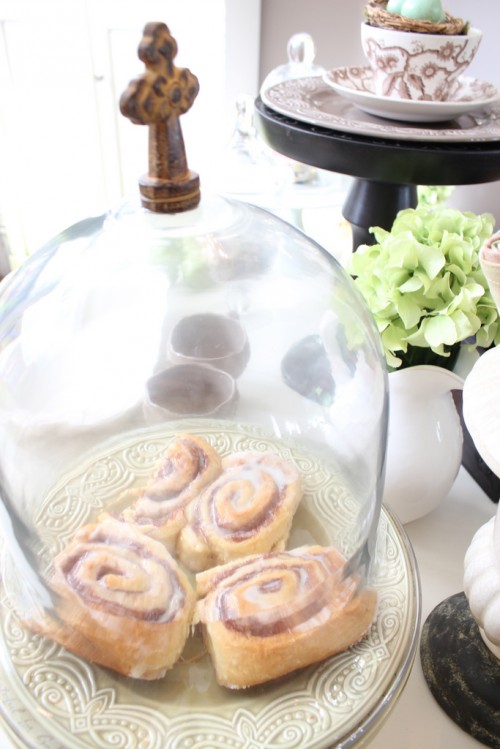 Table decorating rules:
I don't worry too much about the rules, my idea is for it to look fun and pretty, not to be perfect according to someone else's standards. I used to think there must be a lot of rules I should know to follow and it would intimidate me from just being creative. Honestly, when I look through magazines, I see everything under the sun when it comes to HOW to decorate a table. Some of it I like, some of it I don't.
A lot of decorating really comes down to personal preference– so just get creative and do whatever works for you!
A pedestal is a must have for your table and year round decorating. This pedestal is from DaySpring and it is SO BIG and STURDY, I LOVE IT!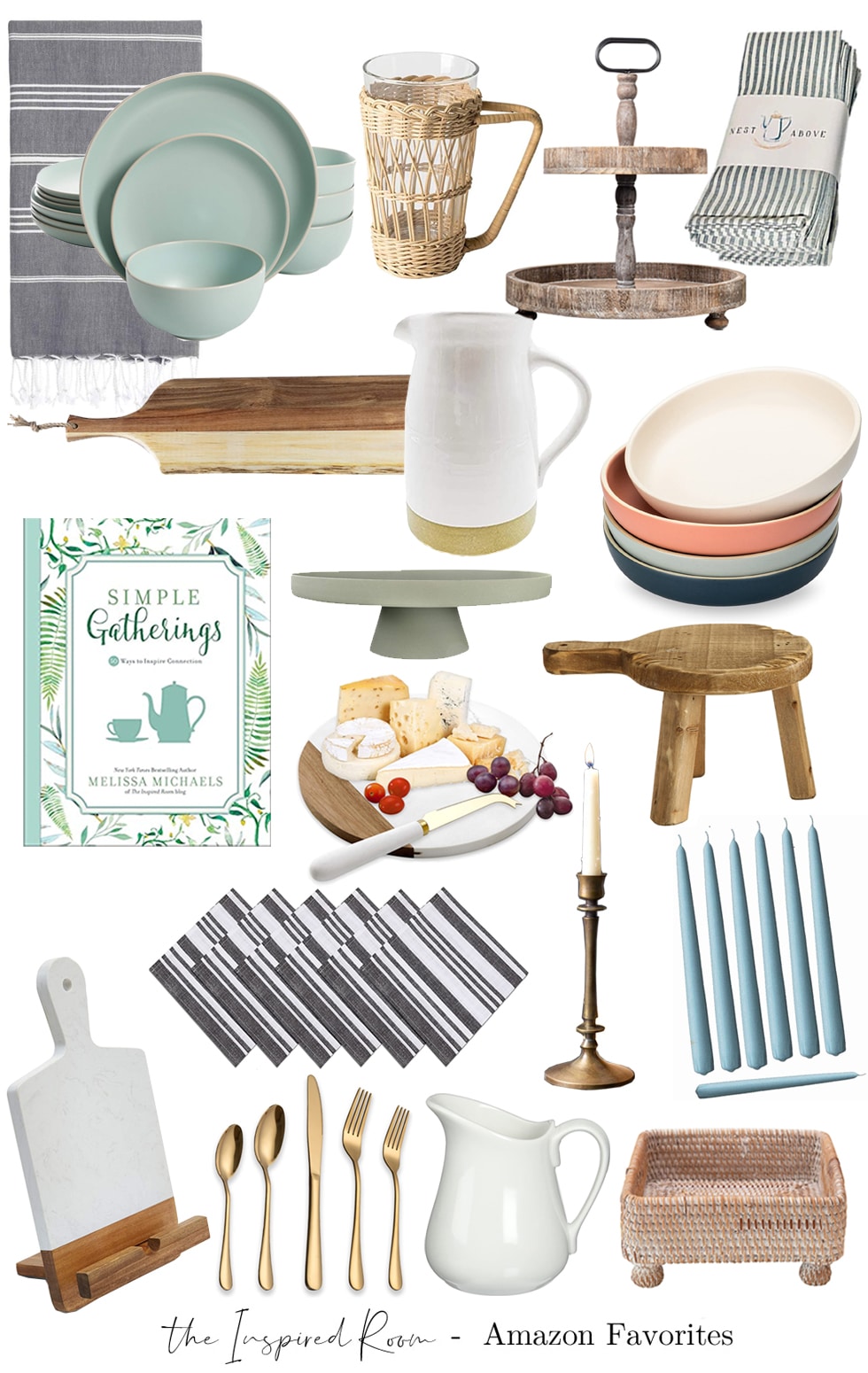 Click here to find my entertaining and tabletop decor favorites on Amazon!
Sources for above: Turkish towel (many color options, love using these as tablecloths!) // Teal Matte Dinnerware // Simple Gatherings Book // Wood Pedestal with Handle // 2 Tiered Wooden Tray // Matte Porcelain Dinner Dishes // Bamboo Rattan Cup with Handle // Brass Taper Candle Holder Set up Two // Sage Green Pedestal // Blue and White Ticking Striped Cloth Napkins // White Marble Acacia Wood Round Cheeseboard // Stainless Steel Gold Flatware // Farmhouse Ceramic Pitcher // Marble and Acacia Wood Cookbook Holder and Serving Board // Woven Rattan Napkin Holder // White Porcelain Pitcher // Blue Taper Candles (many color options) // Gray and White Striped Cloth Napkins
NOTE: THE FIRST WEEK OF SPRING GIVEAWAY IS NOW CLOSED!!
The great people at DaySpring are offering The Inspired Room readers a "First week of Spring Giveaway" to celebrate the arrival of this long awaited season! And because DaySpring is so generous, they are going to give away MORE than ONE prize!!
For every 100 comments on this post, one prize of your choice from the amazing list of decorative items above will be given away! That means more chances to win!!

And, because it is FINALLY spring and the sun just might be shining again soon, our friend Saul at DaySpring ALSO wants to give away a GRAND PRIZE of a $100 DaySpring shopping spree to one lucky commenter! YAY SAUL!
So, if you win, what item would you choose from the list above? Leave a comment to enter! Winners will be selected on Friday 9PM PST.
If you are reading this post via email, you will need to click "Leave a comment" in order to enter. You do not have to have a blog or website to win.
The giveaway is closed!
—-
Decorating Tables for Spring was shared at Centsational Girl!