Fall Porch Ideas
Are you chomping at the bit like I am to embrace all the gorgeous colors of fall?

Here are some fresh and fun fall porch ideas and inspiration pictures for bringing fall color to your porch and garden. They are sure to get you in a fallish mood!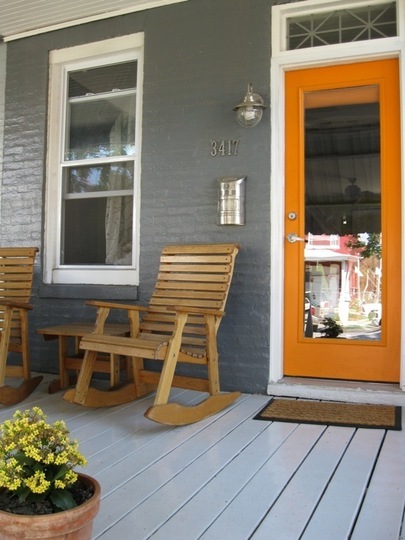 1. Embrace fall color with paint.
Doors, planters, and benches could use a fresh new pop of orange, yellow, red or green!
2. Add natural fall elements to bring color to front porch decor.
Now's the time to fall-ify that front porch with pops of natural autumn colors. Colorful mums, gourds, pumpkins, pine cones and plants are the perfect fall greeting at the front door.
Photo: The Inspired Room
3. Go over the top and add colorful cascading fall vines and flowers to window boxes and planters.
Say good-bye to your fading summer flowers and hello to fall with pops of cascading green, red and yellow foliage!
by Jamie Durie via HGTV
4. Arrange fall colored pots like works of art.
Groups of colorful planters is an artful way to bring the beauty of fall to your yard. You can spray paint tired old pots and make them colorful and new again.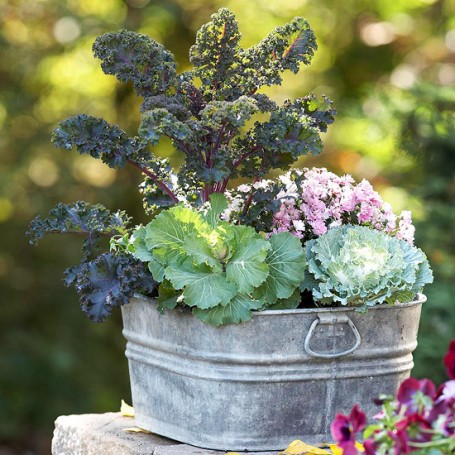 5. Grab a rustic container to fill with fall goodness.
Rustic containers just scream FALL. This is SO EASY and perfect for your porch. Grab an old metal bucket and fill it up with a fresh combination of fall color! This could work with pumpkins, corn, gourds, mums or any colorful fall filler!
Friday we begin our Fall Nesting! Do a quick fall project, switch out some summer decor, or inspire us with fall ideas you shared last year….or simply come and see what others are sharing. You can link up your posts on Friday or the entire next week! Please link back to The Inspired Room from your post so everyone can enjoy the 4th annual FALL NESTING PARTY!
Let's all chime in, come out of lurking one and all.

What FALL COLOR are you CRAVING?