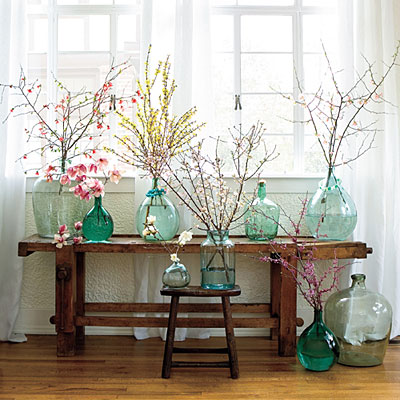 Southern Living Spring Decorating
From January through April, we tend to see a lot of ideas for how to decorate for Valentines Day, then St. Patrick's Day and then Easter (hearts, clovers and bunnies, of course). Lots of cute ideas! But what if you don't really like overt themes or it is past Valentine's Day and maybe too early for your bunnies?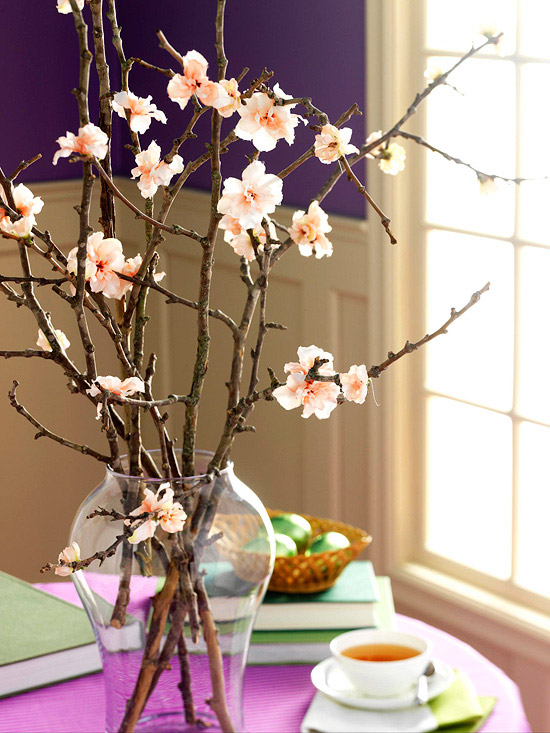 BHG Make Your Own Flowered Branches 
A few of you expressed last week on my Gearing up for Spring post that you struggle with the in between season decorating. It isn't winter. It doesn't feel quite spring. You maybe aren't too keen on decorating for Valentine's Day, and you aren't Irish so you don't feel like decorating with four leaf clovers.
I get that. I'm pretty much the same way.
Even when I do decorate for a specific holiday it will likely be more subtle and less themey (although I really do like bunnies. And eggs. So, maybe I let a little theme slip in there because who can resist a bunny?). But overall, I tend to focus more on the actual seasons (winter, spring, summer, fall) than specific themed holidays.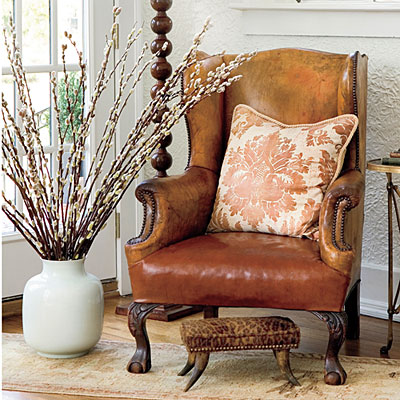 Southern Living: Spring willows in vase
So, the question was asked in my comments last week…how DO you decorate when you aren't quite feeling ready for full spring decorating but a snowy winter mantel or table-scape feels a bit out of place too?
BHG Moss and Mushroom Spring Decor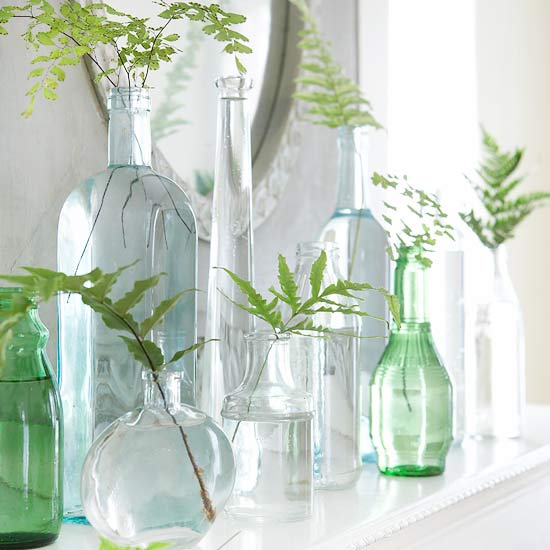 BHG Spring and Easter Decorating
I usually end up with decor along the lines of the photos I'm sharing today. In Spring I like adding in hints of life and bits of spring! Some branches, a few springy flowers, some plants and maybe some moss.
You may have heard me say it before, but I really enjoy the the gradual evolution of the seasons. I don't feel like I have to go crazy with themes or holidays and then tear it all down to go on to the next holiday, I just add in a pretty little hint here and there of the season and watch it evolve. It is a process that I enjoy!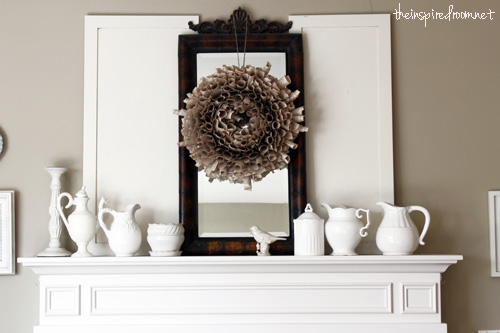 This is how my mantel has looked pretty much from January up until now. Kind of simple and neutral. But it worked for the past two months of the winter season. But about this time of year I start wanting a little bit more life, which for me will probably mean adding in some spring greens pretty fresh colors.
So, this mantel will be getting a little spring update over the next week or two, stay tuned and I'll show you whatever I come up with! It will be a surprise to me too as I don't really plan out my decor, I just kinda let it happen as the inspiration strikes!
 Do you like to decorate around specific holidays or themes or do you tend to decorate more around the season itself? Neither way is right or wrong!
Thank you so much for voting The Inspired Room into the top 12 home design blogs via the Homies at Apartment Therapy! YAY! That really made me happy! 
The home and DIY blogs we all love and adore don't just happen by cosmic explosion or accident, they require a lot of passion, dedication and love from their authors, so these girls very much deserve your votes of support from those of us who read their blogs every day!