There is really nothing more beautiful to me any time of the year than natural elements for decorating. And Christmas time is no exception, there is something wonderful about greenery, pinecones and berries tucked in here and there throughout a home! They just say Christmas to me, without the need for so much fuss and trips to the department store.
This year with all the remodeling coming to a close, but not yet 100% finished (our kitchen and family room is being painted as I write and that means our whole first floor is a jumble of furniture and kitchen contents!), I'm thinking it is another good year to keep it simple by adding greenery and touches of holiday sparkle here and there.
And of course, to go along with that natural Christmas theme, I'm throwing in a few woodland creatures — just because I like 'em! Where would a natural woodland decor be without its woodland creatures?
If you follow me on instagram, you may have seen images of my growing collection of holiday deer, and of couse I recently posted on The Inspired Room about our Woodland Christmas Tree and Gift Wrap & Tags.  I think I'm well on my way to a cozy woodland vibe this year.
My Home Ideas – Southern Accents
With simple natural Christmas decor, I feel more relaxed. It helps my mind wander off from the hustle and bustle of daily life to a day dream of checking into a beautiful lodge up in the mountains, relaxing by the fire, hot cocoa in hand and watching the gentle snowfall outside.
A touch of rustic elegance brings such a warm cozy ambience, you might almost feel like you were on vacation in your own home!
Not a bad feeling at all, right? I think I could live with that.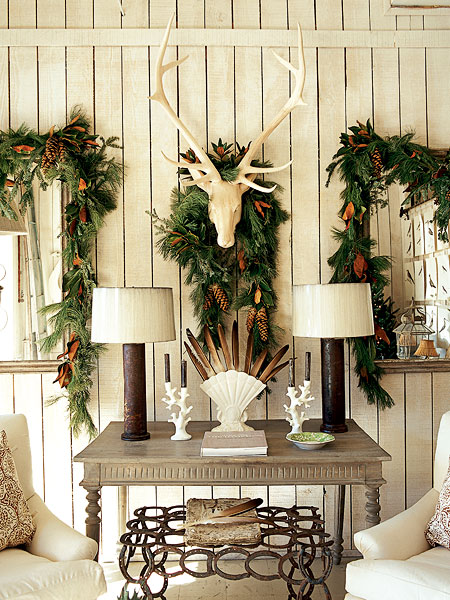 My Home Ideas – Southern Accents
instagram phone snapshot in my dining room
So how's the holiday decorating coming along at your house? Have you started, finished or are you somewhere in between?
I'm on a little "out to see" adventure this week in Atlanta, so be sure to follow on instagram for some sneak peeks of my trip!
Happy Holiday Nesting! Don't forget to check out my Christmas Gallery for more decorating ideas!