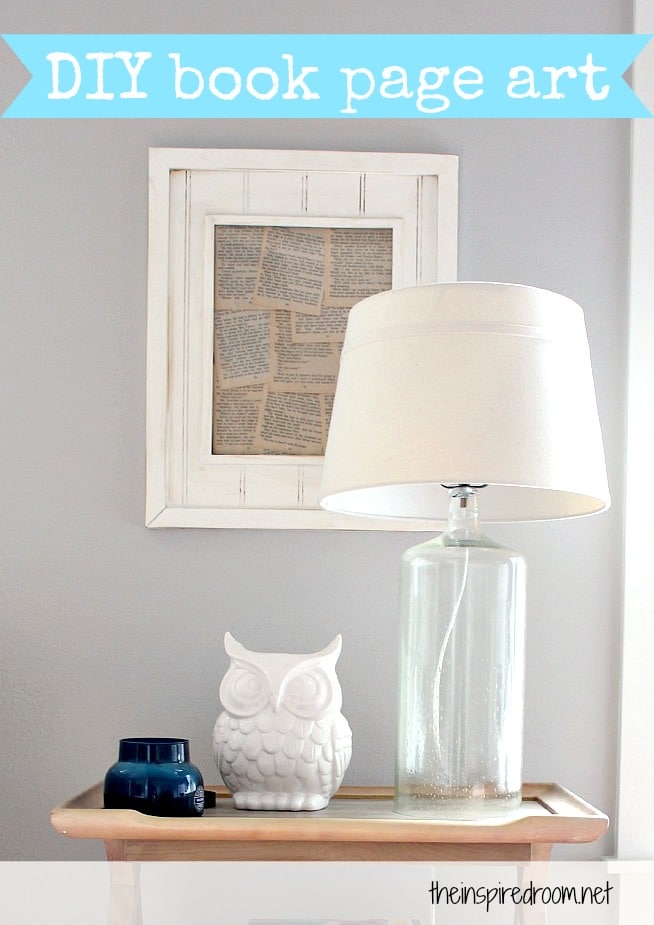 I'm glad you all liked our DIY book page art, hanging in that little corner of our family room! Due to popular demand (I've always wanted to say that! THANK YOU!), I'll show you a little bit of how we put this together, but obviously it doesn't require many instructions. Trust me, if it required complicated instructions,  it wouldn't be my kind of DIY. We made ours on a whim one day, when we needed some quick art for a wall. I'm sure it took less than five minutes!
Here is how to make your own DIY book page art!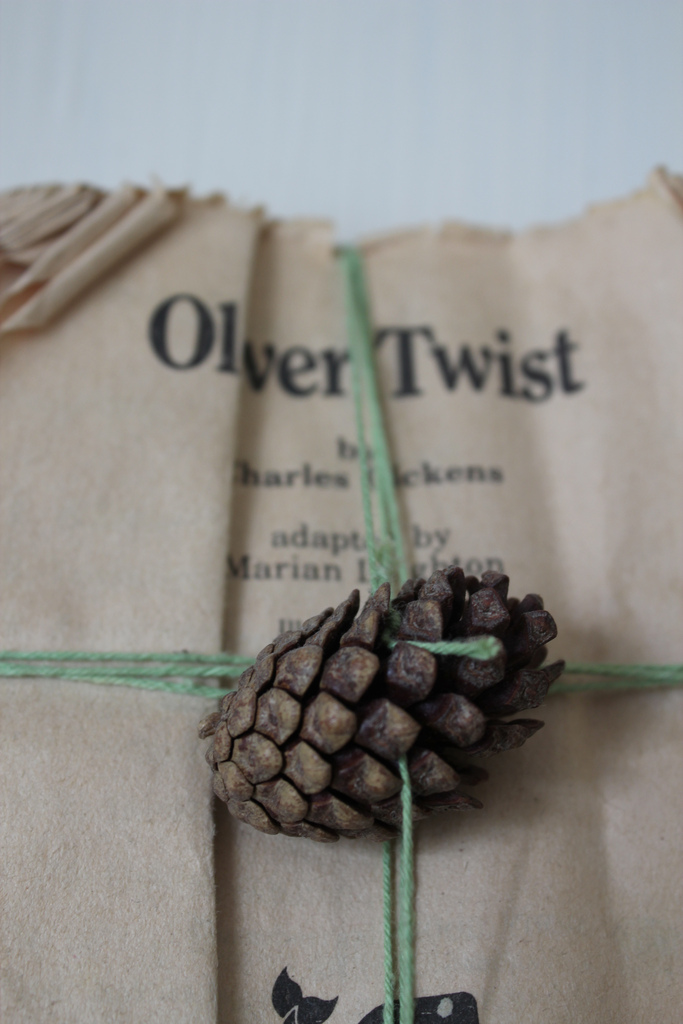 Step One: Decide what book you want to use.
You might want to choose a book that has meaning to you, or that is a representation of your family in some way. Maybe a favorite childhood book! Or not. It really doesn't matter a lot, but it is more meaningful if you actually like the book. We choose Oliver Twist, just because it is a fun book. You might remember seeing the book pages here before, we had them all tied up with a pine cone (see it above?), but we took a few pages out to use for this project.
Our frame is 11 x 13, so a smaller paperback style book will probably work best if you want to see several pages in the frame. I like that our book is a little worn, tattered and a bit discolored.
You can find old used books at Goodwill or rummage sales so it is a good idea to stock up when you see them, so you'll have them for future projects.
Now in my case, our "Oliver Twist" book was already dismantled when we bought it. So don't shoot me for destroying a perfectly good book, the deed was done prior to my ownership. Heheheh. I'm not responsible!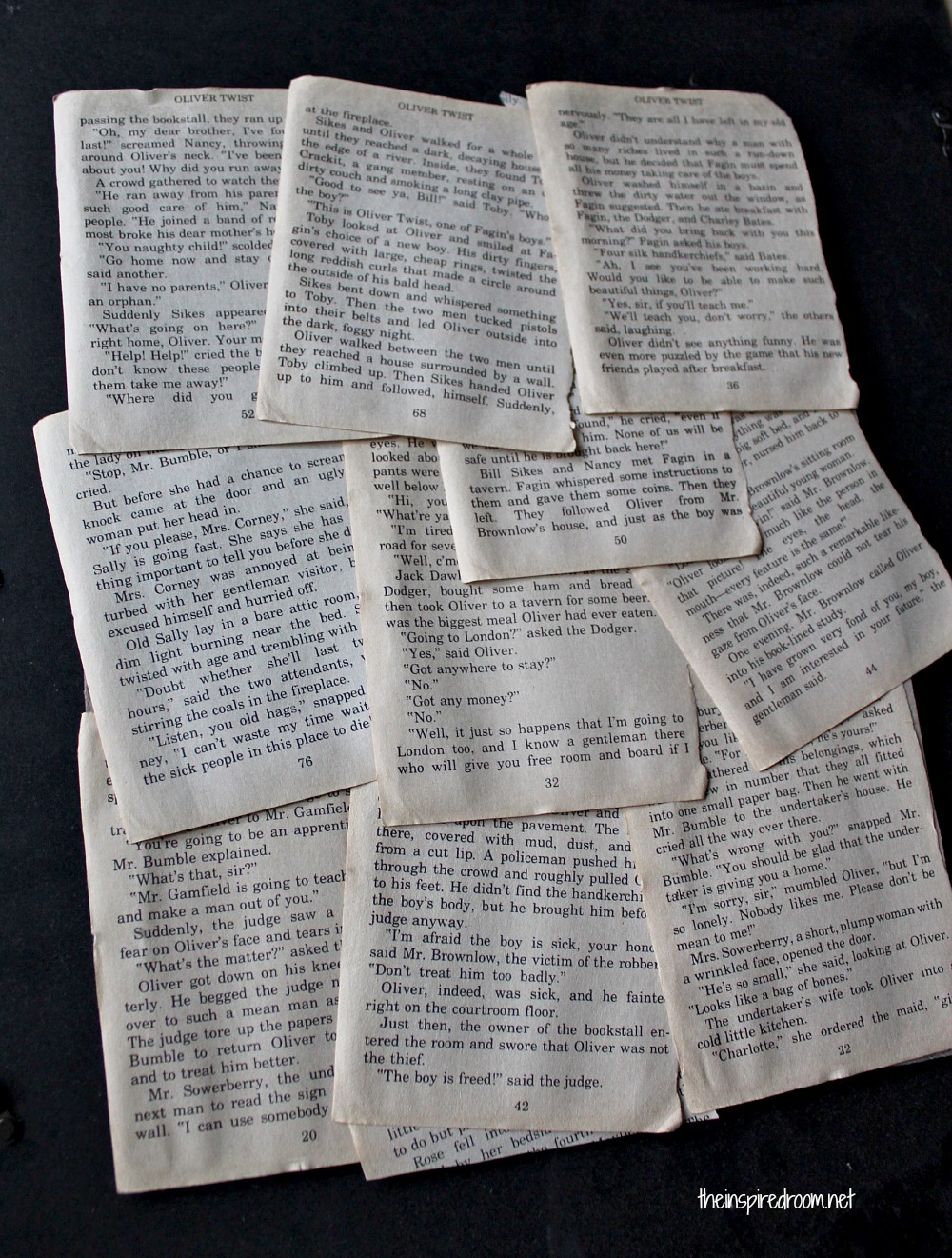 Although I will defend anyone who wants to rip apart a book to use it as art, because my feeling is it is an honor that you are showing it off and using it, rather than letting it collect dust in a garage. Use what you have, right? That's right, ladies. Go forth boldly in decorating your own home and don't let the fear of book protection services (BPS) stop you.
Step Two: Choose a frame and arrange an assortment of book pages randomly on the piece of cardboard that usually comes in the frame. 
I just used an 11 x 13 frame I already had (from Michaels Craft). Fan the pages out any way you want on the cardboard, you don't have to do this in any particular way or get it all perfect. Just start with an idea of the layout or order you want. We had NO rhyme or reason to the order of our pages, except we kept the title page out because we thought it was cute enough for it's own project.
Then use some double sided clear tape (or roll up some one sided tape) and stick all of the pages down to the cardboard, starting at the bottom with one row, and then working your way up to the top, overlapping each row a little bit. Again, don't even try to do this perfectly. It isn't necessary! In the end it will look awesome no matter what.
Step Three: Put the cardboard with all the book pages attached back in the frame.
You can put the glass in the frame if you want the pages to lay down flat (so they don't blow around!), or bypass the glass if that works better for you. I kept the glass in so it looked a little more "finished." Have you ever noticed it is hard to take a picture of a frame that has glass in it? Um, yeah. It is. So I suppose if you are going to take pictures of your finished book page art, you might want to remove the glass.
Step Four: Hang the frame and admire your brilliant (but ridiculously easy) DIY book page art. 
The end.