Spring mantel decor
I love love love to putter around the house looking for what I can use to update my mantel for my mood or the season. My Valentine's mantel was still cute other than the hearts and the X and O part (which was fun for the holiday but I was ready to move on!) so I just wanted to make a few adjustments. Since it is still cloudy and dark and cold here, I have a case of the "in betweens" on how to decorate. It really isn't nice out, but I want to start gearing up for sunshine and warmer days.
I find it helps my mood if I anticipate the season ahead and start acting like spring and summer WILL come. Ya know what I mean?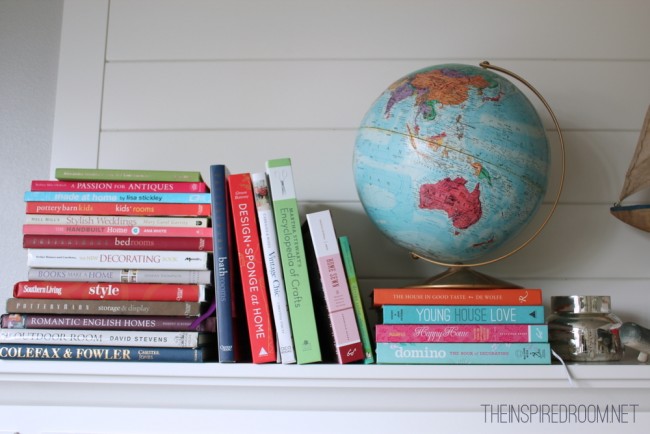 Lots of times in the spring I use flowers or plants on the mantel. That's always nice in the spring. And of course there is always the option of bunnies and Easter eggs when it is almost Easter. Sometimes I even change my mantel a couple of times in a season. I like to let my decor evolve as my moods do!
So what was I in the mood for this week? I'm dreaming of adventure, but still cozy in my house! Not ready for Easter eggs, but doing a little Spring dreaming!
All year long, I love looking at books. Right on through spring, I love sitting by my fireplace going through my favorite home decor books and sipping a hot drink. I day dream a little, plan a little, and just enjoy being inspired by pretty rooms. Stacks of books make me almost giddy. I just love them! I love that I can mix up the colors to suit the in betweenness of this season.
Not only are books colorful and fun to look at, but they are USEFUL. And you all know how I feel about meaningless decor. WHY put stuff out that is just tacky clutter and stuff? Unless you made it and it makes you happy even if it is useless! But for me, I think why not actually ENJOY being able to USE what is around you and find beauty in that? That is what brings me the most happiness in decor!
I have traveled quite a bit in my life. This time of year I get the urge to venture out of my cozy little nest and hop on a plane to the south of France or maybe Venice.  Or how about Australia? I've never been to Australia. Wanna join me? Or are you already there, you lucky person you! Do do you want a visitor? Heh heheh. Sigh. Yeah, well, since that probably isn't happening this year, I can gaze at my globe and dream.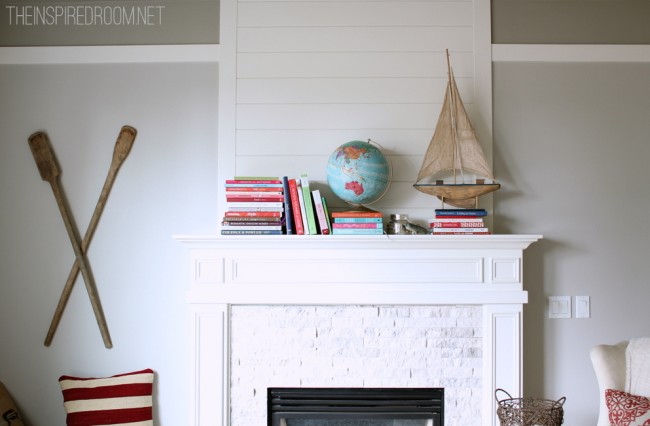 Globes and sailboats are symbols of adventures and a life well lived, not only within your four walls, but traveling outside, taking in the beauty of the world.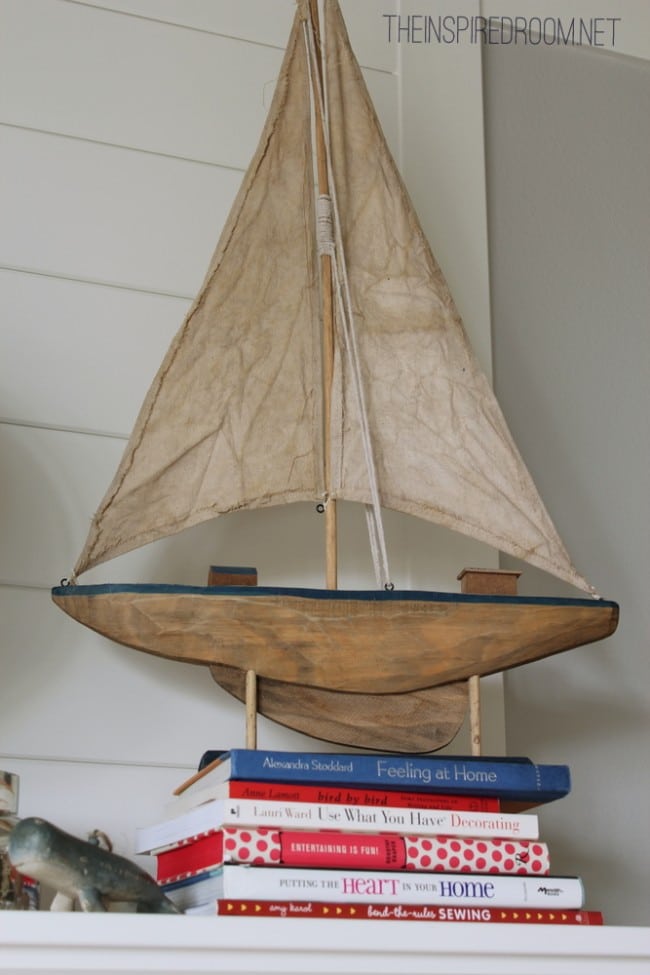 As a kid, my family had a sailboat. I have many happy memories of sailing through the Puget Sound area, sun on my face, wind in my hair and freeze breeze to inhale. I love the carefree peace and energy that comes from the adventure of life, piles and piles of books surrounding me, breathing in sea breezes and fresh air! That's what inspired me in this "in between the seasons" kind of week. Guess I desperately need to get out of the house, but still feel like nesting inside with a good book. HAHAHA. That makes sense, right? #crazyme
I'm looking forward to Spring. I have more Spring ideas to share soon!
Are you starting to prepare for Spring? What's inspiring you this week?
PS. Don't forget the fun Going Stir Crazy Spring Twitter Party tonight at 8PM ET! I'll be hosting with Annie Sielke of Dash & Albert, how fun will that be? Use the hashtag#StirCrazyASC