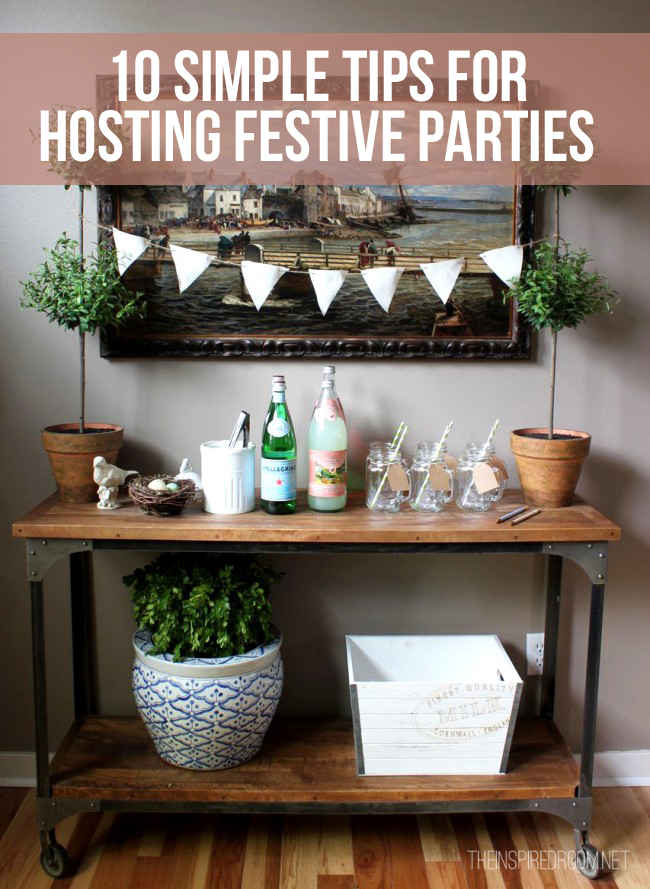 Do you like to entertain? I love having parties. But as you probably could gather from how simply I do things, most of my parties don't involve fussy decorations, excessive effort or stress. That might be why I actually enjoy entertaining and try to do it regularly, I give myself permission to do it MY WAY!
With my business, a family and a lot of volunteer work, I don't have a lot of time to do extra things. A party could totally stress me out if I wasn't careful. I am selective about where I invest my entertaining effort or I might opt out of hosting events for fear of the amount of work involved. I don't want to set such a high standard that I am cranky about it.
But that doesn't mean I don't do anything special when I entertain, I just like to be deliberate with my choices and find simple doable ways to make parties feel festive — without the fuss.
Here are my favorite and most practical party hosting tips:
1. Host regular parties or get togethers at your home. The more you host, the more practice you get and the easier each event becomes.
2. Clean the house (not perfectly, mind you, but clean enough to make your home pleasant to be in). If you keep up with general housework, getting ready for a party isn't that big of a deal.
3. Collect or create reusable pieces for serving and decor, rather than using cheap themed decorations or disposable paper products.
I don't have room to store a lot of excess decor or dishes that are only used for entertaining, and I don't like to buy cheap decorations or disposable stuff if I can avoid it! Collecting items that can serve multiple purposes is the way to go!
Case in point: I repurposed my cute blue and white teacup collection by turning them into a sweet teacup garden that I can enjoy on my window sill this spring! But I was also able to use them as part of the spring table party decorations! Affordable, easy and so sweet. And if the plants die, the cups are still pretty decor or useful for serving tea or coffee. If a new dish is going to come home with me, I make it earn its keep by using it as decor on a wall, or on open shelves and in glass cabinets when it isn't busy serving food or adding to the festive decor at parties.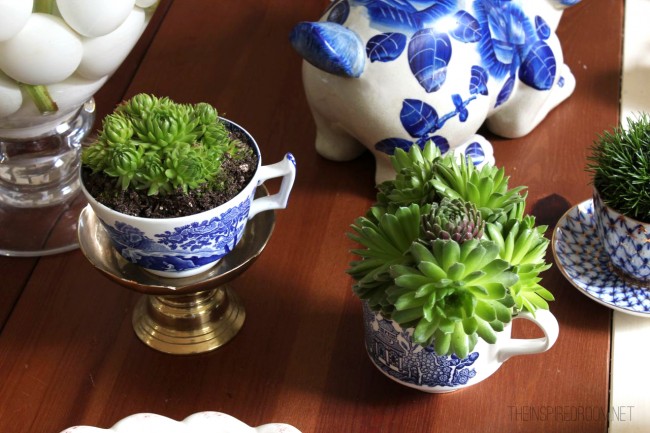 4. Plan ahead to include a few festive touches like a handmade reusable cloth banner or fresh flowers and plants to make the event feel special.
5. Reduce party day stress! If you love to cook and bake, prepare food the day before if possible to cut down on stress from the last minute mess. If you don't love to cook and bake or just don't have time, find a local source for good party food! In our area Costco always has delicious and attractive food that is perfect for parties.
6. For simplicity and flexibility for you and your guests, plan a simple buffet style event rather than a formal sit down dinner. A serve yourself style buffet provides guests options to accommodate various dietary needs and restrictions, as well as takes away the stress of unexpected meal fails or wondering how many people will show up for dinner. (For a similar cheese board, see my Amazon store!).
7. It is fun to set up a separate drink station (and a dessert station!) with an ice bucket and a couple of choices of beverages. Include tags and pens so guests can label their own drink glasses!
Not only do labels cut down on the amount of drink glasses you'll need, but the process of choosing drinks and labeling glasses makes the drink station a festive part of the party. Trader Joe's has some really cute bottled drinks and I found striped straws at Michaels Craft. My girls cut the labels out of stiff paper. I avoid serving beverages in punch bowls as they tend to be really sticky and messy.
Click here to find my entertaining and tabletop decor favorites on Amazon!
8. Serve food on a variety of pretty plates, bowls and cake stands. They don't have to all match, most of my dishes are a mixture of whites or colors and patterns that mix and match! A variety of plate sizes is fine too, some people prefer smaller plates and some people like the big ones so options are fun! Cake plates add height and importance to ordinary food items.
I love to look for interesting shaped or patterned dishes! My favorite dishes have scalloped edges, raised polka dots, pretty patterns or are just plain fun like a slate cheese plate or mason jar glasses! Collect affordable serving pieces and dishes over time as you find ones you like, I love to be on the lookout for unique dishes at places like HomeGoods, TJ Maxx and Macy's. And as I mentioned in a previous tip, make sure new dishes earn their keep with more than one purpose.
9. Think through serving table traffic flow and possible bottlenecks if you are going to serve a larger group. I like to remove chairs to open up traffic flow around the table and then set up the chairs in other rooms for extra seating and to create conversation areas.
10. Provide a convenient but reasonably attractive place for guests to dispose of trash.
Because I prefer to use real dishes for events in my home, the amount of trash generated during a party is pretty minimal so we can fit all the trash from a party in just one bag. I like to set a trash can in a convenient or central location to make it easy for guests to dispose of trash. My festive party version of a trash can is to use a cute white can from IKEA, lined with a trash bag (PS the GLAD® ForceFlex tall kitchen bags are stretchable and fit great inside the can!).
What are your favorite tips for simple entertaining?

Share tips and your favorite go-to party ideas in the comments!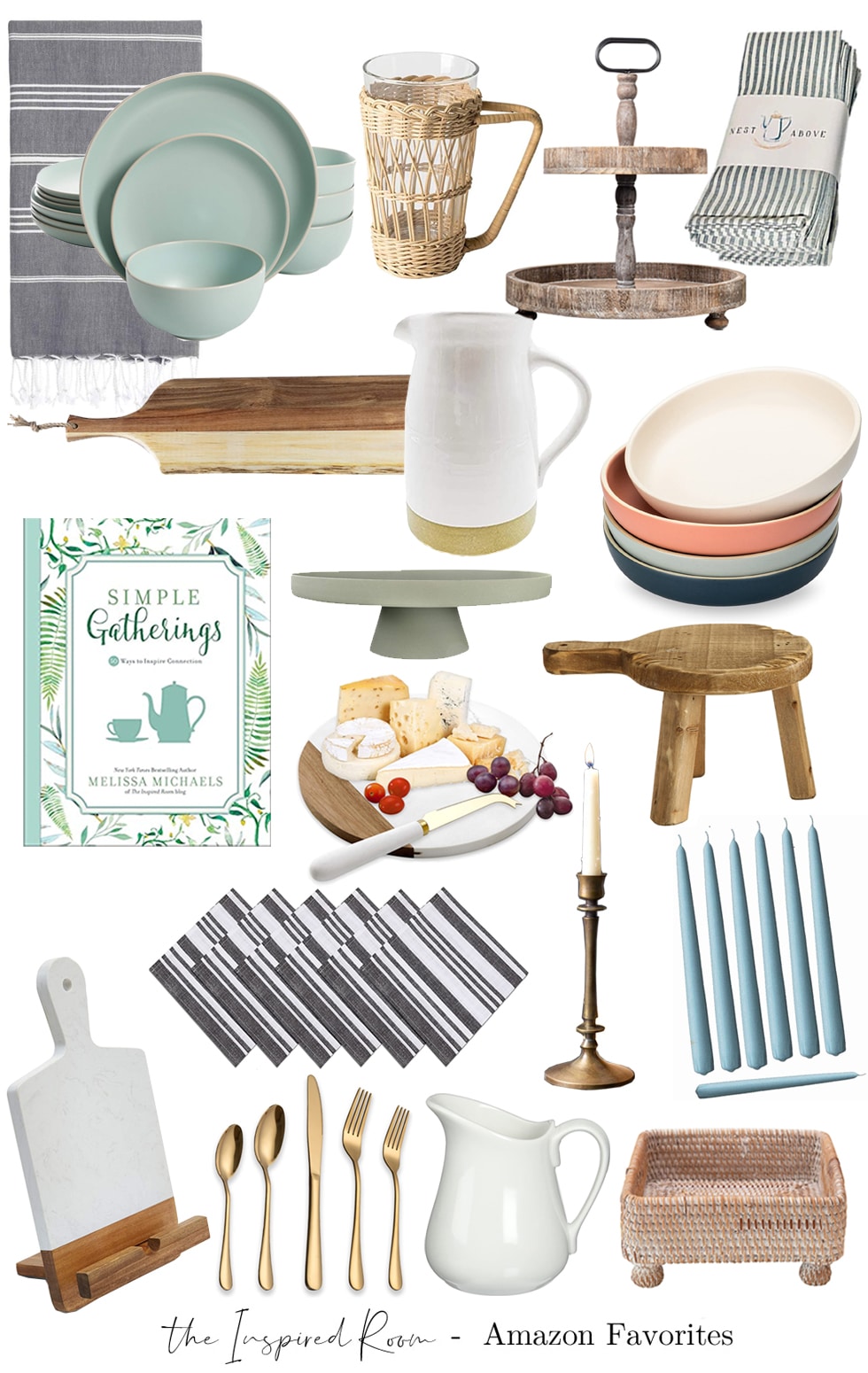 Click here to find my entertaining and tabletop decor favorites on Amazon!
Sources for above: Turkish towel (many color options, love using these as tablecloths!) // Teal Matte Dinnerware // Simple Gatherings Book // Wood Pedestal with Handle // 2 Tiered Wooden Tray // Matte Porcelain Dinner Dishes // Bamboo Rattan Cup with Handle // Brass Taper Candle Holder Set up Two // Sage Green Pedestal // Blue and White Ticking Striped Cloth Napkins // White Marble Acacia Wood Round Cheeseboard // Stainless Steel Gold Flatware // Farmhouse Ceramic Pitcher // Marble and Acacia Wood Cookbook Holder and Serving Board // Woven Rattan Napkin Holder // White Porcelain Pitcher // Blue Taper Candles (many color options) // Gray and White Striped Cloth Napkins