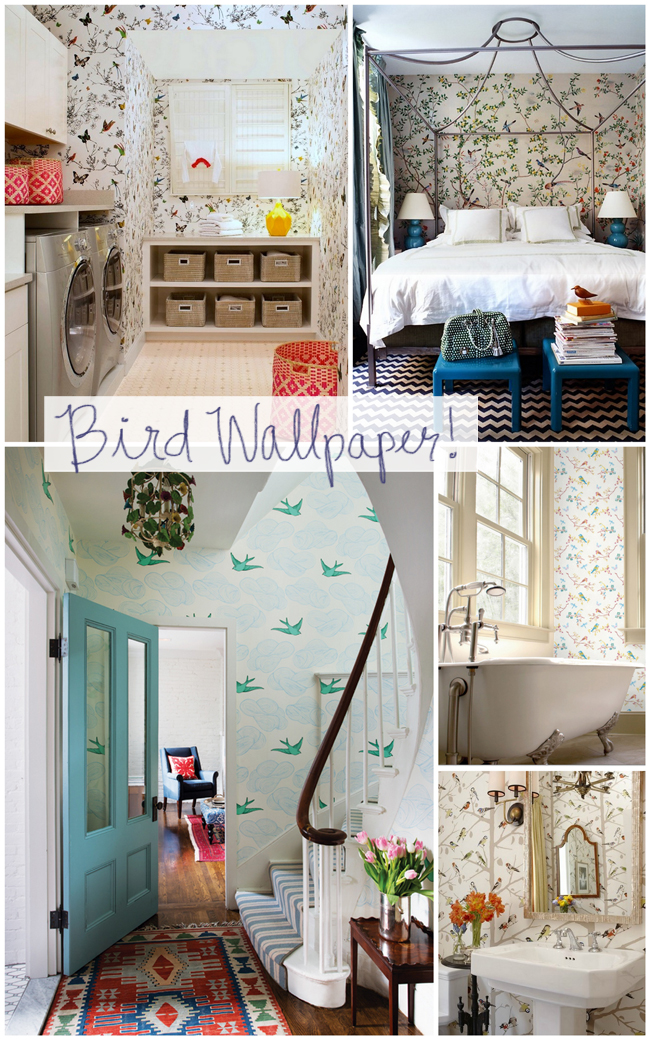 Bird Wallpaper
1. Design Transformations, Photo by Kimberly Gavin 2. Domino magazine 3. via Boston Magazine 4. via wallpaperdirect.com  5. Bird wallpaper in the powder room from Sarah's House

1. REMOVABLE! Julia Rotham for Hygge & West 2. Julia Rotham for Hygge & West 3. Schumacher 4. Anthropologie 5. Galbraith & Paul 6. Wallpaper Direct 7. John Lewis 8. Schumacher 9. Cole & Son

Aren't these wall papers adorable for an entry, powder room, bedroom or laundry room? So many ways bird wallpaper could add a fun twist to your home!
Scared of the commitment? How about just one wall? Worried about wanting to change it later? How about removable wallpaper? So often we play it safe so we won't get tired of something or we won't have to remove it later or spend too much time worrying about what the next person who lives here will like, but then we live in less than cheery or personalized spaces.
Why not put a bird on it and live it up with a big dose of personality? Life is too short to play it safe when you could wake up to cheerful spaces like these!
PS. A reader alerted me to an adorable bathroom makeover with hand painted bird wallpaper based on the Schumacher wallpaper. I added it to Room Tours, it is so cute! Thanks Lesha!
I think birds and spring just go together, don't you?
Related content:
Wallpaper the Bedroom
How to Hang Wallpaper {video}