1   //   2   //   3   //   4  //  5  //   6   //   7   //   8   //   9   //   10

Hello friends! It's Courtney here today. I can hardly believe that it's getting close to a year since I moved in to my sister's townhouse! I wanted to pop in and give you a little sneak peek of my room, which is far overdue! My mom often talks about 'slow decorating' here on The Inspired Room, and now I've experienced that firsthand while working on my room. Nothing goes quite as quickly as I might wish, or that my wallet will allow. :) That being said, I've made some great progress with my design plan and am glad I haven't rushed into anything.
I've shared before that my room is tiny. It's about 9'x9′ with an angled wall, and one wall is mostly filled up with a screen door. At first I wasn't even sure that I could fit a bed into it, which is, you know, problematic when hoping to use it as a bedroom! I did some measurements and discovered that a daybed would fit just barely. So the hunt was on for a daybed I would love at a price I could afford.
(This photo was taken right before I moved in last summer)
After weeks of searching online, measuring, and debating, I ended up choosing the Window Daybed from West Elm. I couldn't be happier with it! I had the bed delivered and assembled by West Elm (which saved me so much time and potential frustration) and it fit perfectly in the space. I adore the detail on the side rails, but also appreciate how it still leaves the room feeling open and airy.
With a room as tiny as this, each little piece makes such a big impact, so I was determined to fill it with only things I truly loved. Being so selective has made this a room I really love being in! I'll be back ASAP with a full room tour so you can see how far it has come! ***UPDATE: See my finished room tour HERE!
If you're on the hunt for a daybed yourself, check out the sources I gathered above (sources are listed by number below the graphic!). A few of them come with a trundle or even pull out to become a queen sized bed–perfect for a guest room!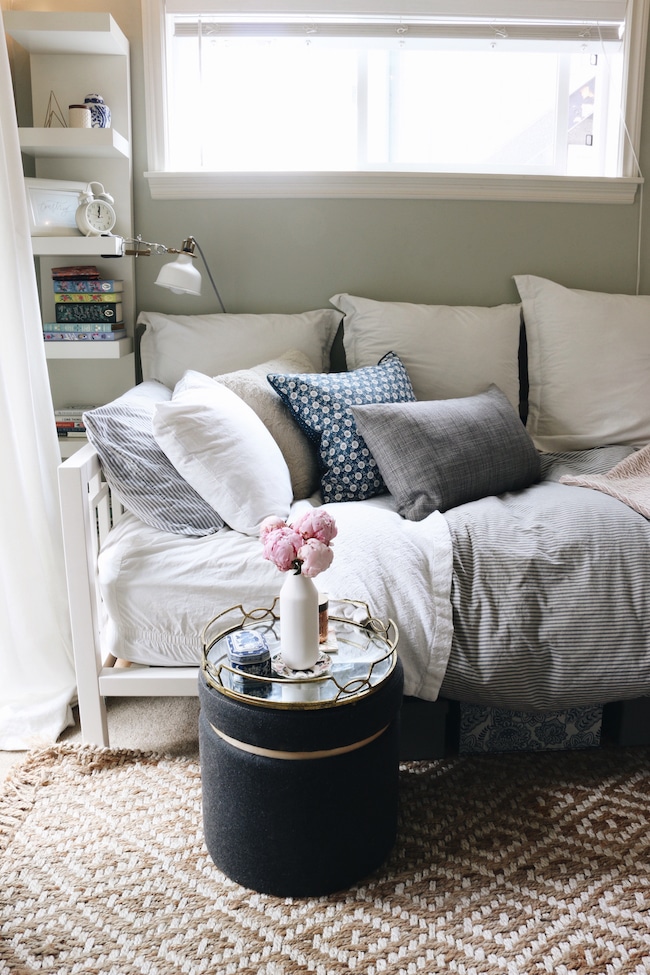 *** UPDATE: See my finished room tour HERE.
Related Posts:
The Best Furniture for Small Spaces (our guide on eBay)