Little by little, we've been making small improvements to our backyard. While we would have loved to hire a landscaper to design and implement a plan for us, we decided to just do what we could ourselves over time. And because we haven't had a lot of time for working on it, it's slow going. Slow improvements over time seems to be a theme at our house! We did hire some help last year to create our pea gravel patio and we are so glad we did! We love it.
Every summer we try to add a little bit more in the way of comfort and interest to our formerly barren and blah backyard. Even though we are still struggling our way through adding plants and privacy (new construction lots mean trying to dig through ROCKS instead of nice fluffy planting soil, grrr!). We have added lots of wicker chairs, a wonderful BBQ, an outdoor heater and a firepit so we can enjoy the pea gravel patio.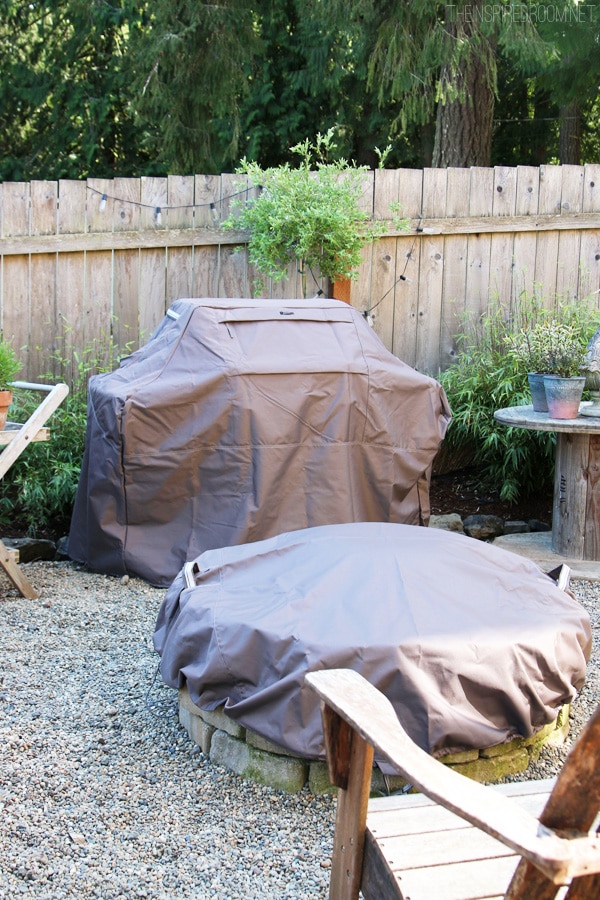 This time of year we start looking at our patio furniture and outdoor accessories to assess the damage from the winter. While we are able to put some things in storage under the house to protect them all winter, some need to stay outside so we have to just hope for the best! Living near Seattle, we have the great joy of experiencing lots of rain and with that comes mildew and moss. You can imagine how wonderful that is for our outdoor furniture and BBQ.
One thing I really don't like is investing in our furniture only to see it all yucky and ruined the next year. I like to build on my progress each year and not feel like I have to spend all my time scrubbing furniture in the spring :).
Protecting the investment we've already made is important to us, so a few weeks ago I started looking into how to protect our furniture from the elements. I usually really dislike furniture covers I find, but I was pleasantly pleased to have been introduced to some really great, high quality covers for several of our key pieces. These covers from Classic Accessories have adjustable straps you can tighten up to customize the fit and they are really heavy duty!
I even found one to keep the metal part of our fire pit from rusting out and a cover that surprisingly (and hilariously) fit our stand up heater. Yeah, it looks a little crazy hahah, but WORTH IT! I will no longer worry about the elements ruining our heater, the BBQ or wicker furniture.
Our goal this summer is to finish the gravel patios by lining them with rock and plants. We made some great progress and now it is just a matter of diving into the finishing details. We'd love to add more trees and trellises, too! But we are pretty happy to see our backyard look more inviting each year. I'll return with more updates soon. I really love working on patios and gardens so I'm excited about this summer!
The Ravenna patio furniture covers are on sale at Amazon through the end of April, so be sure to check them out! Classic Accessories provided me with the patio covers to try and share my experience with my readers. As always, I only share what I love, use and recommend.