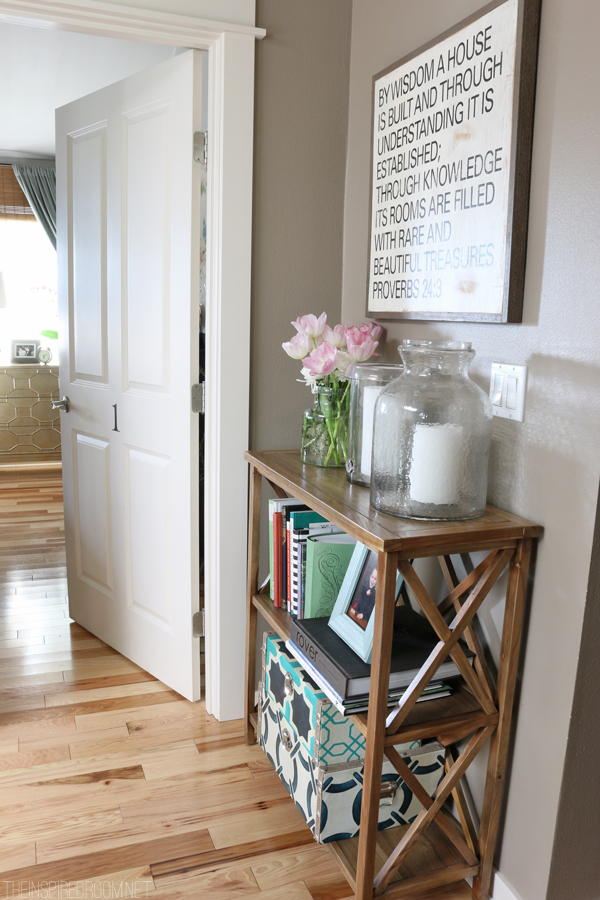 Earlier this year I started looking for a small cabinet or bookcase for the top of our staircase in our hall. You can see this little spot all the way from downstairs in the entry, so it always felt like it needed something more interesting than just a wall to draw you up to the second floor. It's not a very deep space so I didn't want anything too flashy, large or bulky that might overwhelm, but I did want something with a little bit of personality.
I stumbled upon this cute little bookcase online one day and thought it would be shallow and versatile enough that I could find a spot for it even if it didn't end up in the hall. I love the cutout X sides and back–the interesting design makes it feel so much lighter and airier than many bookcases, so it is perfect for a small space like this!
We've been working our way around the house over the past few weeks attempting to make progress on projects we've had on our to-do list forever. It feels great to be crossing so many little things off the list. Tomorrow I hope to show you an update on my simple master bathroom refresh! HOORAY! The walls are finally repainted and the room looks so much cleaner and fresher. Even though painting the walls really was such a simple update, I'm so much happier with my bathroom now.
I still can hardly believe it took us SIX years to paint the walls in the entire interior of our house (and we still haven't painted all the closets). Ha! Good-bye, swine. Good riddance. That dry fleshy pink paint color has nearly been the death of us. So help me, I ever attempt to buy another house with swine walls, please STOP ME! :-D
Are you working your way through your summer Love Your Home Challenges?
Share your summer projects with us at Home Love Stories!
Sources:
The bookshelf can be found here!
Art: Between You and Me on Etsy.
Storage boxes: Joss & Main