This post is in partnership with Homewerks.
A couple of weeks ago I shared that I was ready to paint my master bathroom. We've lived in this house for six and a half years and hadn't painted our walls in the bathroom at all. They were still the same dried out flesh colored builder paint (a.k.a. swine) that was originally on every single wall in our entire house. It was not only a yucky color to begin with, but it was dinged up and dingy after years of family life. It was beyond ready for a refresh.
This bathroom is the very last room in our house to be rid of swine. Can you believe it? It's like an era is ending. Ha. Anyway, the plan all along has been to update some of the features in the bathroom at some point down the road to make it a little more reflective of my style. While I decided against redoing this room in a more significant way, I certainly never imagined it would take us over six years to at least paint the walls! Sigh. I wasn't in a hurry though because overall the room really was still in fine shape and served our needs well all these years.
I really wanted a spa-like bathroom. But now that we are moving, we decided we at least needed to paint the walls in order to freshen up the bathroom. So that was our goal, new paint for the walls, but we got a couple of little extras just for fun (including a pretty cool new wireless speaker and fan I'll tell you about in a bit).
To save time and funds and to just focus on essentials as we are getting the house ready to sell, I decided to leave all the tile, cabinetry, lighting and mirror the same. (Funny how your dreams have to come down to reality sometimes, right?) But even though this makeover was going to be quick and easy, I thought I could still give it a little bit of a spa ambience with a few simple accessories.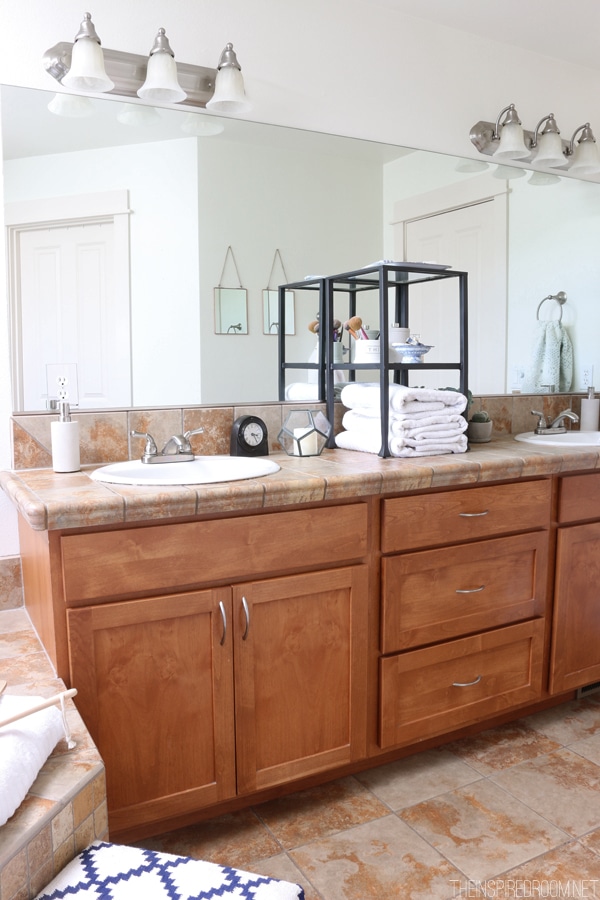 Since we have a nice big soaking tub in the corner (located under a skylight which is perfect for nighttime soaks under the stars!), I surrounded it with some plants in pots, candles, fluffy white towels, pretty accessories and good smelling soaps to give the space a little more of a spa-like feeling. A little bench creates a comfy perch next to the tub.
I brought in a small glass and metal table that I thought would work great as a shelf for accessories on our counter. We hung our white robes on hooks and added a couple of mirrors to the wall. We found some new stone hand soap dispensers, too, to replace our disposable plastic ones :). We still might add a frame to our mirror to give it a little more style, but that will be in another phase (if we have time.)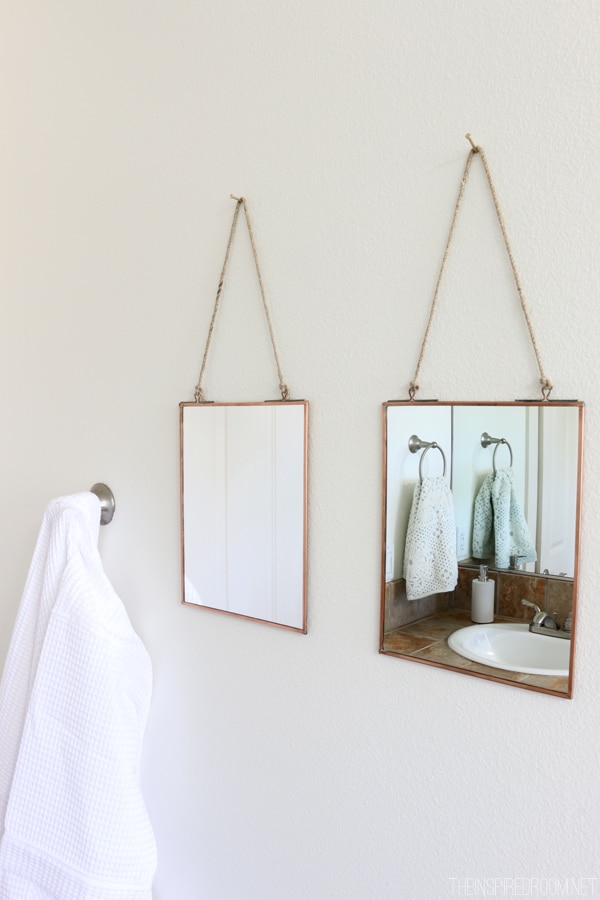 What is a relaxing soak in a tub without soothing music? Now we have something pretty awesome to add to the ambience.

Have you heard of these cool new bluetooth stereo speaker and bath fans by Homewerks? I'm super excited about this part of our update. See that round object on our ceiling? That's our new wireless speaker and fan! Our previous bathroom fan wasn't working very well and was getting kind of noisy so we decided to replace it with something a little more hi-tech.
Now we totally feel like we live in a 'smart house.' We love playing music wirelessly via our bluetooth enabled cell phones through the speaker in our bathroom as we are getting ready in the morning, or relaxing in the evenings. It is seriously the best thing ever! It has a fan and a built-in nightlight (which glows white or blue!) which is pretty neat, too. You can control it all via a wall switch as well as a handy remote!
We aren't very handy and we were running out of time to finish our bathroom, so we had an electrician come out to install ours for us. It was pretty straightforward so if you are confident with a little DIY, it is a project you could tackle on your own. There's a video here about the product and a video here for help with installation. Our electrician was so excited about our fan that he actually went straight over to Home Depot to get one for himself!
Jack the Goldendoodle – The Inspired Room from Jack Michaels on Vimeo.
Now Jack really thinks our bathroom IS a spa, check him out in this short video being all zen next to the tub listening to my music. Ha! He is never this relaxed.
If I manage to get more done in our bathroom before we move, I'll be sure and post updates. But for now, I'm thrilled with how fresh and pretty my bathroom feels! I'm ready to take a long soak in the tub (with cool water, though, it is WAY TOO HOT around here this week!).
Want to win one of these Homewerks fans for yourself, along with a $100 gift card to Home Depot? Come enter the giveaway here!
Fine print: Winner must provide a U.S. shipping address to win. This giveaway is offered by Homewerks and they will be providing and shipping the prize to the lucky winner!
Thank you to Homewerks for the fan and partnership with this post! And thanks to Jack for his unexpected cooperation in the video.
Sources:
Shelf on counter (a nesting table from Pottery Barn)
Ceramic 'Things' Canister on shelf
Paint color: Dove White (Benjamin Moore)
Ceramic pots: Home Depot
Stone soap dispensers and canister